The literacy rate in India is 70 percent, and out of these 90 percent are literate only in local languages. These vernacular language speakers do not just live in tier-II and tier-III cities, but also in the metropolitan cities. The untapped market is both urban and rural. Most websites are either in English, or at most Hindi, and right now, a web presence is necessary for every business or organisation. To reach the 536 million Indian language users, it is necessary for websites to be in local languages as well, but localisation is an expensive and time consuming process. To help publishers reach into this untapped USD 500 million market, Bengaluru based Reverie has come up with a new product, a platform called Anuvadak. At the launch, Arvind Pani, CEO and co-founder of Reverie said, "As we emphasize on Vocal About Local, it is imperative that businesses are empowered with the right tools to reach out to Bharat. Anuvadak is one such endeavor to tap into the potential 536 million Indian-language internet users. As Reverie strives to build an internet for India, Anuvadak will go a long way in building an inclusive internet."
The whole process of publishing, updating and maintaining a website in multiple Indic languages has been streamlined and simplified to a single dashboard. Additionally, the SEO tools are built in, and the platform is modular so it can support third party technologies and APIs for websites, as well as Reverie's own products. "Anuvadak uses Reverie APIs but also offers choices to use other tools as prefered by users," Pani said. From within the platform, businesses can opt for using Reverie's machine translation services. For those entities that want to use the superior quality localisation that results from human translators, Reverie's platform provides that as well. Users can opt for either machine translation and human translation, all of which is hosted on a single server as a multilingual website. It is flexible enough to fit the requirements of the publisher.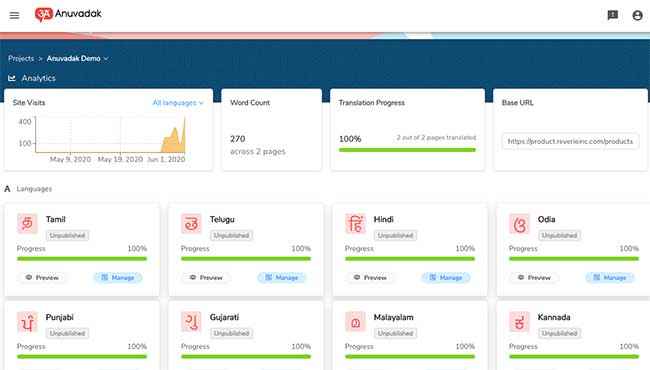 A screenshot of the dashboard
As and when new content is added, it is reflected in the localised versions after translation. To ensure consistency of style and design across the versions, Reverie offers its specialised fonts which preserve the look and feel of the website across Indic languages. These fonts are made for screens, and are legible across different sizes. For editing content, Reverie also offers its Swalekh keyboard, which simplified cursor movement and text entry natively in Indic languages. The additional advantage offered by Anuvadak is that there is SEO optimisation built in to the platform, which means that all the content is SEOd in the local languages. From the dashboard, publishers can dive into any part of the website, and instantly make changes or tweaks in any of the Indian languages. Anuvadak is being offered as a subscription service, with pricing details to be announced soon.
For more technology news, product reviews, sci-tech features and updates, keep reading Digit.in or head to our Google News page.