Reliance Jio has announced its new All-In-One plans that will replace the existing recharge options with the same name from December 6. The announcement comes soon after Bharti Airtel and Vodafone-Idea introduced their increased respective tariffs. The new recharge options by Jio are said to deliver up to 300% more benefits than the earlier plans and are touted to be the "most affordable plan in the industry." In this article, we are detailing new plans by Jio but keep visiting Digit for an in-depth comparison between Jio's new plans and its rivals' offerings.
Reliance Jio new All-In-One plans
Reliance Jio's new All-In-One plans are being offered in varying validity options. There are three plans with 28 days of validity priced at Rs 199, Rs 249 and Rs 349 and all of them come with 1000 minutes of FUP for calls on other networks. They offer 1.5GB, 2GB and 3GB of daily data respectively. Up next are a couple of plans with 56-day validity, which are priced at Rs 399 and Rs 444. Both these plans offer 2000 minutes of talk time FUP for calling on other networks and offer 1.5GB and 2GB of data per day.
Jio's new plans with 84 days of validity come with 3000 minutes of FUP talk time. It consists of the Rs 555 plan that offers 1.5GB daily data, while the Rs 599 pack credits 2GB of high-speed data per day. Jio also has a long-term prepaid plan, which is priced at Rs 2199. It comes with a 365-day validity and offers 1.5GB of data per day, along with 12,000 FUP call minutes.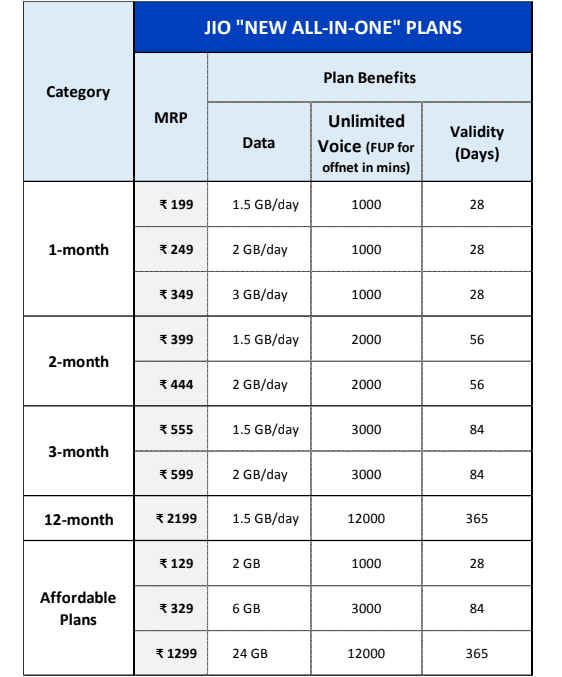 Jio has also listed three 'affordable plans' in its catalogue of new recharge options. Priced at Rs 129, the option credits 2GB data and 1000 minutes for 28 days. There's also a prepaid plan priced at Rs 329 that credits 6GB data and 3000 minutes for 84 days. The Rs 1,299 recharge plan comes with 24GB data, 12000 minutes and validity of 365 days. Do note that the three affordable plans by Jio credit the mentioned data, all at once.