Qualcomm is celebrating the 10th Anniversary of its Snapdragon series of chipsets for mobile devices. Qualcomm introduced its first system-on-a-chip for smartphones, the Qualcomm Snapdragon S1 back in 2017 and a year later the chipset was used by the HTC Dream. The world's first Android-powered device. The S1 was built using a 65nm node process and by comparison, the company's latest SoC, the Snapdragon 835, is developed using 10nm process that's 6x smaller.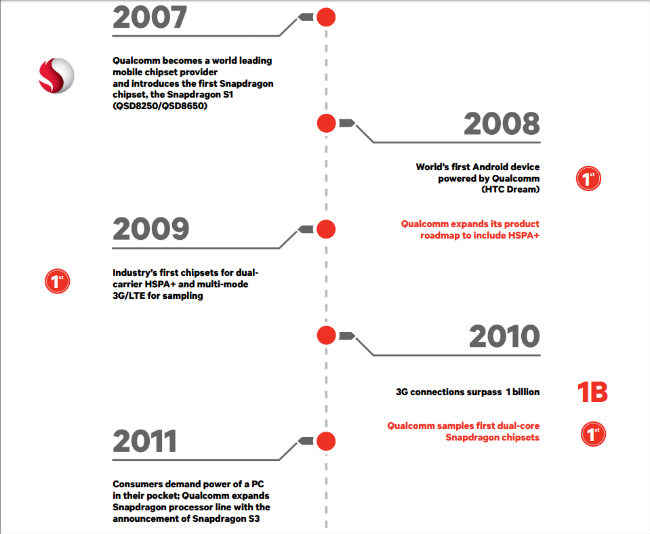 "When Qualcomm was founded in 1985, its earliest products were exclusively cellular modem technologies for quality communications. The most popular use for modems back in those days was for tracking and communications among trucking fleets. Fast forward a few years and people were soon carrying these modems in pocket-sized computers. We started calling them smartphones." says Francisco Cheng, Director of Technical Marketing, Qualcomm Technologies.
Qualcomm's Snapdragon achieved many milestones in the past 10 years. In 2010, the company tested its first dual-core Snapdragon chipsets and two years later, it claims to have made the world's first VoLTE call via a Snapdragon chipset. In 2013, Qualcomm Technologies introduced four Snapdragon processor tiers (200, 400, 600, 800), a system that is still in use today. In 2014, The company claims to have released the world's first commercial 64-bit 3G LTE integrated chipset.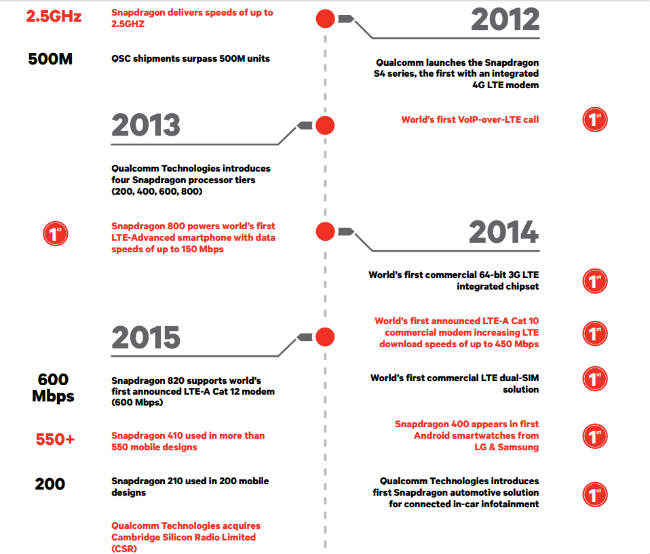 "While Snapdragon was originally designed with smartphones in mind, its evolution in features, performance, and power consumption has made it desirable for many different products, including tablets, automobiles, smartwatches, drones, virtual and augmented reality glasses. And we expect that early next year you'll be able to purchase Windows PCs powered by Snapdragon." says Cheng.
Last year, Qualcomm debuted its Snapdragon Flight drone platform which, apart from flight navigation, utilises Qualcomm's computer vision tech for features such as following an object/person, object avoidance, and more. This year, Qualcomm announced that they were able to achieve and test world's first 5G data connection on a single-chip 5G modem. The company also announced the Snapdragon 835 SoC which was the first mobile platform to be manufactured using 10nm FinFET process node. The company also unveiled the Snapdragon wear platform and the 2100 SoC whioch was aimed at wearable devices.