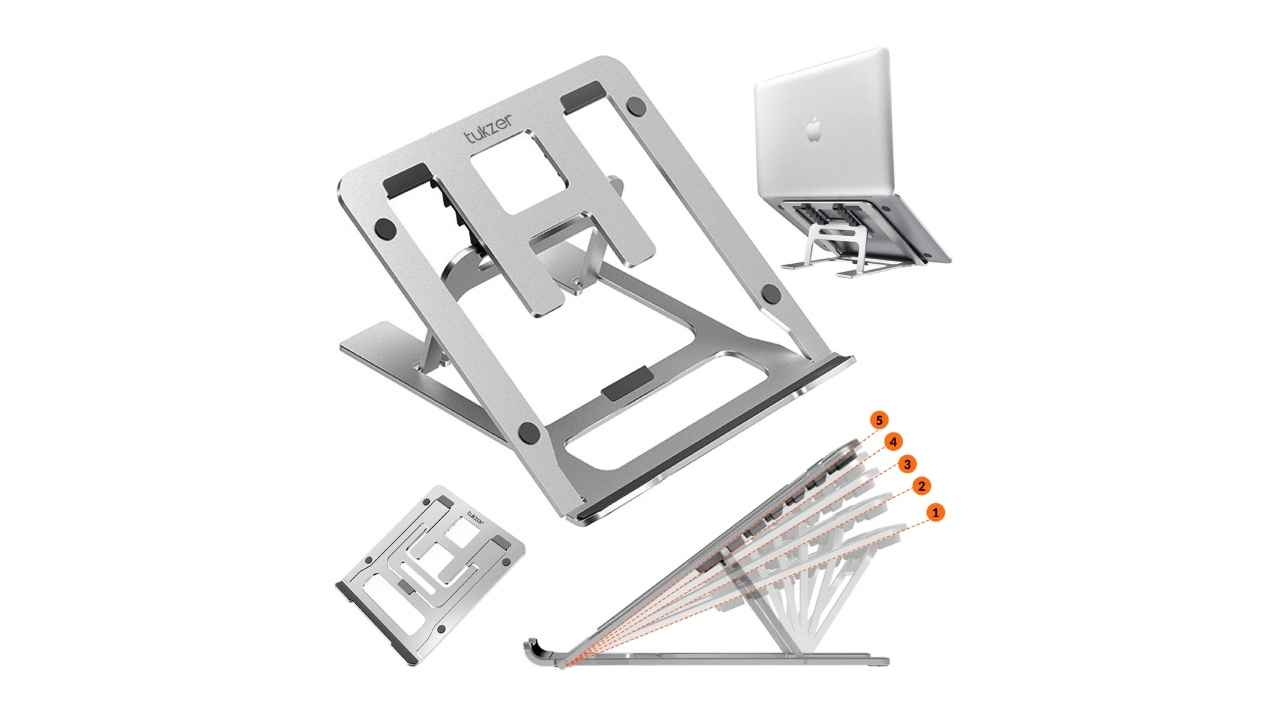 Most of the current generation laptops suffer from heating issues because of their small form factor and powerful hardware. At times people use laptops while lying comfortably on their bed, but they don't know that their bedding can restrict the airflow of the laptop, which can eventually result in many hardware issues. So, it's a good idea to invest in some good quality laptop ventilation stands. The only problem is that the market is full of so many choices that it becomes almost impossible to separate the good quality ones from the rest. To save you the trouble of going through numerous stands here's a list of a few portable laptops stands with ventilation that you can buy online on Amazon. Note that these have been curated based on their listed features.
Portronics My Buddy K
If you are looking for a laptop stand with good ventilation that is easily portable, this model from Portronics should do you justice. It weighs just 260g and has a collapsible built, enabling you to carry it around with ease. You can even carry it in your laptop bag. It has a simple yet effective ventilation system that should improve your laptop's life by keeping it cool even under tough user-case scenarios. The stand can hold up to 4kg and laptops up to the size of 15.6-inch, making it compatible with a wide range of laptops.
Artikel Uni-Lite Laptop Stand
The Artikel Uni-Lite Laptop Stand is built with high-strength nylon fibres and reinforced with stainless-steel to prevent damage from daily wear and tear. The ergonomic design allows you to position the laptop as per your convenience and comfort. With natural ventilation and a height-adjustable baffle, you can position any laptop on this stand and expect effective air cooling, allowing you to work comfortably without the device heating up. This ultra-light 350g laptop stand is also foldable, so you can carry it with you while commuting.
Voroly Foldable Height Adjustable Laptop Stand
Get this laptop stand with adjustable height by Voroly and bid adieu to the constant back, wrist and neck pains from using the laptop in awkward positions for long hours. This compact 350g stand is made from strengthened Nylon fiber material, and its height and inclination can be adjusted from 26 to 30 degrees with the press of a button. The makers claim that this product can help prevent accidents due to heating issues. The 30.4 x 5.4 x 3.2cm stand comes with two sets of replaceable support that can help fix the laptop. It can work well for laptops, tabs and other devices with screen size ranging between 11 and 17.3-inch. Additionally, it can bear a maximum load of 15kg. If you are looking for a compact, lightweight, and easily-adjustable laptop stand then this might be the right choice for you.
Lyrovo Laptop Stand Holder
Here is a laptop stand from Lyrovo that gives you the option to use it at eight different angles, as per your comfort. It is not just the platform's angle you can change, but the height of the legs too to give you the adjustment you seek. As a result, you can use the laptop by sitting in the right posture without putting a strain on your spine or neck. The platform has red rubber tips and ventilation holes to let the heat disperse through the stand efficiently and keep the laptop as cool as possible. Along with this ergonomic design, it has a foldable build so that you can carry it around with ease. It has a phone holder as well to improve your user-experience further.
AmazonBasics Ventilated Laptop Stand
Here is a portable laptop stand from AmazonBasics with an efficient ventilation design. It is made of metallic mesh, which helps draw the heat and disperse it through the innumerable holes in the stand. You can adjust the height of the stand from anywhere between 12 and 35 degrees, depending on your preference. It has six different slots to adjust the height and lock it there. Even though it is made of metal, it still weighs just 1.1kg, making it easy to carry from one spot to another.
Tukzer Foldable Laptop Stand T5
Here is a premium laptop stand made of anodised aluminium alloy, which is an ideal material to absorb heat without affecting your laptop's performance. Moreover, the open hollow design of the stand improves ventilation. You can adjust the height and angle of this sturdy laptop stand in six different ways, enabling you to sit with the right posture while using the laptop. An extremely user-friendly feature of this laptop stand is that it can be used even with a 17-inch laptop, making it compatible with virtually every laptop out there. Finally, the foldable and lightweight body of the stand makes it an easily portable device.