#IBMCodePatterns, a developer's best friend.
#IBMCodePatterns provide complete solutions to problems that developers face every day. They leverage multiple technologies, products, or services to solve issues across multiple industries.
Click here to know more
Advertisements
Paytm has launched Paytm Mall, a separate standalone e-commerce app that will now be the destination for customers who earlier used Paytm as an online shopping destination. For a significant time, the company has been operating with the wallet and the e-commerce offerings as a single entity, but the announcement declared a split in the light of Paytm payments bank, which is what the wallet business will be absorbed into.
Customers experience is going to be largely similar to the main app, with the new app having a barely changed interface and same sections like Bazaar, the popular unstructured shopping channel on Paytm, being carried over. Commenting on the launch, Saurabh Vashishtha, Vice President – Paytm said, "In our journey to become the preferred e-commerce platform for Indians, the launch of the Paytm Mall app is an important step as it connects consumers with trusted sellers. Through Paytm Mall, our aim is to offer consumers the most trusted shopping experience. We have defined quality criteria for sellers and are building strict controls over warehousing and shipping for products sold on Paytm Mall. Consumers would continue to get the largest assortment of domestic and international products through Paytm Bazaar, which will also be featured on the new app."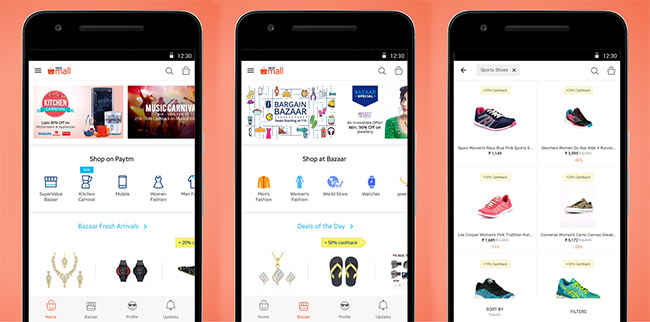 ​
The experience looks largely similar to shopping on the main app
Interestingly, this might be Chinese entity Alibaba's first entry into the Indian market. Alibaba owns a significant stake in One97 Communications, which is the parent company for Paytm (and now Paytm Mall). It may not be entirely a coincidence that the name evokes a similarity to T-Mall, another Alibaba-owned e-commerce entity.
Sellers will also be receiving an upgraded version of the Paytm seller app, with the latest version being available in seven regional languages and a strong focus on making it easy for absolutely anyone to set up shop in Paytm Mall.
The Paytm Mall is currently available on Android and Web. It lists over 68 million products sold by 1.4 lakh sellers spread over 1000 cities and towns across the country. The iOS app is expected soon. At this point, it would only be a confirmation of the separation if the entire e-commerce section is removed from the main app, with Paytm recently crossing 200 Mn Wallet users. It would, quite literally, pay to focus on transactions separately, especially with the upcoming payments bank from Paytm