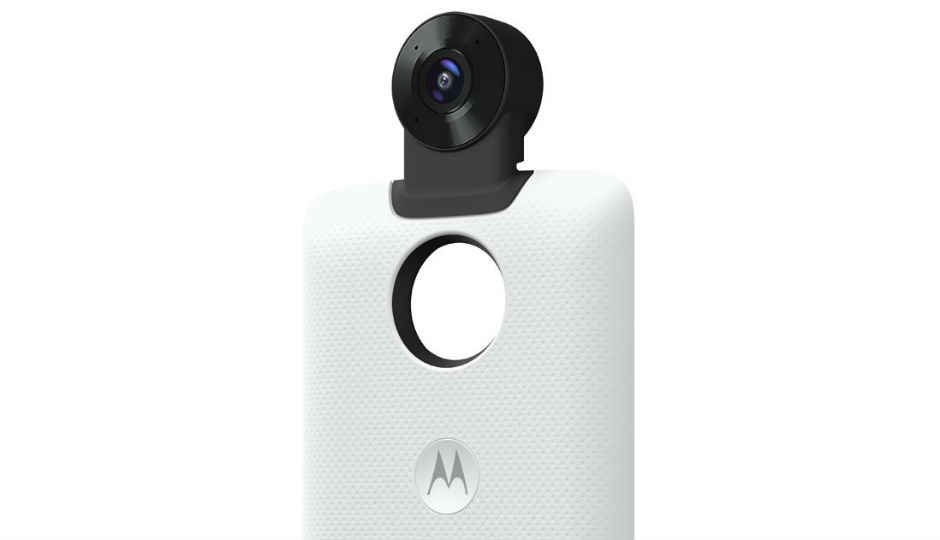 HIGHLIGHTS
Motorola sticks to its promise of introducing 12 new MotoMods every year. The company has detailed six new MotoMods including a new 360-degree camera, a DSLR camera mod and an action mod.
Motorola has showcased the next set of MotoMods coming to its Moto Z series at an event in Ghana. With the announcement, Motorola seems to be sticking to its promise of launching 12 new MotoMods every year. The company had also announced new MotoMods alongside the launch of the Moto Z2 Play last month.
The new MotoMods were first spotted by TechDroider and hint at a new collaboration with Marshall and DirecTV. Motorola has announced a new 360-degree camera mod that works when attached to a Moto Z series smartphone. The new MotoMod seems to feature a MotoShell like design with a 360-degree camera placed at the top. The new Mod attaches to the back of the phone and seems to use a concept similar to the one previously shown by Andy Rubin-backed Essential. There is no clarity yet on how this Mod works but expect Motorola to share more information in the new few days.
Other Mods named ROKR and Studio are built in collaboration with Marshall. The ROKR Mod will serve as a powerful and quality speaker, while the Studio seems to be a high quality microphone that can be used to record quality audio. The DirecTV Mod, on the other hand, features an HDMI port that can be used to connect a DirecTV streaming stick and stream the service from the phone.
However, the most interesting MotoMods come in the form of camera-related Mods. The company showcased a new DSLR mod that adds ability to connect a lens onto a Moto Z and a hotshoe mount for any kind of camera accessory. There is also an "Action Mod" that seems to feature a rotating camera. These camera mods will join the already available Hasselblad Mod with 10x optical zoom. All these MotoMods seem to be still under development and Motorola has not shared any details on its availability.