Microsoft Security Essentials offers basic protection from viruses, and comes to no cost to those with genuine windows licenses.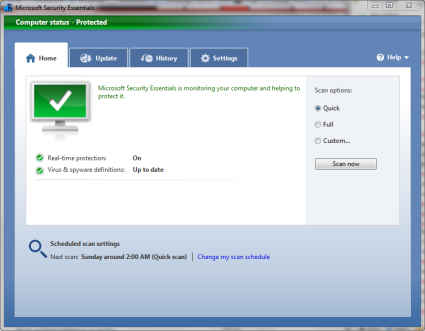 Microsoft perhaps has a worse reputation than it deserves when it comes to computer security, and the truth is that recent versions of Windows have made great strides in this regard. For those still concerned, the new "Microsoft Security Essentials" software should alleviate your worries.

For anyone purchasing a computer with Windows, an antivirus software is the first purchase (or an illegal download?). Microsoft Security Essentials is a good step in making Windows a more complete and secure package. For whether you consider viruses a result of the poor security of Windows, or merely a side-effect of its popularity, Windows is incomplete without an antivirus solution.

Released yesterday, Microsoft Security Essentials, seems to continue Microsoft's latest trend -- started with Windows 7 -- of reducing bloat, instead of encouraging it. We downloaded the 64-bit version for Windows Vista/7 for use on a 64-bit Windows 7 RC computer, and with a mere 5MB download size, and a installation time of under 5 minutes, it is a light solution indeed!

After a download of the latest definitions, which takes a further couple of minutes, the software is set and ready, best of all -- no reboot was required!

A quick check of the installation location showed that the application's program files directory takes a mere 13 MB! Even with its footprint in the ProgramData directory it still manages to stay within 25MB, which is quite impressive for an antivirus, and especially one by Microsoft.

The software is also quite light on memory, taking less than 50MB while idle, and about 60 to 65MB while actively scanning without any detections.

While it is a basic antivirus solution, it provides most of the features and functionality that one would expect from a decent product: a simple scheduler, support for scanning archives, etc. Strangely, the default configuration seem to disable scanning removable drives automatically. Considering that a great number of viruses use this vector, is it better turned on. A feature we liked is that the antivirus can resume a cancelled scan, probably by skipping unchanged files which were previously found clean.

Overall, Microsoft Security Essentials is decent software for protecting your computer. Whether it provides ample protection or not is something we could not test under such a cursory examination.

Does this mean the end of third party antivirus solutions? Not likely. Much like the existence of a bundled firewall with Windows XP hasn't killed the need for third-party firewall solutions. It is still a simplistic solution which might not be sufficient for your particular needs. For most people though, it is two steps in the right direction.