LeEco has made quite an entrance in the US market. The company has launched a bunch of new products in the country including smartphones, TVs, smart bikes, virtual reality headsets as well as self-driving electric vehicles. Richard Ren, President of LeEco, North America stated, "Our global vision for a connected ecosystem where great content can be enjoyed on a range of devices that are disruptively priced is what fuels our global expansion. Following our success in China, we expanded to India last year and Russia in September. Today, we are pleased to officially launch in the U.S."
The two new phones launched by the company are the LeEco Le Pro3 and the Le S3. The Le Pro3 is the flagship device and sports a 5.5-inch display with 2.5D curved edges. It is powered by Qualcomm's newest flagship chipset, the Snapdragon 821 and is equipped with a 4070mAH battery. It also sports LeEco proprietary Continual Digital Lossless Audio (CDLA) technology as well as dual speakers with Dolby Atmos. In addition, the Le Pro3 features a 16MP rear, and an 8MP front camera. The phone is priced at $399 (approx. Rs. 26,600).
The LeEco Le S3 features a 5.5-inch display and is powered by a Qualcomm Snapdragon 652 processor. It also sports a 16MP rear and 8MP front camera. Like the Le Pro3, the phone also comes with CDLA audio. The Le S3 is priced at $249 (approx. Rs. 16,600).
Both phones comes with a three-month free EcoPass membership. Those who are a part of this get additional benefits such as a two-year warranty for LeEco phones and three-year membership to ecotvs. Further, they get a 5TB cloud storage on LeCloud with unlimited storage for photos and videos. Users will also get unlimited movie viewing on Fandor, access to exclusive sale days on LeMall, as well as discounted prices for many add-on content partners featured in LeApp.
LeEco's range of TV's include the uMax85, which features an 85-inch display with HDR, Dolby Vision, Fluid Motion 1920 Display Technology and Harmon Kardon Audio. The TV is priced at $4,999 (approx. Rs. 3,33,600) and comes with a 12-month free EcoPass membership
Further, LeEco unveiled the Super4 X Series which consists of three TVs with 43-inch, 55-inch and 65-inch panels priced at $649, $899, and $1,399 respectively. The 55-inch and 65-inch TV comes with a 12-month free EcoPass membership, while the 43-inch TV comes with a three-month EcoPass. The 55-inch and 65-inch TVs features HDR, Harman Kardon audio, 3GB RAM, and 32GB storage. The 43-inch TV offers 16GB of storage and doesn't feature Harmon Kardon speakers.
LeEco has also unveiled a Super Bike, which is an Android-powered smart bike. It is equipped with laser lane markers as well as smart riding system, fingerprint identification, smart lock, two-way radio, sensor group and power management system. With this, they also launched the UP2U (User Planning to User) program, which takes feedback from the user and implements it in teh next generation of products.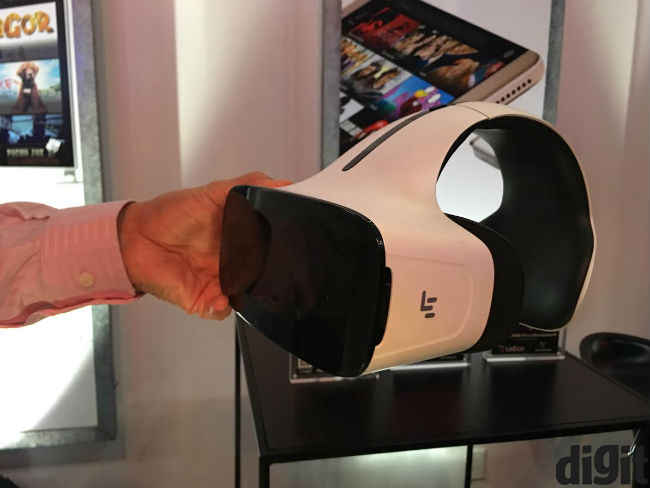 The ExploreVR is the company's VR headset and offers 3D, 360-degree virtual reality. The headset will use the Snapdragon SDK for developing VR content. LeEco says that the ExploreVR features advanced ergonomic design and state-of-the-art optics.
The company also showcased the LeSEE Pro, which is its self-driving electric vehicle. The vehicle's self-driving features includes machine-learning in facial, emotion, system and path recognition.