By now, numerous news reporters should have got their hands on the leaked Intel product roadmap that was discovered and shared by Dutch website Tweakers some five days ago. The leaked roadmap image, if believed to be authentic, reveals a few key plans Intel has in store for the next couple of years. For one, the chip maker doesn't plan on making a 10-nanometre desktop CPU until 2022 or later. It will also release a refreshed series of Coffee Lake CPUs later this year and follow it up with the Comet Lake series of CPUs early next year.
Intel's desktop CPU range is often referred to as S-series. If you examine the leaked image, you'll notice that Intel has only 14-nanometre S-series CPUs planned for desktops all the way till the end of 2021. On the other hand, the company has 10-nanometre "Tiger Lake" chips under the U-series and Y-series planned for laptops and other mobile devices sometime in the second quarter of 2021. They're the only ones in the leaked roadmap marked "TBD", which means Intel could have different plans with them altogether.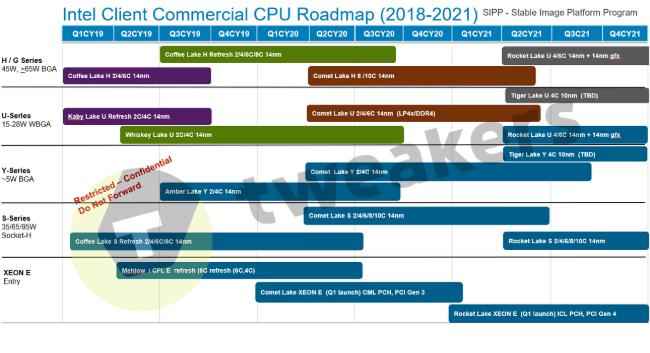 On the bright side, Intel's desktop product range (S-series) will get a Comet Lake CPU with 10 cores even though it uses a 14-nanometre fabrication process sometime in the second quarter of next year. A year later, Intel will refresh it and give it the moniker Rocket Lake. Since all of these plans are found only in a leaked roadmap claiming to be from Intel, it's best to take them with a pinch or two of salt. For all we know, Intel is actually working on a 10-nanometre CPU for its desktop range but hasn't marked it in this roadmap.
The reason we believe Intel might be having plans outside the ones mentioned in this leaked roadmap is because it's marked SIPP, or Stable Image Platform Program, which is Intel's initiative to ensure "virtually zero changes to key platform components and drivers for at least 15 months or until the next generational release". According to Intel, SIPP is designed to reduce the number of upgrades needed in end-user systems in an enterprise and keep image management complexity to a minimum. Only time will tell what Intel really has in store for the next generation of desktops, laptops, and other mobile devices.
Inline image courtesy: Tweakers