Intel Lakefield are the first processors to make use of Intel's Foveros chip stacking technology to combine big mainstream cores with small power efficient ones.
Intel Lakefield, the first mobile processors from Intel to use their Foveros technology is finally here and by the looks of it, is designed to help Intel win back the crown. Foveros is a chip stacking technology that allows Intel to combine their mainstream CPU cores with some of their low-power CPU cores to produce hybrid CPUs in sort of the way ARM does with their big.LITTLE technology. Today's announcement revolves around two processors, the Core i5-L16G7 and the Core i3-L13G4 which use one 10nm Sunny Cove big core with four 10nm Tremont small cores. There isn't any information regarding any Core i7 or Core i9 variant so one could assume that the best of Lakefield is yet to come.
Lakefield was first announced by Intel at their 2019 CES keynote session and Intel set out some rather ambitious goals for Lakefield when it introduced the Foveros concept. These included a level of power efficiency that would consume 1/10th of the Standby Power of their existing architecture, get up to 50% more graphics performance while reducing the overall area occupied by 40%. That goes for the z-height (40% reduction) as well. The overall design goals in layman's terms would be to make powerful laptops that are smaller while consuming less power. Did Lakefield achieve those goals? We'll have to wait for the official benchmarks but for now these are what Intel claims.
Intel Lakefield hybrid processors
Lakefield processors are the first from Intel to ship with package-on-package (PoP) memory which means the PCBs of these devices can take up less space. Moreover the standby power can go as low as 2.5 mW which is supposedly a reduction of 91% compared to Y-series processors. They also have two display pipes natively which allows dual display form factors to be built with individually addressable parameters. These will allow manufacturers to build smaller computers than before.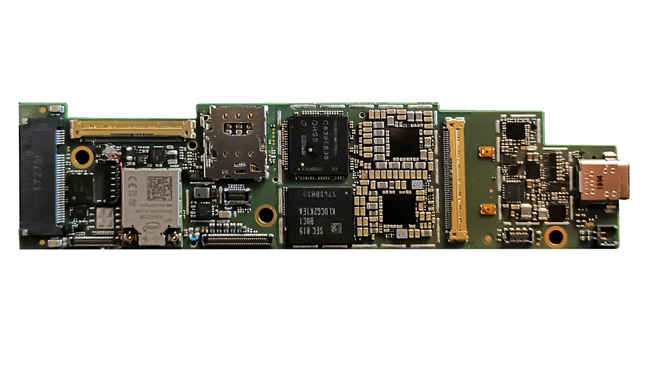 Chris Walker, Intel corporate vice president and general manager of Mobile Client Platform said, "Intel Core processors with Intel Hybrid Technology are the touchstone of Intel's vision for advancing the PC industry by taking an experience-based approach to designing silicon with a unique combination of architectures and IPs. Combined with Intel's deepened co-engineering with our partners, these processors unlock the potential for innovative device categories of the future."
The two processors announced today have the following specifications:
- Core i5-L16G7, Intel Gen11 UHD Graphics with 64 Execution Units, 5 Cores, 5 Threads, 4 MB Cache, 7W TDP, 1.4 GHz Base Frequency, 3.0 GHz Max single core Turbo frequency, 1.8 GHz Max all core Turbo frequency, 0.5 GHz Max Graphics frequency, Support for LPDDR4X-4267 memory
- Core i5-L13G4, Intel Gen11 UHD Graphics with 48 Execution Units, 5 Cores, 5 Threads, 4 MB Cache, 7W TDP, 0.8 GHz Base Frequency, 2.8 GHz Max single core Turbo frequency, 1.3 GHz Max all core Turbo frequency, 0.5 GHz Max Graphics frequency, Support for LPDDR4X-4267 memory
How small are we talking?
Lakefield processors are smaller than their older counterparts by a large margin. Compared to the Amber Lake-Y Intel Core i7 8500Y, the Lakefield Core i5-L16G7 package is 56% smaller and the entire board takes 47% less space. The Core i7 8500Y is an older gen Core i7 processor that's much larger than a Core i5 processor so one could claim that it's not the right processor for the comparison. However, even the Core i5 Amber Lake-Y processors have the same package size so the comparison still holds. If we were to compare a more recent Y-series processor then the space savings seem even more impressive. An apt comparison would be the Intel Core i5-10210Y. The Core i5-10210Y takes up 2.65cm x 1.85cm of space which translates to 4.9 sq. cm. The 8500Y takes up 3.3 sq cm and the Core i5-L16G7 is 56% smaller so that gives us the package area of the Lakefield Core i5-L16G7 as 1.44 sq. cm. Compared with the Core i5-10210Y, it's about a ridiculous 70.6% smaller. From the perspective of thread count, this wouldn't be an apt comparison given that the 10210Y is a 4C/8T processor whereas the L16G7 is a 5C/5T processor. So we really need some proper benchmarks before we can figure out which processor to compare the new Lakefield ones against.
Early benchmarks
The Lakefield Core i5-L16G7 was spotted earlier this year on UserBench with a score of 50.3% above average. A variant, the Core i5-L15G7 popped up on GeekBench with a single threaded score of 725 points and a multi-core score of 1566 points. If we were to compare it with the Core i7-8500Y, it doesn't seem impressive given that the 8500Y scores 3990 points on the single-core and 6150 points on the multi-core benchmark. We should point out that these scores were spotted a long time ago and there would obviously have been improvements since then but not to the extent of besting the 8500Y.
Availability
Devices powered by Intel Lakefield processors will be available starting from the Galaxy Book S that's shipping in US markets June 2020 onwards to the Lenovo Thinkpad Fold X1 that's slated for release later this year.