Highlights:
Instagram is testing Donate sticker in Stories.
People who wish to donate can reportedly choose their favourite non-profits.
Facebook already has a Donate Now button to raise funds.
Instagram is testing a new sticker in Stories that will let users raise funds for different causes on the social media platform itself. This was first announced by Facebook in a blog and later reverse engineering expert Jane Manchun Wong confirmed it. The image shared by the researcher shows that users will also be given a choice to donate to their favourite non-profit organisations on Instagram.
Facebook already has a Donate Now button that it launched in August 2015. This call-to-action option on both link ads and Pages lets non-profits connect with people (and vice-versa) who care about their causes and encourage them to contribute through the website of their choice. Facebook claims that its Donate Now buttons have raised $1 billion through Charitable Giving on the platform.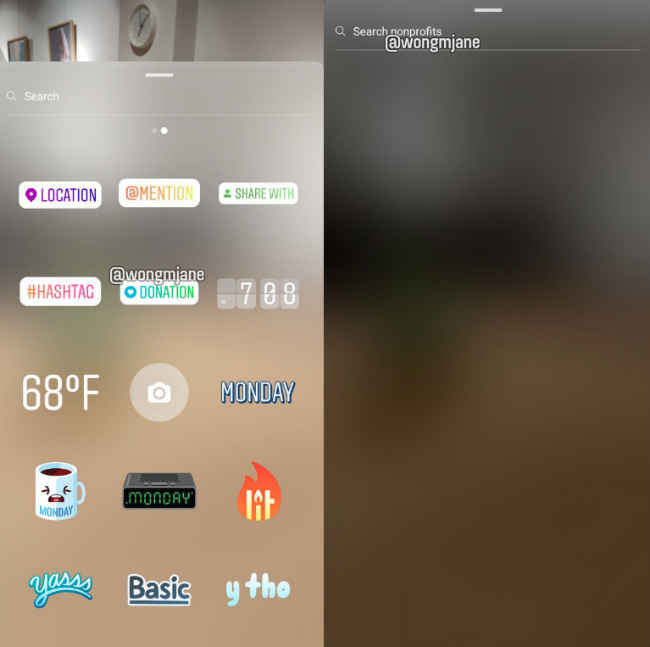 Extending the same features to Instagram's 1 billion users could help Facebook push forward its commerce strategy that CEO Mark Zuckerberg outlined in a blog earlier this month. In the blog, Facebook had mentioned that "Instagram will bring the ability for people to support non-profits that are important to them through a donation sticker in Instagram Stories". Facebook had also said that it will launch a Blood Donations feature in the US in the next few months.
Facebook says that it builds these features to bring the world closer together, TechCrunch has listed a side effect of the feature. A report says that for a transaction to take place on any of its social platforms, Facebook needs people's credit/debit card info on file. In the wake of privacy issues that the company is dealing with, this could be a hiccup. Reportedly, Facebook doesn't have a "remove credit card after checkout" option. To remove the card, users need to go to the payment settings to remove the card details.
Instagram has been adding new elements to help users interact more with each other on the platform. Last month, it rolled out a new interactive countdown sticker to Instagram Stories that will countdown to an upcoming moment. Instagram also has a questions sticker in Stories to get music recommendations from followers. You can also use other Stickers like Poll and emoji sliders that allow users to answer open-ended questions by answering yes/no or tapping the level agreement/disagreement on sliders respectively.
Related Read: