OnePlus TV 32Y1 - Smarter TV
Android TV with superior craftsmanship and elegant design - Buy Now
Click here to know more
Advertisements
National Payments Corporation of India has launched UPI@PoS, which enables customers to pay with their UPI apps at any standard PoS terminal using a QR code scan.This feature is being rolled out in 200 Reliance Retail stores across Mumbai and will be eventually scaled to stores across the country. Axis bank is the banking partner for the implementation, which has been developed as a platform by Bangalore-based Innoviti.
Unified Payments Interface, or UPI, was introduced last year in April and with this new implementation, NPCI aims to bridge the gap between UPI enabled customers and merchants in everyday transactions. The volume of UPI transactions has grown significantly to over 2 lakh transactions every day and an average transaction value of Rs 3000/-. Although it will be initially limited to Reliance Retail stores, NPCI aims to partner with other organised retail chains as well to increase the penetration of UPI-based payments.
The platform works seamlessly with existing PoS terminals and you can use the scan to pay feature in your UPI enabled app to scan a dynamic QR code generated at the PoS. This enables transactions to be contactless and instant, thanks to the UPI platform. Additionally, there is an initiative for merchants to implement this due to the lower MDR rates proposed for QR code-based payments by RBI, as well as the fact that the credit to their accounts is instant, which reduces their working capital cycle. Reliance Retail is also encouraging customers to use this feature by offering a 5% cash back on all UPI transactions across Reliance Retail stores in April 2017.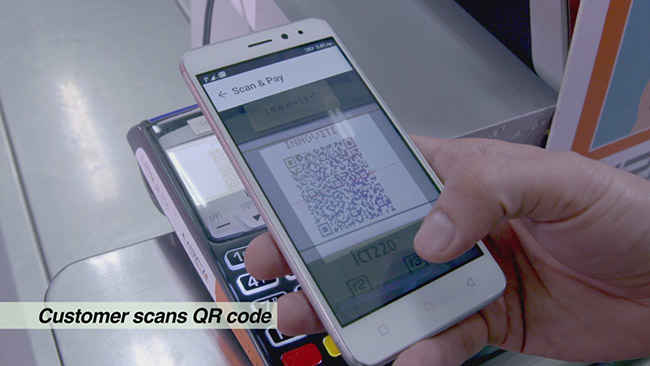 The Scan-to-Pay feature is present in UPI-enabled apps like BHIM and PhonePe
As per NPCI data, a total of 4.3 million UPI-app based payment transactions were made in February 2017 totalling to Rs. 19 million in value. The BHIM app alone has seen over 18 million downloads and 1.9 million transactions until February 2017. UPI-based payment apps are quite likely to grow fast especially with the new PoS feature.
Mr A. P. Hota, MD & CEO, NPCI said, "As part of NPCI's overall mission to encourage faster adoption of cashless payments in retail, the current rollout opens the path to extending UPI payment acceptance to potentially all the card accepting merchants in India. With the fast growing popularity of UPI-payment apps like NPCI's BHIM app which has seen close to 20 million downloads, this initiative will increase UPI payment acceptance points in retail stores. It is expected to play a vital role in driving a more cashless future."
According to Mr. Rajeev Agrawal, Managing Director & Chief Executive Officer of Innoviti Payment, the new feature is being provided as an OTA update to devices being powered by their platform. Going forward, other client banks can also approach Innoviti for the same implementation on their PoS terminals. For older devices, either a manual update by an Innoviti executive has to be done or the device has to replaced by the bank with a UPI enabled device.
These are the steps that need to be followed to use this feature:
When a customer requests UPI Payment mode, the cashier simply needs to select the 'UPI Payment' option on his existing card POS terminal and inputs the relevant bill payment amount.
This triggers the generation of a dynamic QR-code on the POS terminal screen itself which can be scanned into any mobile-based UPI-apps like BHIM used by the customer.
When scanned, the QR code automatically transfers relevant transaction details and displays it on the customer's payment app for authorising payment transfer.
Once the payment transfer from customer's UPI-linked bank account to store's UPI-linked account is completed, the payment solution triggers a settlement confirmation to the initiating in-store POS terminal for printing out a transaction completion charge slip.
QR based payments are not new to the Indian retail sector. Apps like PayTM and other mobile wallets have been allowing QR based payments since quite a while. With QR being enabled for UPI, and with BharatQR on the way, this would eventually turn out to be a direct competition to the previously mentioned payment providers. That is in addition to the challenge that UPI posed for payment wallets already. The time it takes for this implementation to be rolled out successfully to stores beyond the Reliance Retail chain will be a crucial factor in the success of UPI@PoS.