Make 2021 your best year with IBM Developer
Make 2021 the year where you truly shine, grow, build & Code. Get support and motivation from the IBM Developer community. #IBMDeveloper #CodePatterns
Click here to know more
Advertisements
On Tuesday, 27 Dec, ICICI bank launched Eazypay, a mobile app to enable retailers, merchants and any professionals to accept digital payments from their customers in multiple forms. The application integrates paying modes like UPI, debit and credit card, internet banking and 'Pockets', ICICI's digital bank into one interface.
The primary requirement to register on the app is that the user should be a current account holder at ICICI bank. And at the moment, only the Android version of the app is available while the iOS app is being worked on.
One of the main advantages of this app is that there is no daily or monthly limit on the collection amount. Additionally, according to ICICI, it can be used by up to 30 employees of a merchant simultaneously, using the sub-merchant feature, to collect payment on their mobile phones at multiple counters 'in-the-store' as well as 'on-the-go' like home deliveries. The money collected through this app directly goes to the current account of the merchants and professionals.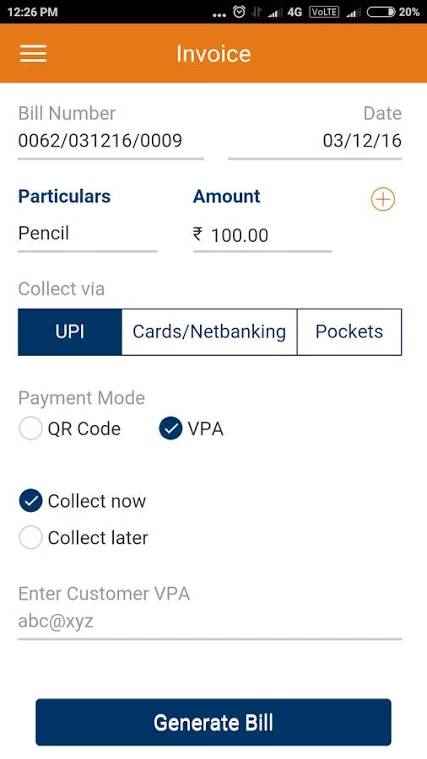 ​
The app itself is quite easy to use. Once the required login is done and the MPIN has been set, the seller can generate an invoice in the app by simply entering the amount and the buyer's mobile number (along with the Virtual Payment Address, if UPI is the chosen mode of payment). Thereafter, upon getting a notification on SMS, the buyer can simply enter his/her details to pay through credit/debit card / net banking or Pockets. For payment using UPI, the buyer can pay either by scanning a QR code displayed on the seller's phone or directly through their VPA.
Ms. Chanda Kochhar, MD & CEO, ICICI Bank said,
"Since the announcement of the demonetisation, we have proactively undertaken various measures to accelerate the shift to a digital economy. 'Eazypay' is yet another initiative to fulfil the vision of Digital India. I believe that the Eazypay mobile application is a path-breaking concept as it facilitates millions of merchants, retailers and professionals across the country to accept digital payments from various modes on a single mobile application"
When it comes to security, Eazypay is locked to the mobile number, hence, only one registration per unique mobile number is allowed, that too with mandatory MPIN authentication for every login. With this, ICICI seems to have pushed their post-demonetization 'Live without cash' movement a lot further, enabling end-users and merchants to realise the potential of the digital payment infrastructure available at their disposal.