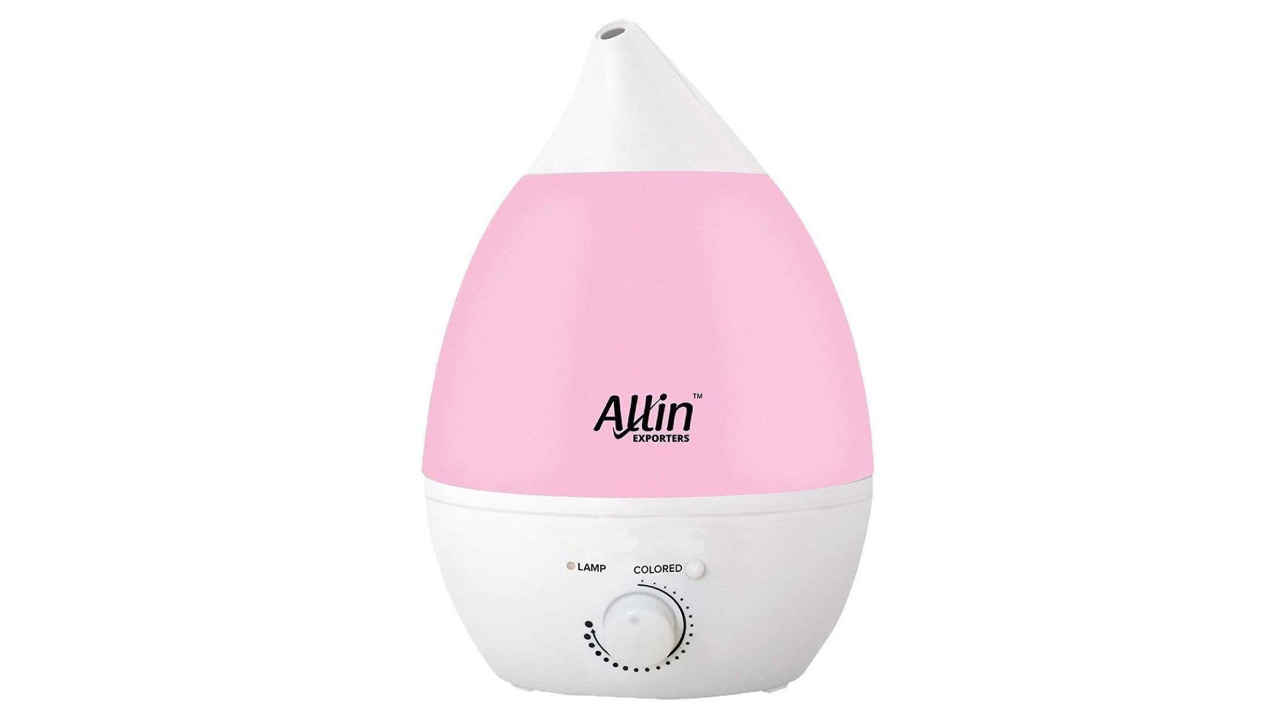 Getting a good night's sleep is not easy for everyone. For those who find it difficult to fall asleep, a humidifier could be the ideal solution. These devices help improve your breathing pattern at night and create a cosy and snug environment that promotes sleep. Some humidifiers also come equipped with an aromatherapy box and a night light that further help you doze off. If you are looking around for a humidifier that would help you sleep better at night, make sure it offers noiseless operation. Also, go for those humidifiers that come furnished with a timer and auto shut-off function because these features would give you peace of mind, as your humidifier would shut down without the need for manual intervention. Here are a few good options for humidifiers on Amazon that would help you sleep better at night.
Elechomes Warm and Cool Mist Humidifier
The Elechomes Warm and Cool Mist Humidifier produces less than 32 dB of sound, comes equipped with an auto shut-down feature, and offers an optional night light. These three functionalities enable the Elechomes Warm and Cool Mist Humidifier to create a pleasant atmosphere for a peaceful night's sleep. It features a large 5.5-litre water tank that can work for up to 55 hours on a single fill, and you won't have to worry about refilling it from time to time. Since it works on double 360-degree rotating nozzles, this humidifier makes sure that every corner of your room receives uniform mist. Apart from helping you sleep, this device also improves air quality by reducing bacteria and dust particulates. These strengthen your skin and provide temporary but effective relief from sinuses and asthma.
Allin Ultrasonic Cool Mist Humidifier
The Allin Ultrasonic Cool Mist Humidifier features an anti-microbial water tank that prevents the growth of mould and mildew. It is powered by ultrasonic vibration technology that instantly converts water into fine and visible cool mist to improve the humidity level. This results in the elimination of airborne bacteria and germs! The Allin Ultrasonic Cool Mist Humidifier is a three-in-one device that not only humidifies the air but also purifies and ionises it. But the features that make it ideal for nighttime are its auto shut-off function and whisper-quiet operation. Whereas its auto shut-off function automatically turns off the device once its water level is low, its whisper-quiet operation ensures you don't get disturbed when running at full capacity. Some of its other notable features are an adjustable mist rotary knob and energy-efficient technology.
Dr Recommends Ultrasonic Cool Mist Humidifier
The Dr Recommends Ultrasonic Cool Mist Humidifier comes with a large capacity of 4 litres that enables the device to run for long hours without requiring a refill. Supplemented with a quiet operation of less than 28 dB and an auto shut-off function, this humidifier could help you fall asleep better and faster. It comes furnished with a dual mist mode along with three mist levels that let you choose the ideal level of humidification according to your preferences. The Dr Recommends Ultrasonic Cool Mist Humidifier also has a 360˚ rotatable mist nozzle that makes sure the mist reaches every dry area of the room. With an optional night light that offers you a total of seven soothing shades, this device could help you get a peaceful night's sleep. It has a built-in mineral and fossil filter that reduces the scaling deposits in the humidifier, giving way for a long service life!
AGARO VERGE Humidifier
The AGARO VERGE Humidifier uses electronic frequencies to vibrate and break down the water into smaller particles, allowing them to disperse into the air efficiently. Since this humidifier enhances the amount of moisture in the air, it helps provide temporary relief from throat allergies and asthma. Coming equipped with a 2.5-litre water capacity, the AGARO VERGE Humidifier can cover an area of 22 square meters for up to 24 hours. It functions on a 360˚ spray nozzle that assists in spreading the mist in all directions. Moreover, since it has a knob to control the flow of mist, you can choose between low, medium, and high mist flow to suit your needs. Producing minimal noise during its operations, it makes sure it doesn't disturb you while you sleep!