Highlights:
Huawei wishes new year with iPhone on Twitter
Company demotes and slashes salaries of two employees
Wishing Happy New Year to Huawei fans on Twitter proved not-so-happy for two of its employees. According to a report, two of the company employees have been demoted and their salaries have been slashed due to a mistake they did when they posted the new year wishes on the microblogging platform. What mistake? The Huawei employees wished their fans via iPhone on Twitter. By the time the tweet was deleted, it went viral and people took its screenshots.
In a memo accessed by Reuters, Huawei Vice President Chen Lifang slammed the employees responsible for the tweet, saying "the incident caused damage to the Huawei brand." The report says that the mistake was done by an outsourced social media manager Sapient. According to a Huawei memo, Sapient experienced "VPN problems" with a desktop computer so it used an iPhone with a roaming SIM card to send the message on time at midnight.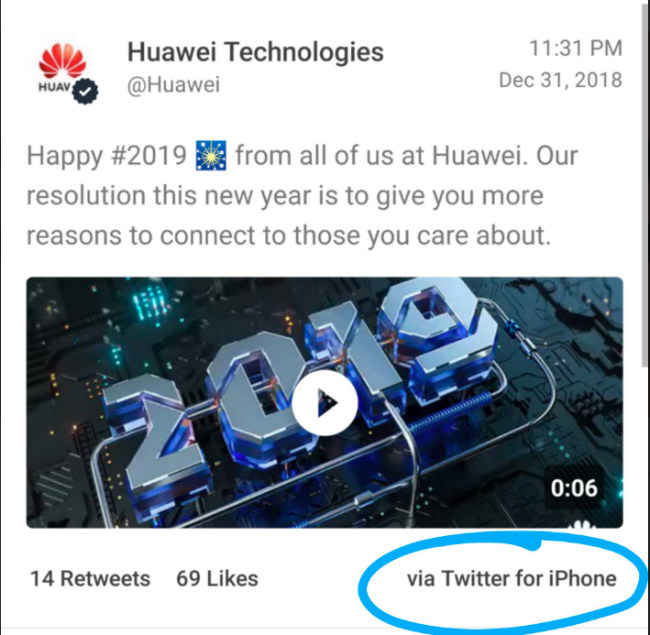 Huawei is reportedly blaming the in-house management as well. In the memo, the company says the mistake showed "procedural incompliance and management oversight." Reuters says that Huawei has demoted two employees by one rank and reduced their monthly salaries by over 5,000 yuan (approx $700). The pay rank of one of the employees - Huawei's digital marketing director - will also be frozen for 12 months, the report said.
This is not the first time that an Android manufacturer has been on this sticky wicket. Last year, Israeli actress Gal Gadot's Huawei Mate 10 Pro promotional image was posted 'via Twitter for iPhone'. Actor Anushka Sharma was also 'roasted' on social media after she shared an image on Twitter with its caption promoting the Google Pixel 2 XL smartphone, via an iPhone. In all the above said cases, famous YouTuber Marques Brownlee (aka MKBHD) highlighted the slipup.
Related Read:
Anushka Sharma gets trolled for promoting Google Pixel 2 XL with an iPhone
For more technology news, product reviews, sci-tech features and updates, keep reading Digit.in or head to our Google News page.