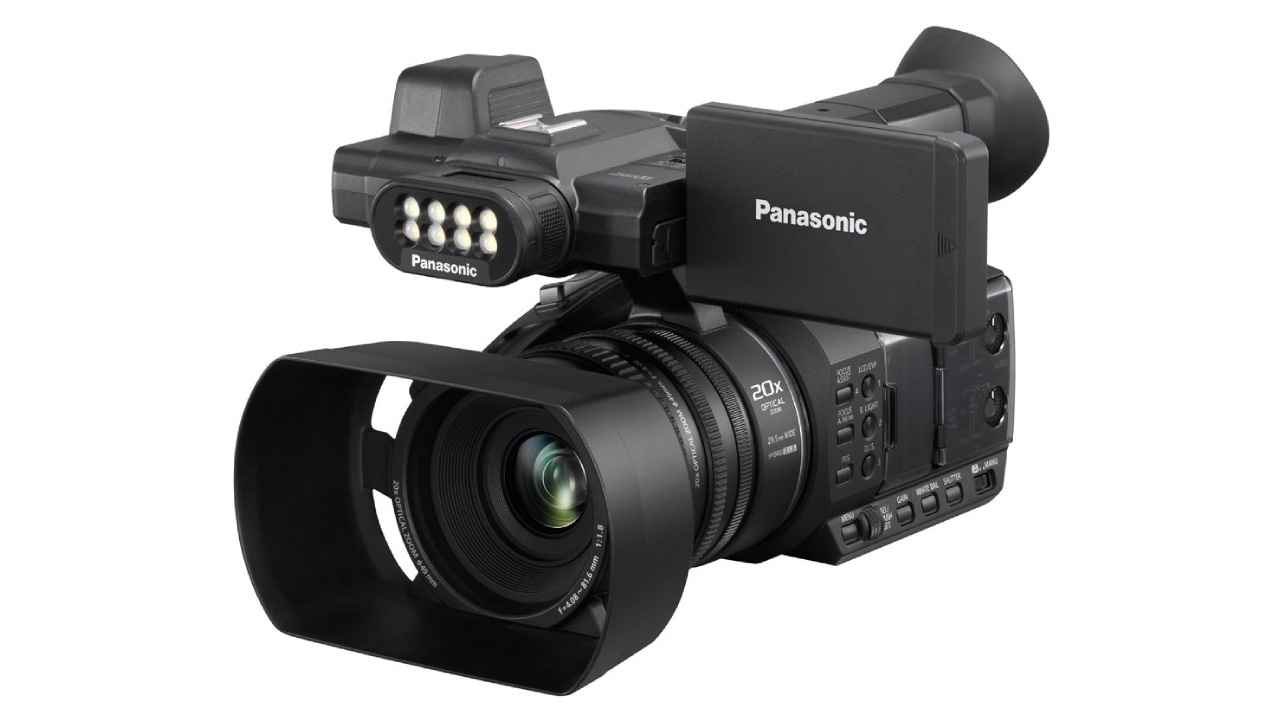 At some point in time, you're going to realise how limiting even the best smartphone is as a serious device to capture video. There just is no comparison to the quality that one can achieve given the right tools, and boy are the four devices we have listed here the right tools! With two 4K cameras and two more affordable full HD cameras on this list, we're pretty sure everyone will find a camera they like below. Whether you are a video professional or a video enthusiast, or a wedding videography artist, you will want to buy one of these.
Panasonic AG-CX350 4K Camcorder
The AG-CX350 camcorder from Panasonic is a professional grade camera that can be used even for live broadcasting by TV channels or online news agencies. It's a compact solution that packs in a whole host of professional features. At a mere 2.3kg weight, when fully kitted with the lens hood, microphone holder and battery, it's light enough not to give arm cramps to the most dedicated videographer. Shooting is done in 4k UHD/60p, which means it captures 60 full frames every second, making it great for even video shots with movement such as sports. It's capable of HDR recording, has intelligent autofocus and focus assist, and 24-bit stereo recording. It features two storage slots that can be hot-swapped during a shoot – so you shoot continuously using one slot, when it's full, it auto-switches to saving to slot 2 while you can swap out the SD card in slot 1. You also get a choice of multiple accessories such as battery packs, remote camera controllers, and the hero feature of this camera, wireless connectivity. You can live stream directly from this camera using a Wi-Fi dongle or tether a smartphone to share its internet connection and stream wirelessly, with no complicated setup, from any location that has internet access. If you're looking at arming yourself with a camera that can be used in even the most professional setup, you need to look no further.
JVC GY-HM 190AG 4K Compact Professional Camera
JVC is a well known and seasoned brand in the video shooting business, and we've come to expect the very best from them over the years. The GY-HM 190AG should be no exception to the rule. This full-featured camcorder is small and light, weighing 1.4kg without the battery installed. Like any professional-grade camera, you get two high speed, high capacity SD card slots that are hot-swappable during a long shoot. So, you essentially can store as much video as the amount of SD cards you can carry with you. You can also shoot in mirroring mode so that you can save the same shoot to both cards for redundancy. A neat feature is the two XLR inputs with phantom power to power up condenser microphones. This means you can plug two microphones to the camera and power them to get a great sound. For an internet chat show or even when shooting conversations and interviews in various settings, this feature is a huge boon! The camera delivers 12x optical zoom and can deliver colour accuracy that makes it perfect for green screenshots. It has nine user customisable buttons and four cursors that will allow you to shoot like a pro, with your camera tailored to your specific needs and style.
Panasonic HC-PV100GW
If you're looking for a professional-grade camera but with a slightly fewer feature for broadcast videographers that you probably will never use as a video enthusiast, then this might be the camera for you. The Panasonic HC-PV100GW is a mouthful to say, and while the name sounds complicated, the aim of the camera is to be super easy to use in all possible settings. This camera is designed to shoot people in intimate settings such as weddings, anniversaries or celebrating festivals with family. Whether you just want something professional to video your family members, or are looking to start a small videography business, this camera might just do the trick! The inbuilt LED light gives you one less thing to worry about by lighting your subjects as you shoot them. Here too you get two SD card slots with hot-swappable capability. The camera captures 1080p (full HD) video at The 20x zoom that the lens offers is more than enough for most shots you can think of, and also features optical image stabilisation (OIS). If you can afford it, this is a camera that will not disappoint.
JVC JY-HM360AG
The JVC JY-HM360AG is another full HD (1080p) camera with a hard to remember the model name, but a very easy to use interface. It features a 2.3-inch CMOS sensor that promises to be good with low light performance. This is important for the typical Indian wedding that involves faces being lit by the glow of the wedding fire. JVC claims that this camera is built to focus on and output beautiful faces. It also features the standard dual SD card slot to allow you unlimited recording time because of its ability to hot-swap cards. The XLR audio input will allow you to capture professional sound using a static microphone or a colleague carrying a boom mic at the event you're recording. During weddings the lighting can change suddenly as the couple or family members leave or enter the spotlight, or move to dimly lit areas, but armed with this camera, you can flick between scenes to get the best possible image quality, and change to it very quickly.