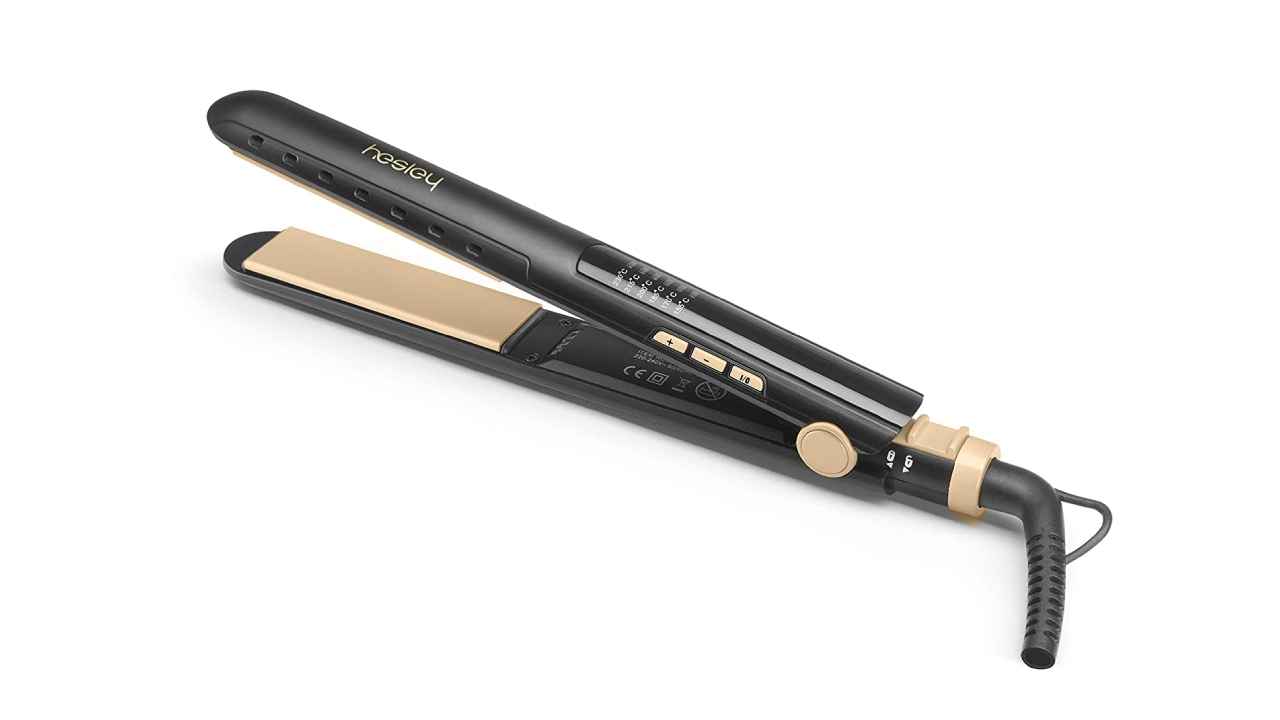 Messy and mismanaged hair doesn't only cause inconvenience but can also result in long-term hair damage if not corrected promptly. While changing your hairstyle could be one solution, there is another way through which you can get straight and perfect hair. This best solution is a hair straightener as these devices can straighten out your hair in little to no time! If you plan to get rid of your messy hair, go ahead and add a hair straightener to your hair care routine. But before buying this device, make sure it comes equipped with a heat protectant so that your hair stays protected from overheating. Moreover, also ensure it has a heat adjustment setting so that you can pick the ideal temperature that suits your hair. Here are a few good options of hair straighteners on Amazon that come equipped with temperature adjustment:
PHILIPS Bhs378/10 Kerashine Straightener
The PHILIPS Bhs378/10 Kerashine Straightener is powered by thermo-protect technology that helps in distributing heat evenly across the plates. This mechanism prevents overheating and protects your hair from excessive heat. It comes equipped with keratin ceramic plates that assist in dispensing smooth gliding and giving shiny and frizz-free hair. This hair straightener has a total of six temperature settings that enable you to switch between 160°C-230°C, ensuring you have full autonomy to choose a temperature that suits your hair. Its 100 mm plates can straighten your hair in little to no time, thanks to its fast heat-up time of 30 seconds. Some of its other prominent features are ionic conditioning that keeps the glossiness of your hair intact and SilkPro Care technology that gives you silky smooth hair.
VEGA Keratin Glow Hair Straightener (VHSH-20)
The VEGA Keratin Glow Hair Straightener (VHSH-20) features ceramic coated plates that are infused with keratin. This combination of ceramic plates and keratin provides you the ultimate gliding experience and gives healthier, smoother, and shinier hair. Equipped with floating plates that help prevent hair tugging, this hair straightener gives your hair all-around protection. With a rotating temperature regulator that lets you adjust the temperature between 170⁰C to 230⁰C, this device enables you to pick a setting that best suits your hair type. It has a quick heat-up time of 60 seconds, along with a power indicator light that indicates to you whether the device is switched on or not. The VEGA Keratin Glow Hair Straightener is compact and travel-friendly and comes with an easy lock system and 360⁰ swivel cord to prevent tangling.
Hesley GLANZ Hair Straightener
The Hesley GLANZ Hair Straightener can heat up fast within two seconds, bringing its plates back to the ideal temperature quickly after each pass. This translates to not having to pass over each section multiple times and damaging your hair! Its keratin coated ceramic plates deliver sleek and smooth hair with every effortless stroke, giving you silky, shiny hair instantly. It can suit every hair type, thanks to its versatile temperature capabilities that enables you to switch between 155⁰C to 230⁰C. It is the perfect travel companion as it comes in a robust lockable design. This device is your all-in-one personal styling tool with its ability to both straighten and curl your hair. It also boasts a total of eight Heat Balance micro-sensors that constantly regulate the temperature and prevent hair damage.
Nova Professional NHS 890 Hair Straightener
The Nova Professional NHS 890 Hair Straightener runs on infrared heat technology that heats your hair from the inside out. This system stimulates the negative ions within your hair, draws the oil from your hair shaft, and locks in the moisture, giving you the perfect straight hair for a long-lasting period, even in humid weather conditions. Since it has a heat-up time of only 30 seconds, this device reduces the hairstyling time, ensuring you don't have to subject your hair to high temperatures for a longer duration. Its 360⁰ swivel cord prevents tangling and gives you the ultimate convenience to style your hair from any angle. Its adjustable temperature settings are presented through a readable LED display and allow you to switch between four temperature settings.