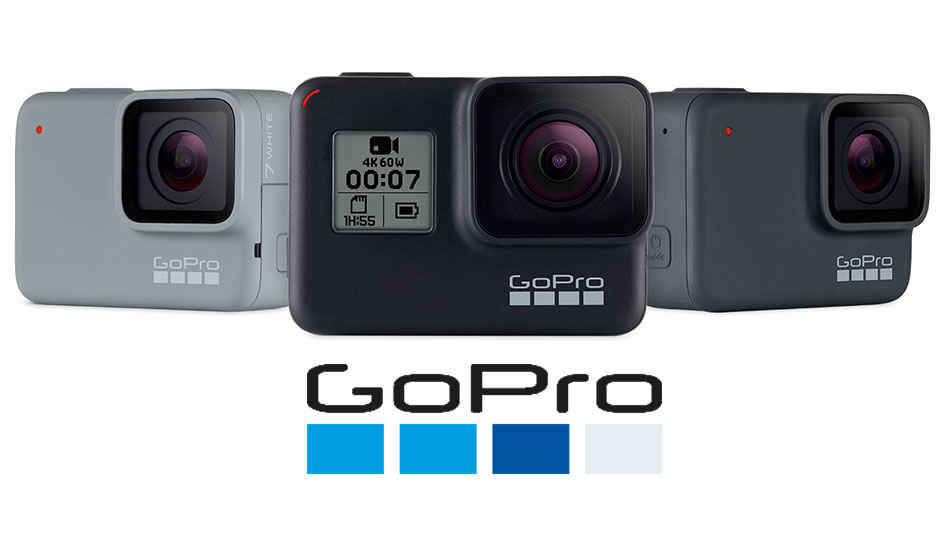 HIGHLIGHTS
GoPro has announced three new action cameras, the Hero7 Black, Hero7 Silver and Hero7 White in India following a leak that revealed all the specs of the new devices.
GoPro, the company that popularised sports action cameras has announced three new additions to its portfolio. The GoPro Hero7 lineup includes the Hero7 Black, Hero7 Silver and Hero7 White. The cameras will go on sale globally on September 27 at Rs 37,000 for the Hero7 Black, Rs 28,000 for Hero7 Silver and Rs 19,000 for Hero7 White.
GoPro Hero7 specs
The GoPro Hero7 Black is the flagship camera in the new GoPro lineup, featuring several new features. It continues to use the same design as the GoPro Hero6 with a unibody design which eliminates the need for a case. The Hero7 Black shoots videos in multiple resolutions all the way up to 4K (at 60fps) and with frame rates going as high as 240fps (at 1080p), which is the same capabilities as last year's Hero6 Black. However, the new trick here is the built-in electronic image stabilization which the company claims is "the best stabilization built into a camera yet." They're calling this new technology "Hypersmooth". Other than that, the camera also features live-streaming, and HDR and RAW photo modes and a time-lapse mode.
The Hero7 Silver and Hero7 White are designed for newbies and as such, have a slightly more toned down feature set. The Hero7 Silver also shoots 4K video but tops out at 30fps while the Hero7 White has a maximum video resolution of 1080p. Neither of the cameras has super slow-motion capabilities. The two cameras also lack the Hypersmooth digital image stabilization capability.
GoPro is seeing the new Hero7 as a way to claw its way back into profitability, given that up until a few months ago, the company was open to being bought out. The Hero7 trio do seem to have a price point that will make them more appealing to a larger audience, but it remains to be seen whether the cameras will bring the company back to profitability.