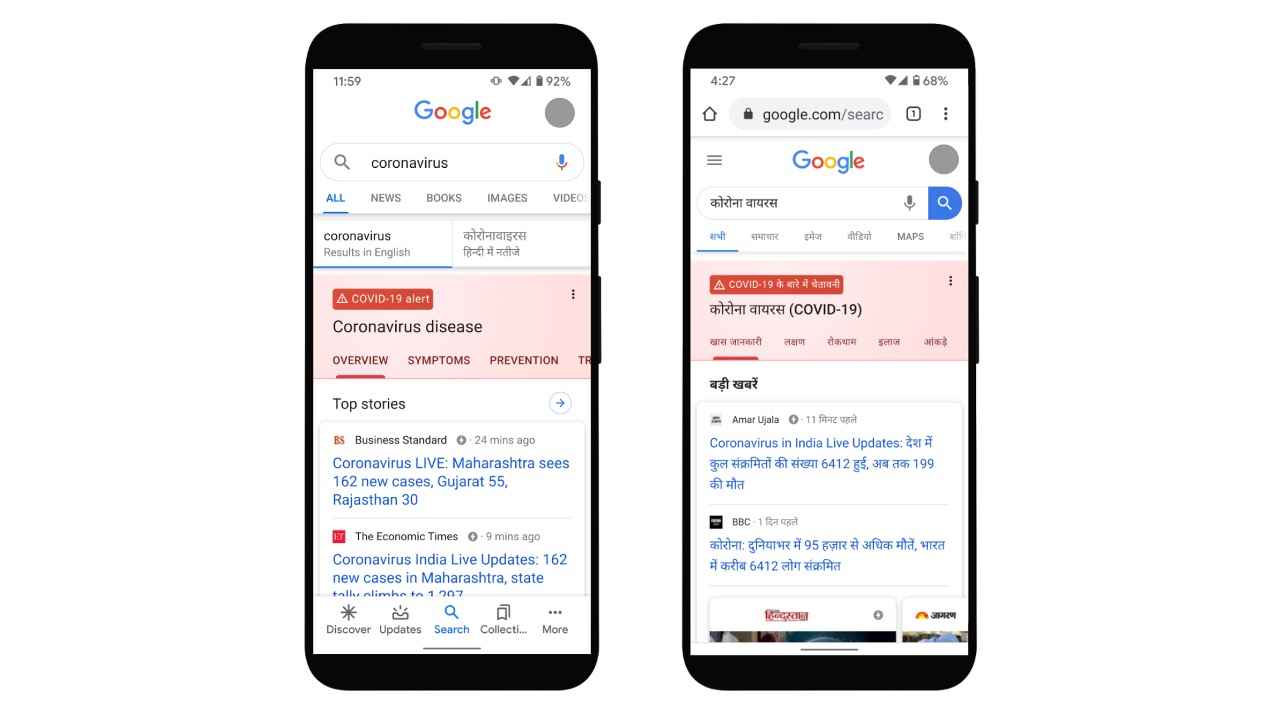 HIGHLIGHTS
Google launches dedicated website with Coronavirus information and tools

National helpline numbers, top stories, Do the Five campaign features on the website

Google Search also displays food and night shelter information
Google is doubling down on its efforts to make accurate information and tools readily available to people, in the wake of the Coronavirus outbreak in India. The company has tweaked it's existing products such as Maps, Search and YouTube to display verified news and updates related to COVID-19 and also launched a new website dedicated to the resources around the spread of the disease.
In a blog post, detailing the actions that were taken, Sanjay Gupta, Vice President and Country Manager at Google India says, "Since the virus first began to spread, our focus at Google has been on making sure people have the information and tools they need to stay informed and connected. But we know there's much more work ahead. Today, we're sharing an update on the actions that Google has taken in India to help bring authoritative and reliable information to people, and provide features across its products that can be helpful during these trying times."
Google's COVID-19 website has lots of information and resources for people to read and keep in handy during this trying time It details the national helpline contacts, including the toll-free number, a brief overview of the disease, its symptoms and prevention techniques. The portal also has pictures and videos for people to better educate themselves on the disease.
There's a separate tab for data and insights that you can look at to see a real-time map of any country, state or city in the world affected by the virus. The website has other resources in the form of videos to help kids learn at home, DIY tutorials, cooking tutorials, among others.
Google has amped up its Search results, Maps, YouTube and Google Pay to better reflect and suggest health updates around COVID-19 by the Ministry of Health and Family Welfare (MoHFW) and WHO on the respective products.
For instance, if you search for the term "Coronavirus", the Search engine will take you to a dedicated page with concise information on the disease, including news reports, diagnosis information such as symptoms and treatments. The page also mentions the central and state Coronavirus helpline numbers which can come in handy if looking for hospitals or doctors in the lockdown.
On YouTube, Google is pushing credible sources like the MoHFW, WHO on the homepage and search for users to directly visit these websites for up-to-date information. A 'Coronavirus News Shelf' has also been set-up on the YouTube homepage which lists videos from official sources. Google also partnered with MoHFW for an educational public service campaign "Do the Five" on Coronavirus featuring Amitabh Bachchan and is now promoting the series across YouTube, Search and Assistant.
Moreover, Google has made sure that all videos uploaded on YouTube regarding Coronavirus will have additional links redirecting users to the MoHFW website or WHO website.
The website also lists response efforts in place to support healthcare workers and daily wage earners. So, if you're someone who wants to help people in need donation links to PM Cares fund and Give India are listed on the website.
As daily wage workers were the worst hit by the Coronavirus outbreak in India, hoards of people started walking back to their villages and homes across the country barefoot. To curb the spread of the disease, state governments have set-up food and night shelters for people to stay. Now, Google Maps, Search and Assistant are displaying 1500+ results across India for people looking either for a food shelter or a night shelter.
This information can also be easily accessed by Assistant on KaiOS and even Vodafone-Idea subscribers can dial 000 800 9191 000 to get details about the food or night shelters nearby.
Additionally, Google has also set-up a dedicated COVID-19 spot on the Google Pay app that lists all the official information about the disease and links to donate to PM CARES fund or other NGOs.