The seventh edition of Google for India 2021 just concluded with Google announcing many new India-centric features for its apps like Google Pay and Assistant
The seventh edition of Google for India 2021 just concluded with Google announcing many new India-centric features for its apps like Google Pay and Assistant. It also announced some initiatives like the Google Career Certificate scholarships in partnership with leading companies and has reiterated its support for SMBs and micro-enterprises.
In 2020, Google announced the Google for India Digitization Fund and collaborated with Reliance Jio for its JioPhone Next smartphone that aimed to allow 2G users to migrate to 4G LTE. The JioPhone Next is powered by a Qualcomm chipset and runs on Pragati OS for which both Google and Jio joined hands.
In a roundtable discussion with Google for its Android growth strategy in India, it was hinted that the company may partner with more telecom operators in the future. It is likely that Google may partner with other telcos for a smartphone along the lines of JioPhone Next or may help them develop a custom OS based on Android.
Book COVID vaccinations via Google Assistant
Google has announced a pilot program in partnership with COWIN for Google Assistant-enabled vaccination booking on the COWIN website. In it, Google has integrated its Assistant in the booking flow which means people will be able to book their vaccine slots with much more ease bringing down the barrier for people who find it a hassle to fill forms, use a smartphone and more.
The feature currently supports nine languages including English, Hindi, Gujarati, Kannada, Malayalam, Bengali, Marathi, Tamil, and Telugu. It will be available for everyone in early 2022.
Expanding local language ecosystem in Search results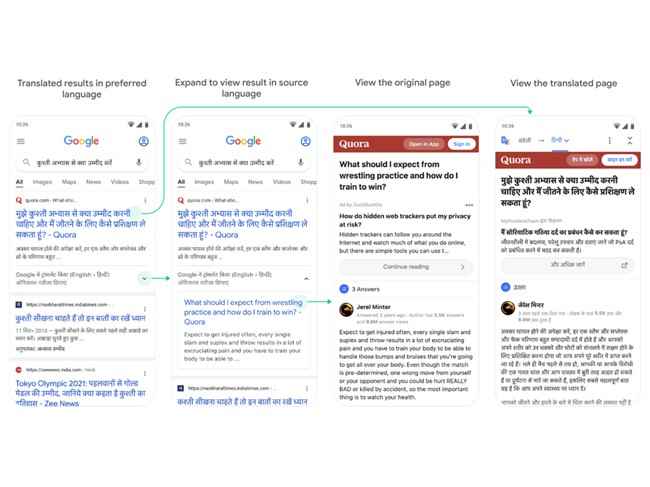 There are times when people are looking for a piece of particular information on Google in their local language but they are served with Search results in English. Now, Google is expanding its machine learning and translation techniques to offer search results in local languages, even if the source web page is in English.
The feature can be accessed through any mobile browser that supports Google Search and is available in five languages for now including Hindi, Kannada, Tamil, Telugu, and Malayalam.
Furthermore, Google is also expanding its voice translation service to enable users to hear the search results out loud. It is available in Hinglish, Hindi, Bengali, Marathi, Telugu, and Tamil.
Google Pay new features: Hinglish, Bill Split and MyShop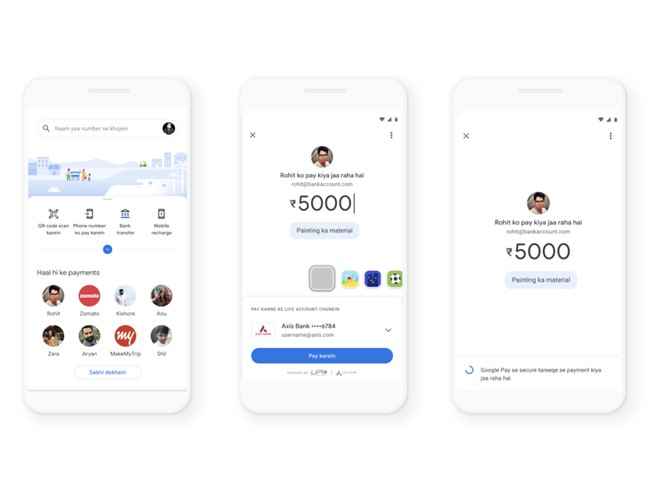 Google Pay is getting some new features such as the ability to use the app in the Hinglish language option with just a tap of a button. Users of Google Pay will now be able to use voice commands to pay to another user or business.
Another really handy feature is Bill Split which can be used to split expenses between friends and settle shared expenses very easily.
Google has also announced the launch of MyShop on Google Pay where micro-businesses and merchants can establish their online presence and build a store quickly by adding a few images and prices of the items they are selling online. All these new Google Pay features will go live in the coming months.
Climate and weather alerts on Google Search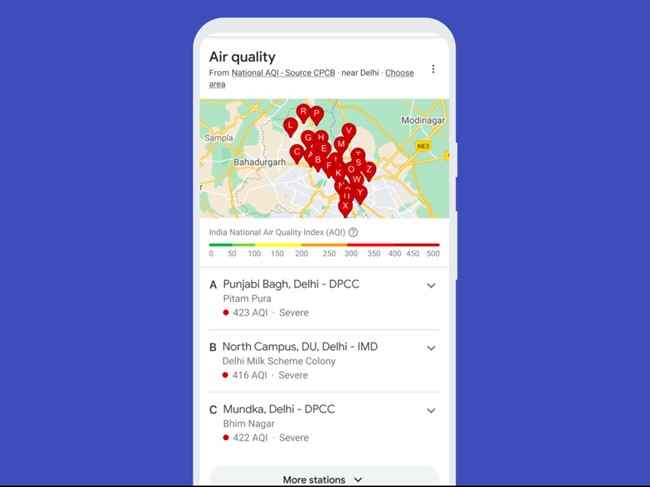 Google is expanding its climate-related efforts for India with some new features on Search which will offer air quality information, weather alerts and flood forecasting updates in the search results.
For air quality updates, Google has partnered with the Central Pollution Control Board (CPCB) and is offering information for people who search for queries like "Air quality near me".
It has also partnered with the Indian Meteorological Department (IMD) for weather alerts in extreme climatic conditions. In the case of any severe weather alerts, the At a Glance section and Google Search will both show weather updates and alerts issued by the government.
Google Flood Forecasting Initiative has been working with the government to predict when and where flooding could happen. Their new models have doubled the lead time and Google has already issued over 110 million notifications to at least 20 million affected people.
100,000 scholarships for Google Career Certificate Program
Google has also announced 100,000 scholarships for its Career Certificate program which enables users to develop their skill-set and become job-ready in IT, Data Analytics, UX design and more. Google is collaborating with NASSCOM Foundation, Tata Strive and Safeducate for distributing the scholarships to learners across India.
Google along with major companies like Tech Mahindra and Wipro has established a consortium for job seekers and those enrolled in the Career Certificate program.
Google has also collaborated with SIDBI for 110 crore financial assistance to micro-entrepreneurs.