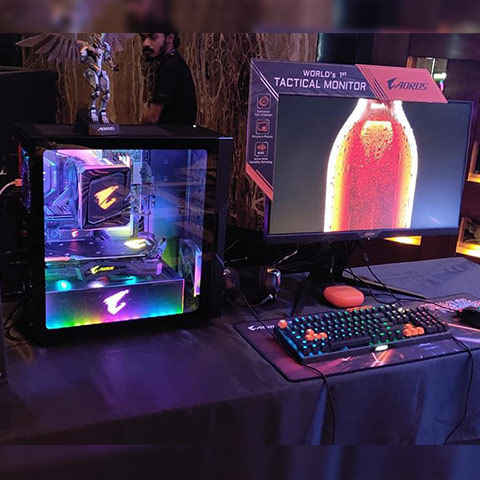 GIGABYTE India, at the AORUS EXTREME LAND showcase event in Mumbai, unveiled their plans to widen GIGABYTE's focus in India from just being a motherboard and components company to one that offers customised desktop PCs in India later in H2 2019. In order to accomplish this goal, GIGABYTE has been widening its portfolio of PC components over the last 1.5 years. From being known just for their motherboards, GIGABYTE India now sells graphics cards, CPU Coolers, RAM modules, PC cabinets, keyboards, mice, mouse pads, SSDs, monitors, mini-PCs and power supplies. While GIGABYTE does manufacture laptops, they have no plans of launching the Aero series of laptops in India any time soon.
GIGABYTE customised desktops
One of the key announcements at the event was that of GIGABYTE's plans to offer customised PCs in India. Customers would be able to pick and choose the various components from GIGABYTE's portfolio of motherboards, coolers, RAM modules, cabinets, and all the other recently added component categories, and get themselves a complete PC. Since all components except the CPU is being purchased from GIGABYTE, it would reduce the complexity of configuring a machine but there's also the limitation of choice. The initial offerings would be limited to 2-4 pre-configured machines. As for the warranty, we were informed that the entire computer would probably be covered under a unified warranty. While GIGABYTE hasn't finalised all the details regarding this new offering, it seems that they aren't the only ones heading in this direction. ASUS already sells pre-configured gaming desktops in India and MSI has similar offerings overseas. It will be exciting to see if GIGABYTE can bolster its product portfolio for each component category and offer a truly customisable solutions in the manner that large-scale system integrators do.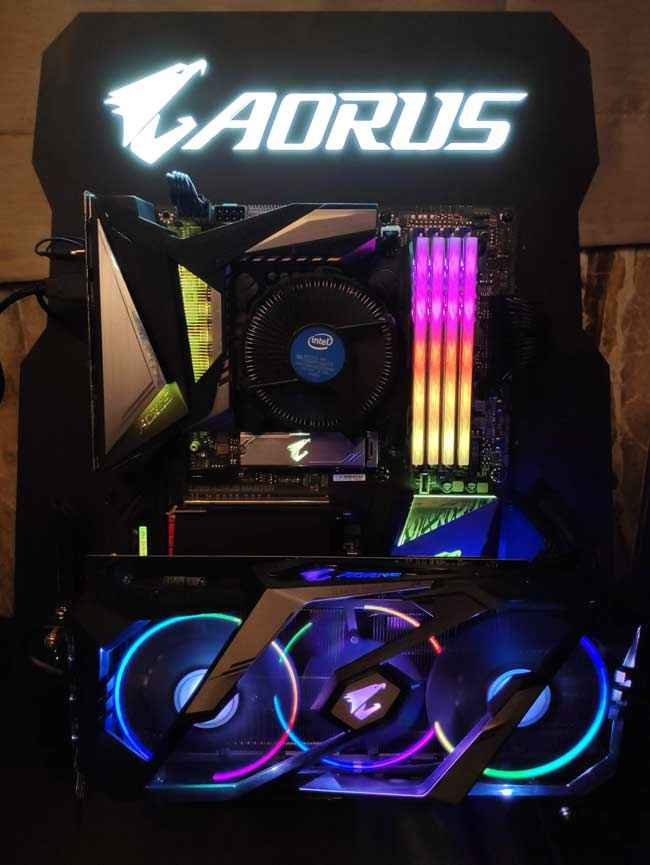 One of the senior GIGABYTE executives present at the event, Tony Liao (Associate VP of the GIGABYTE Channel Solutions Business Unit) said, "We wish to bring the whole set of new and extreme gaming experience to Indian gamers not only with AD27QD monitor but also an extreme desktop performance which comes from pre-tested i9-9900K, top-of-the-line motherboard, graphics card, and SSD."
AORUS AD27QD Gaming Monitor
GIGABYTE's entry into the monitor segment in India seems quite impressive on paper. The AORUS AD27QD is a 27-inch QHD high refresh-rate (144 Hz) panel that supports AMD Radeon FreeSync. It's also an HDR panel that makes use of an 8bits+FRC IPS panel to achieve the high dynamic range and supports 95% DCI-P3 colour gamut.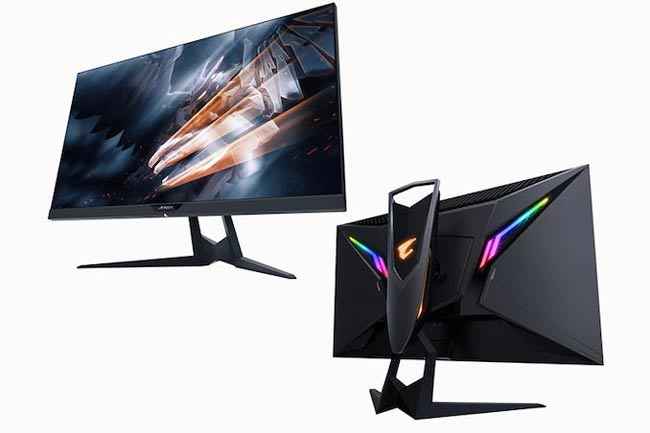 Aside from all of these niceties, what stands out the most about the panel is the term "Tactical" which GIGABYTE uses to describe this monitor. The reasons why? For starters, the AORUS AD27QD has an OSD menu that can be manipulated from within the OS. Then there's an aim stabiliser feature which seems to be a clever way of marketing the Motion Blur Reduction feature that most high refresh-rate panels have these days. Then there's a hardware monitoring overlay that can be layered onto any application and there's also a black equaliser feature. The interesting features are left for last, these include a timer/counter overlay to keep track of in-game periodic events, a crosshair overlay for those who can't noscope in FPS games, and an alignment feature that helps you set up the picture across a multi-monitor setup. Additionally, there's Picture-in-picture (PIP) and picture-by-picture (PBP) feature to display multiple video feeds on the same panel. The fanciest of all features was the ANC (Active Noise Cancellation) feature that leverages two built-in microphones as well as the microphone on your headset to curtail background noise. As for physical features, it can tilt (-5~+21°), swivel (-20°~+20°), pivot (+90°) and the height can be adjusted by 13 cms. The AORUS AD27QD would be selling at approximately INR 55,000(+tax) once it is officially available. As of now, the AD27QD has been showcased at trade events and has been seeded to certain gaming cafes in India.
Motherboards, SSDs and premium bundles
Other products showcased at the event included the C621 AORUS XTREME, one of the two motherboards in existence that is capable of seating the Intel Xeon W-3175X 28-core processor; the Z390 AORUS XTREME WATERFORCE 5G Premium Edition bundle which clubs an Intel Core i9-9900K clocked to 5.1 GHz and features a liquid cooled monoblock. Also seen at the event was GIGABYTE's AORUS RGB AIC NVMe SSD