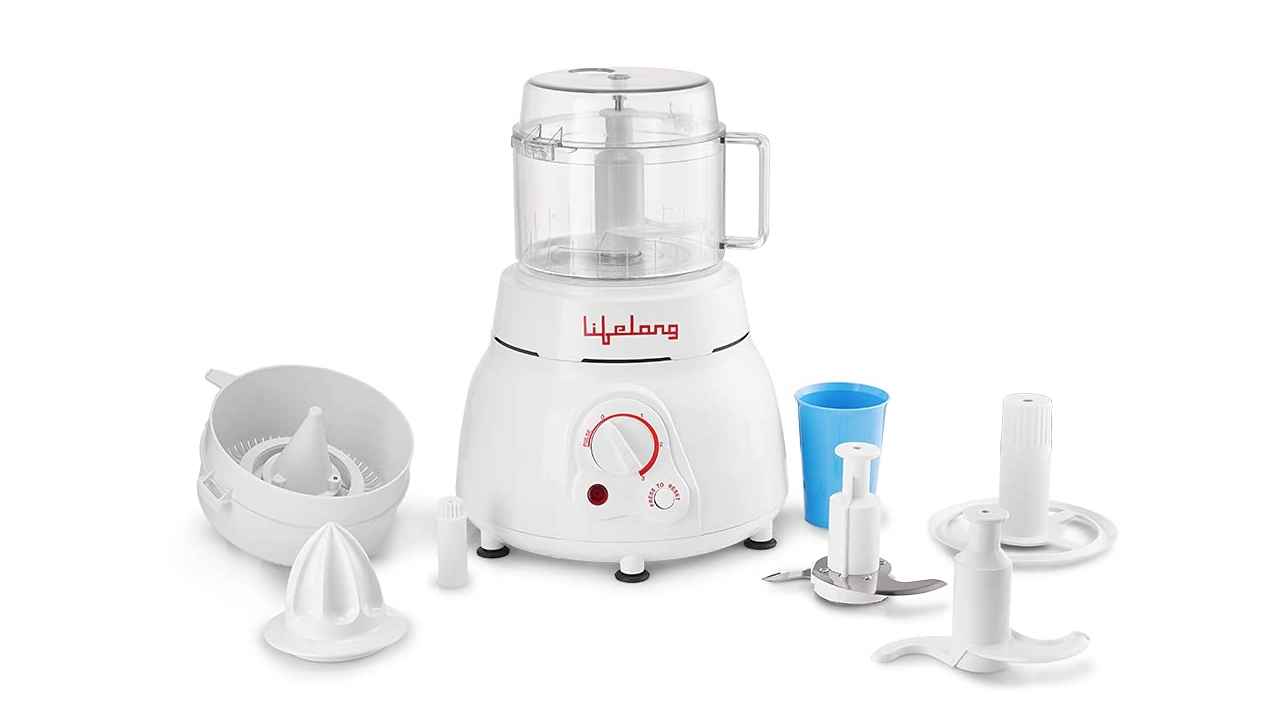 One of the most tiring tasks in a kitchen is kneading dough. It takes a lot of time, energy, and effort and can completely drain you for the next few hours. However, there is a way around manual kneading, and that is through food processors! These kitchen appliances can complete the arduous task for you and that too in a few seconds. Moreover, they can knead the dough hygienically as it does not include the use of hands. If you are on the lookout for a food processor that can knead your dough, make sure that it comes equipped with a powerful motor. Apart from this, also make it a point to only shortlist those models that offer sharp blades and multiple speed settings. Here are a few good options of food processors on Amazon that can be used for kneading dough:
Lifelong LLAK02 500W Food Processor
The Lifelong LLAK02 500W Food Processor offers different blades for different purposes, making it your one solution for most of your kitchen needs. It comes with an atta kneading blade, a whipping blade, and citrus cones that handle most of your work around the kitchen. The atta kneading blade helps to knead your dough, the whipping blade assists in whipping creams and lassis, while the citrus cones help in extracting juices from citrus fruits. Since a 500 Watts motor powers it, it can quickly knead half a kilogram of dough within 30 seconds. Moreover, as it uses food-grade blades, it doesn't contaminate your food! The Lifelong LLAK02 500W Food Processor has several built-in safety features, including an internal circuit breaker and anti-skid feet that shield the appliance from inside and out. Some of its other notable features are three-speed settings and multiple accessories.
Bajaj FX 11 600-Watt Food Processor
The Bajaj FX 11 600-Watt Food Processor can perform many functions for you, ranging from chopping, slicing, shredding to grating. It comes with a set of three jars and a processing bowl, all of which are made from durable and long-lasting materials. It bears a three-speed setting, giving you the flexibility to pick a level that best suits your preferences. It consumes up to 600 Watts of power that makes its blades move at a speed of 18,000 RPM, enabling it to function efficiently and optimally. The Bajaj FX 11 600-Watt Food Processor also has an interlocking mechanism in place that interlocks the processor's jars, giving way to maximum safety. Sporting a classy design and a sturdy body, it provides durable and long-lasting performance to its users.
Bosch MCM3501M 800W Food Processor
The Bosch MCM3501M 800W Food Processor uses six multilevel knife blades. This gives the processor the ability to blend and grind rigid materials, including nuts, coffee beans, garlic, and ginger. This functionality also enables the processor to knead dough! Functioning on a powerful yet silent motor, this processor has 50+ applications. It offers two-speed settings along with a moment function through which you can conveniently vary the speed according to the material you are blending. The Bosch MCM3501M 800W Food Processor is made out of BPA-free plastic, making sure the appliance does not cause any form of contamination to your food.
Inalsa Food Processor
The Inalsa Food Processor takes multiple kitchen tasks off your hand as it can blend, slice, chop, knead, and shred, making it an all-in-one kitchen appliance. It features an overload protector and a child lock safety function that protects the processor from overload and ensures your child remains safe from any possible accident. The Inalsa Food Processor comes along with two-speed settings with a pulse function. This gives the appliance the option of switching between different power levels conveniently. Apart from these, some of its other prominent features are a robust design that complements the looks of your kitchen, a dial that lets you switch between modes quickly, and multiple accessories.