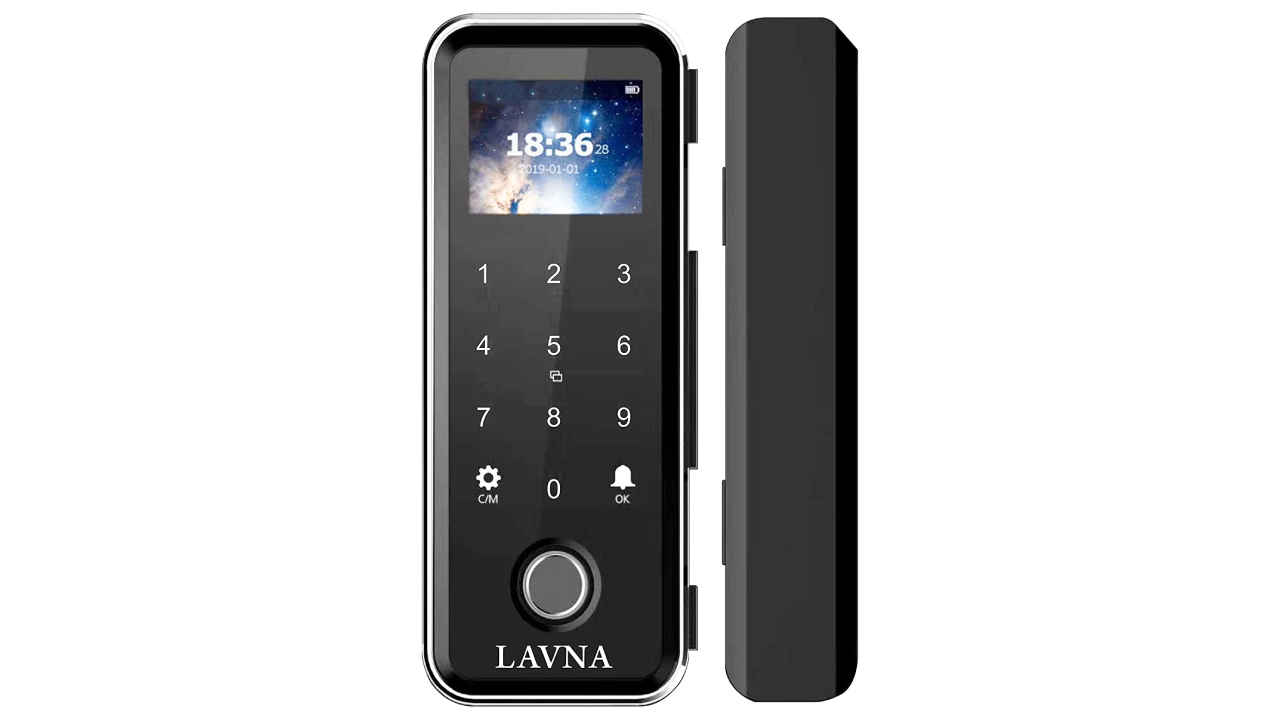 A simple door lock is no longer enough for giving your home supreme protection, especially if you have a glass or a sliding door. While you can equip your home with CCTV cameras, there is still the need for an extra layer of protection. This additional protection comes in the form of fingerprint scanner door locks that are a significant upgrade from conventional door locks. If you are searching for a fingerprint scanner door lock for your glass or sliding door, make sure it has multiple modes of access and remote functions. Following are a few good fingerprint scanner door locks available on Amazon.
Yale YDR 41 Smart Lock
The Yale YDR 41 Smart Lock features a strong interlocking hook mechanism, making it perfect for sliding and double doors. It offers keyless entry, giving you peace of mind that you won't lock yourself out if you forget your keys. The smart lock comes equipped with multiple modes of access, such as biometric, pin-code, Bluetooth, and WiFi, ensuring both protection and easy access. It can upgrade your existing door lock and support doors with a thickness from 35mm to 55mm. The lock also comes with an automatic locking feature through which the door locks itself after a few seconds.
Yale YDR 4110 Smart Rim Door Lock
The Yale YDR 4110 Smart Rim Door Lock supports door thickness of 35mm-55mm, making it ideal for glass and sliding doors. It gives multiple points of access in the form of a fingerprint scanner, pin-code, and BLE, all of which ensure you are never locked out of your home. By using the Yale app and WiFi bridge, you can conveniently lock and unlock your home, share keys with your family, and monitor who is coming in and out of your home. The smart lock boasts a voice guide feature that lets you know the operation status and how to access different modes. Some of its other notable features are automatic locking and an 80dB alarm that goes off if anyone attempts to break in.
LAVNA Biometric Glass Door Lock
The LAVNA Biometric Glass Door Lock has a fingerprint unlocking speed of 0.4 seconds, offering a swift unlocking experience. It has a 360° fingerprint sensor that can register up to 200 fingerprints, ensuring every member of your family can access the lock conveniently. This smart lock is only suitable for glass doors that have a thickness of 10-12-mm. It comes equipped with remote locking, RFID card and pin-code access, giving complete protection to your home. The smart lock is also easy to install as it doesn't require any cutting or drilling. Moreover, it has a built-in doorbell and records to see who has entered your home in the past. Apart from these features, this intelligent door lock boasts an auto-locking system, a low battery indicator, and an external power port that powers the lock if the battery gets dead.
Ozone Digital Lock OZDL-11-KCP-STD
The Ozone Digital Lock OZDL-11-KCP-STD comes in a compact shape and offers easy functionality. With its multiple modes of access (RFID card, emergency key, pin-code, fingerprint scanner), the digital lock ensures you don't get locked out of your home! It also allows you to keep an additional layer of security through its two-step verification mode. Suitable for glass doors with a thickness of 35-45mm, the lock has multiple alarms to alert you in case of an emergency. It comprises a high-temperature alarm that goes off if the room temperature exceeds 65 degrees and a break-in alarm that goes off if someone tries to tamper with the lock. The Ozone Digital Lock OZDL-11-KCP-STD features auto-locking as well, using which the door will be locked automatically after 3-15 seconds.