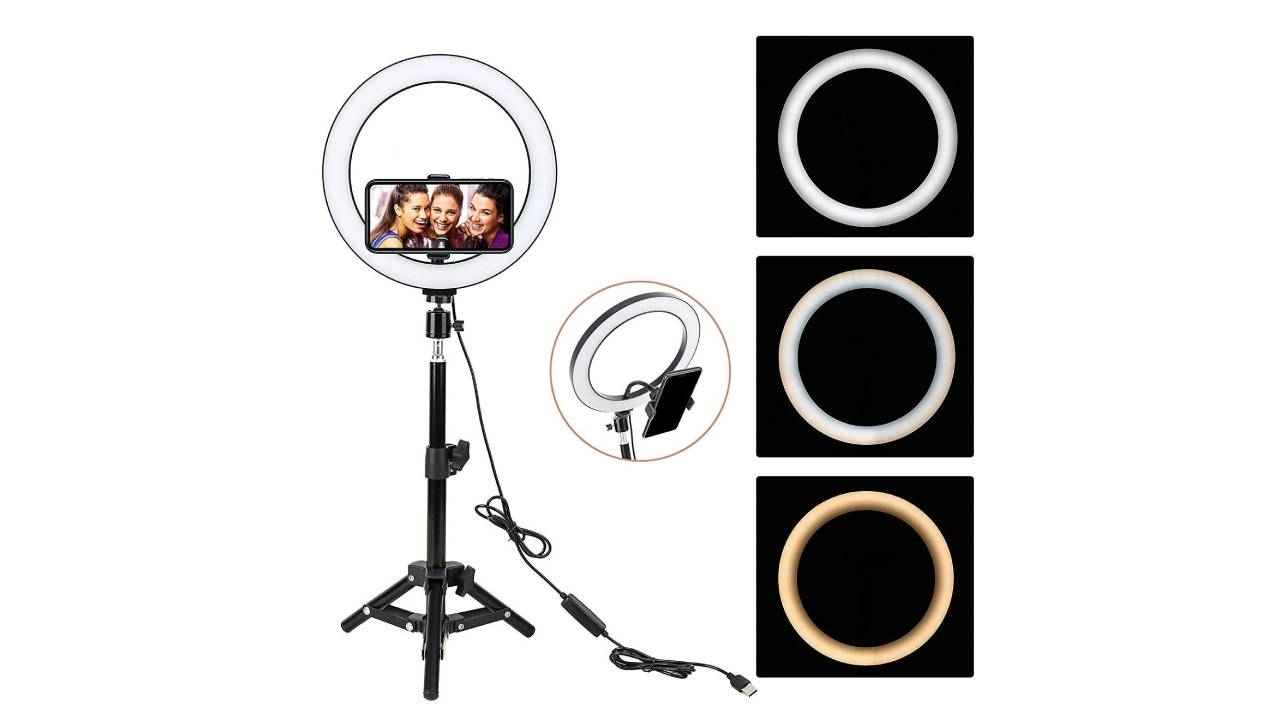 Be it for a TikTok video or an Instagram selfie, external flash for smartphones have now become a rage in the country. Having an external flash enables you to click good quality pictures and shoot videos even under low-light conditions. Furthermore, you can add a touch of creativity to your content by using the different light modes available in these products. To help you find the right fit, here are four external flashlights for smartphones that you can buy on Amazon. Note that these products have been selected based on their features.
Digitek LED-015
The Digitek LED-015 is a mountable external flash for smartphones that you can easily clip on the top half of the phone. The LED lights in this emit soft light that results in fewer shadows on the subject, which improves the quality of the photo. Furthermore, this device emits light beams at a wide angle of 120-degree, which should help you shoot videos even while keeping the smartphone at a distance. The LED Light possesses a 90mAh rechargeable battery, which should give it enough juice to last for 60 minutes, as per company claims. It comes with a microUSB charging cable so that you can charge it with a portable power bank as well. Finally, it works at three different intensity levels, letting you decide the amount of light you want.
Trendmax LED Selfie Flash Light
If you are looking for an affordable external flash for your smartphone, then this product from Trendmax should do just fine. This selfie ring has a good build design as it is made of durable plastic, and is shockproof according to company claims. It gives you continuous light so that you can shoot good quality videos even in low-light conditions, ensuring they are worthy of uploading on TikTok and Instagram. Furthermore, it has an in-built rechargeable power battery, which should give you 90 minutes of continuous light on one single charge, as claimed by the brand. Also, it offers three different levels of lighting, enabling you to shoot in different lighting conditions. Finally, the clamps have anti-slip and scratch-resistant sponges attached to them, which should hold the external flash on the smartphone for a long time without it falling or causing scratches on the phone.
Altronif Selfie Ring Light
If you are looking for an external flash that produces a solid light output, then this selfie ring light from Altronif should fit the bill. It uses 36 LED bulbs, which the company claims are more than what's used in the other products in the segment. This should enable you to click good quality selfies and videos even in extreme low-light conditions. Furthermore, it comes with three modes of brightness, so that you can choose the intensity of the light source. The clamps of this ring light have a silicone rubber coating on them, thus protecting your smartphone from any scratches. Finally, it is powered by two AAA batteries to give you continuous light at its full potential.
MobiElite Ring Light
If you are looking for a big external flash to shoot professional-grade pictures and videos using your smartphone, then this 10-inch ring light from MobiElite is a great option. You can mount this big LED ring light on a tripod stand that comes with the package. One of the biggest advantages of this light ring is that it works in three different light colours and 11 different levels of intensities. As a result, you get 33 different modes to capture pictures and shoot videos. Once you set up the ring on the tripod, you just need to fix the phone on the flexible phone holder in the middle and you are good to go. Since the smartphone is in the middle of the ring, the light falls on you from all sides of the smartphone. As a result, your pictures should have an even tonality of light in them. Finally, this ring light can be controlled using a Bluetooth remote, so that you do not even have to touch your smartphone or the ring light itself to adjust the controls or start shooting.