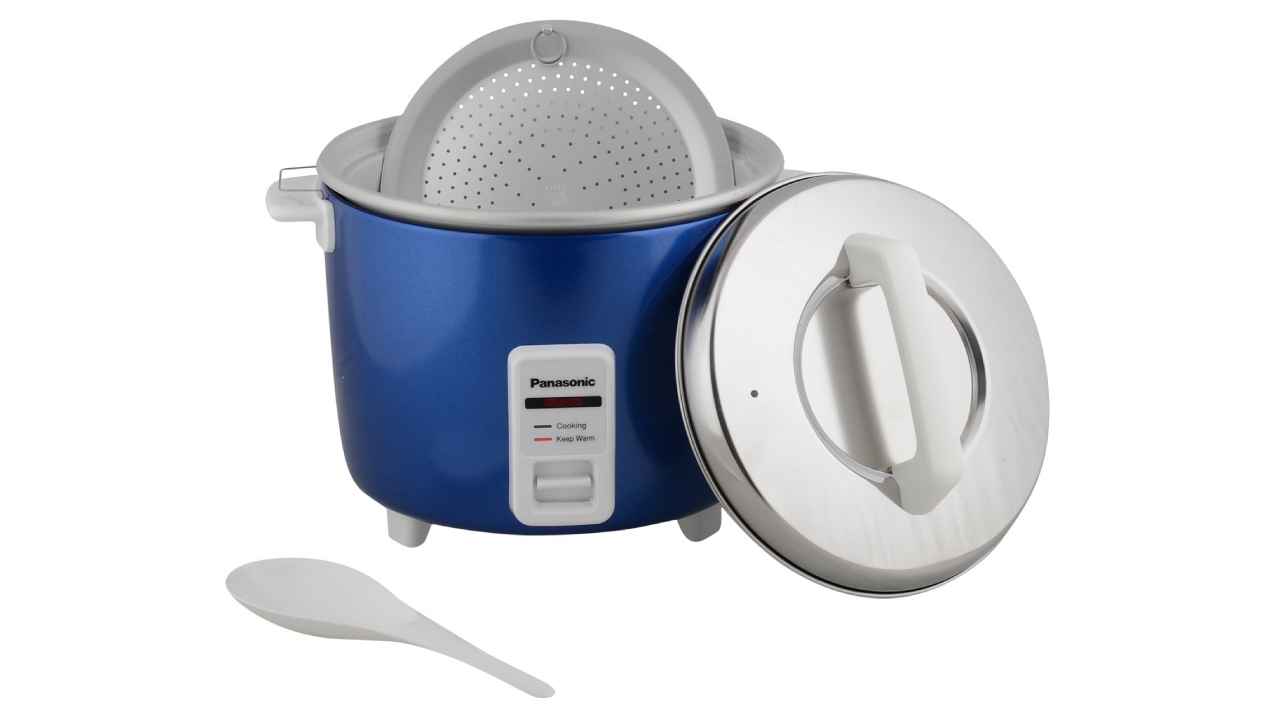 If you are a seasoned chef, you must already know that the most difficult part of cooking rice is getting the desired consistency. Most of the time, cooked rice tends to get sticky either because of too much water or too much stirring that activates the starch inside of the rice. If you are tired of eating sticky rice, you must consider buying electric rice cookers that come with a strainer plate. These cooking appliances can cook the rice to the perfect temperature, making them tight and you can conveniently drain the extra water along with starch. Here are a few good options of electric rice cookers on Amazon that come along with a strainer plate:
Panasonic 660-Watt Automatic Cooker
The Panasonic 660-Watt Automatic Cooker features an anodized aluminium pan. The aluminium helps in keeping corrosion at bay and ensures the heat gets distributed evenly across the base, leading to efficient cooking. It boasts a keep-warm function that can keep your food hot and fresh for up to five hours. Operating on 660 Watts of power, the Panasonic Automatic Cooker can harness the heat to give quick and swift cooking results. It also has an auto shut-off feature, which means the appliance would power itself down to prevent excessive consumption of electricity. With a capacity of 4.4 litres, you can use this automatic cooker to prepare rice for your entire family in a single go!
AGARO 33308 Electric Rice Cooker
The AGARO 33308 Electric Rice Cooker has a cool-touch handle, which allows you to carry the cooker even when it is hot, preventing the chances of any accidental burns. It comes with a close fit lid that prevents the steam from escaping and lathering. It also has multiple accessories, including a steam tray, two cooking pots, and a spatula. These equip you to carry out cooking in little to no time. The AGARO Electric Rice Cooker has a total of two modes. Where the 'cook' mode enables you to cook food, the 'warm' mode allows you to keep the food fresh. Its pots are made out of aluminium that translates to durability and efficiency. You can cook up to a kilogram of rice in this kitchen appliance, making it ideal for small to medium-sized families.
Pigeon by Stovekraft Joy Rice Cooker
The Pigeon by Stovekraft Joy Rice Cooker comes equipped with an aluminium cooking plate that spreads the heat uniformly across the pot. This gives way for faster, better, and efficient cooking. Its convenient cool-touch handles make it easy to carry the cooker and since they are sturdy, you won't have to worry about its durability. It also comes along with an additional cooking pot for greater cooking capacity. Being able to whip out porridge, soup, pulao, and vegetable stew, the Pigeon by Stovekraft Joy Rice Cooker is a versatile cooking device. Its lid comes with a steam vent that prevents the overflow of rice.
Preethi Primo RC Rice Cooker
The Preethi Primo RC Rice Cooker uses 700 Watts of power, and since it is equipped with a powerful heater, you can use this rice cooker for cooking rice quickly. It has a heavy, double-walled body that prevents the internal heat from escaping, making sure the appliance is well-insulated. This is supplemented with a heat-resistant, high-quality plastic body that ensures you don't get accidental burns. It also has cooling vents for hassle-free operations, along with stainless-steel fasteners that help in locking in the appliance tightly. Apart from cooking rice, you can also use the Preethi Primo RC Rice Cooker to prepare rasam or sambhar, chicken delicacies, and halwa. Hence, it is a versatile cooking device.