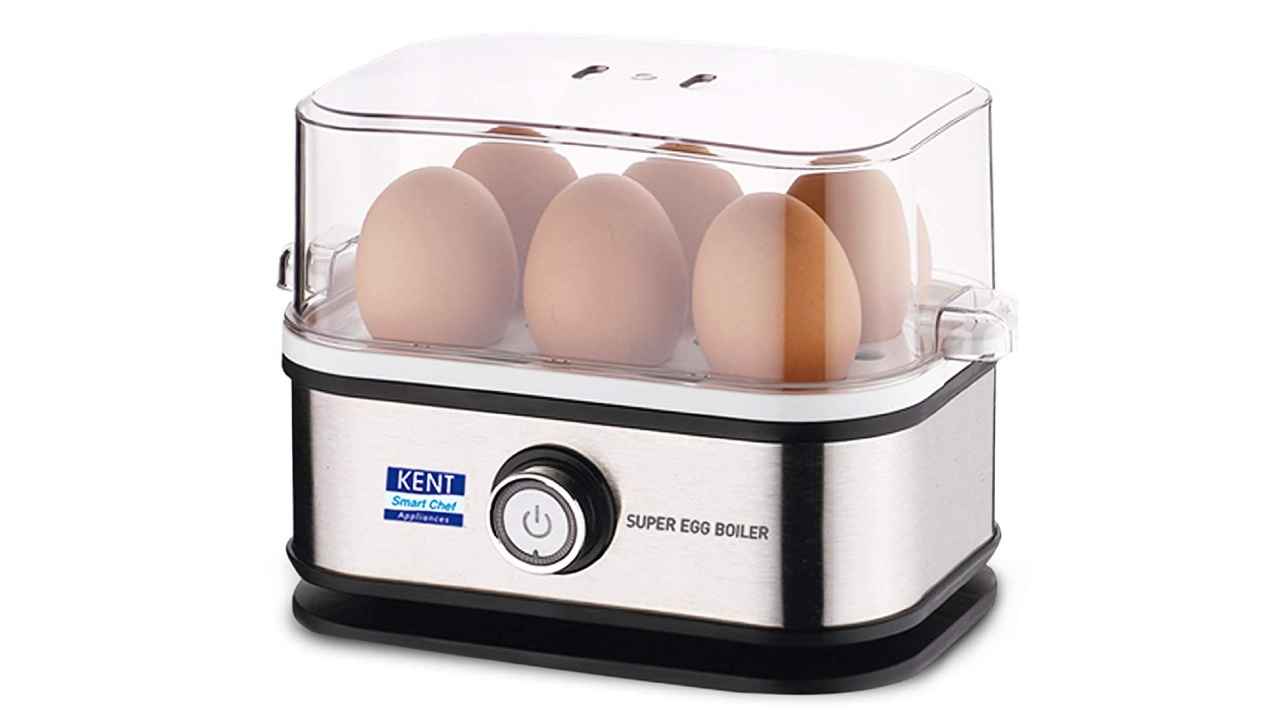 They say eggs are the cornerstone of every healthy breakfast and for a good reason. They carry a whole lot of protein and are quite nutritious. That's precisely why it is said that eggs should be had each morning. Eggs can be made so many ways that there's an egg dish for everyone, be it boiled, fried, scrambled or an omelette. However, cooking eggs, especially, boiling them can be quite a chore. So, to make things easier for yourself, you need an egg cooker, which can quickly boil eggs, steam them, poach them and more. So, here are some egg cookers which you can use to boil multiple eggs rapidly.
Nutricook Rapid Egg Cooker
When it comes to boiling eggs, this is an egg cooker that can help you out effectively in the kitchen. It can cook up to 7 eggs at a time, which should be more than enough for the entire family. Apart from that, it also features a host of impressive features such as fast water heating for quick results, a noise-free operation, as well as an auto-shutoff safety mechanism. Combined, these features ensure that you get freshly boiled eggs as per your liking- half-boiled, soft boiled or hard-boiled. Using the water measurer, you can further fine-tune the kind of eggs you want. Incidentally, this can also be used to poach eggs. Another neat trick is that you can use the cover as a draining bowl to cool down the eggs and peel off the cover.
KENT Super Egg Boiler (16069)
Here's a rather stylish egg boiler from Kent, and it promises to be a great addition to your kitchen. It can boil up to 6 eggs at a time – you can get either soft boiled eggs, hard-boiled eggs or half-boiled eggs, along with poached eggs, too, using the built-in egg boiling option selector. It has a stainless steel body that ensures quick heating of internal components, leading to optimally boiled eggs. For ideal results, you can use the provided measuring cup to add water according to your preference and the number of eggs you cook. This will make breakfasts a simpler affair in your household.
Glen Egg Boiler 3036 500
This is a versatile egg cooker that does more than just boil your eggs – it can also cook them in several different ways. The default attachments and accessories let you boil up to 8 eggs at once, which is just fantastic for times when you're in a hurry, and everyone needs to have their dose of eggs before leaving the house. Since it allows for up to 3 water levels, you can use that to adjust the hardness of your boiled eggs. There is an accessory to the egg cooker, which lets you break eggs and place them to be cooked on top of steaming water, giving it somewhat of a poached egg texture and the flavour of a fried egg. Amplify the taste by adding salt and pepper to your liking.
MILTON Smart Egg Boiler – 360 Watt
Milton Smart Egg Boiler has 3 cook modes, and its one-touch button operation makes it rather simple to use and operate. The boiler comes with a poaching tray, a measuring cup with a piercer, and a boiling tray to hold eggs. All you need to do is fill up the water, place the eggs, and in just a matter of minutes, your eggs will be boiled to your liking. Furthermore, it has an automatic shut off mode, which ensures that eggs do not overboil and the water doesn't overflow. This will prove quite handy when you are multitasking in your kitchen.