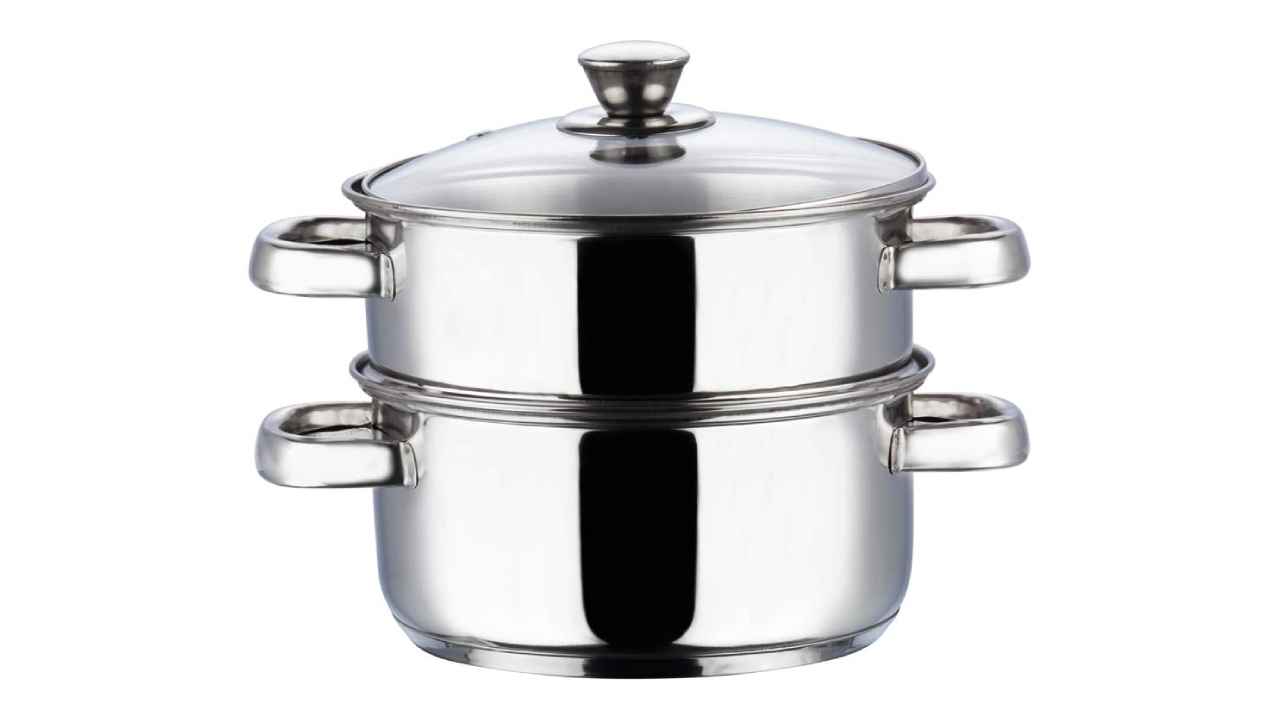 Ordering in food is not always a viable option. But this should not be a reason to stop you and your family from having delicious, healthy home-cooked food. A steamer can help you make a variety of dishes such as momos, idlis, and continental veggies at home. Check out this list of double-layer steam cooker pots suitable for medium-sized families that will help you do just that!
Vinod Stainless Steel 2 Tier Steamer
Vinod Stainless Steel Steamer is a two-tier steamer that weighs 1.3 kilogrammes. It is an induction friendly steamer that enables the user to steam assorted delicacies such as momos, modaks, vegetables etc., at home. It has a thick aluminium core that is durable and long-lasting. With its sandwich bottom technology, the steamer prevents food from getting burnt and facilitates fast cooking. The steamer has a piece glass lid made out of tempered glass, and it has a steam release vent. The product is easy to clean and can be maintained without much trouble.
Solimo Stainless Steel Induction Bottom Steamer
Solimo Stainless Steel Induction Bottom Steamer is made from 100% food-grade steel. It has a heavy gauge induction bottom. It is two-tiered with a top casserole and bottom steamer. It has double-riveted stainless steel handles for both pots. The overall capacity of the steamer is 2 litres. It is compatible with gas stoves as well as induction cooktops. The product has hassle-free maintenance.
iBELL Stainless Steel Steam Pot
iBELL Stainless Steel Steam Pot is a premium quality steam pot made of stainless steel for hygienic and quality cooking. It has a high-quality rubber gasket. There are comfortable handles on all sides that help in easy handling. It is an eco-friendly product that helps save fuel and time. The product has a capacity of 1.5 kilogrammes, and the steaming gets done within 60 minutes.
Maestro Electric Steam Cooker
Maestro Electric Steam Cooker has a heating base with a 2 litre capacity. It also has a cooking vessel of an additional 1-litre capacity. The product has a double-walled stainless steel cooking vessel for better use of steam. There is also an automatic cut off to save energy. The product also comes with SS pan, inner vessel, three plate idli stand & egg tray. Stainless steel cooking vessel keeps food hot for a period of 2 to 3 hours. Also, there is no crust formation of rice, and even milk can be boiled in this steam cooker.