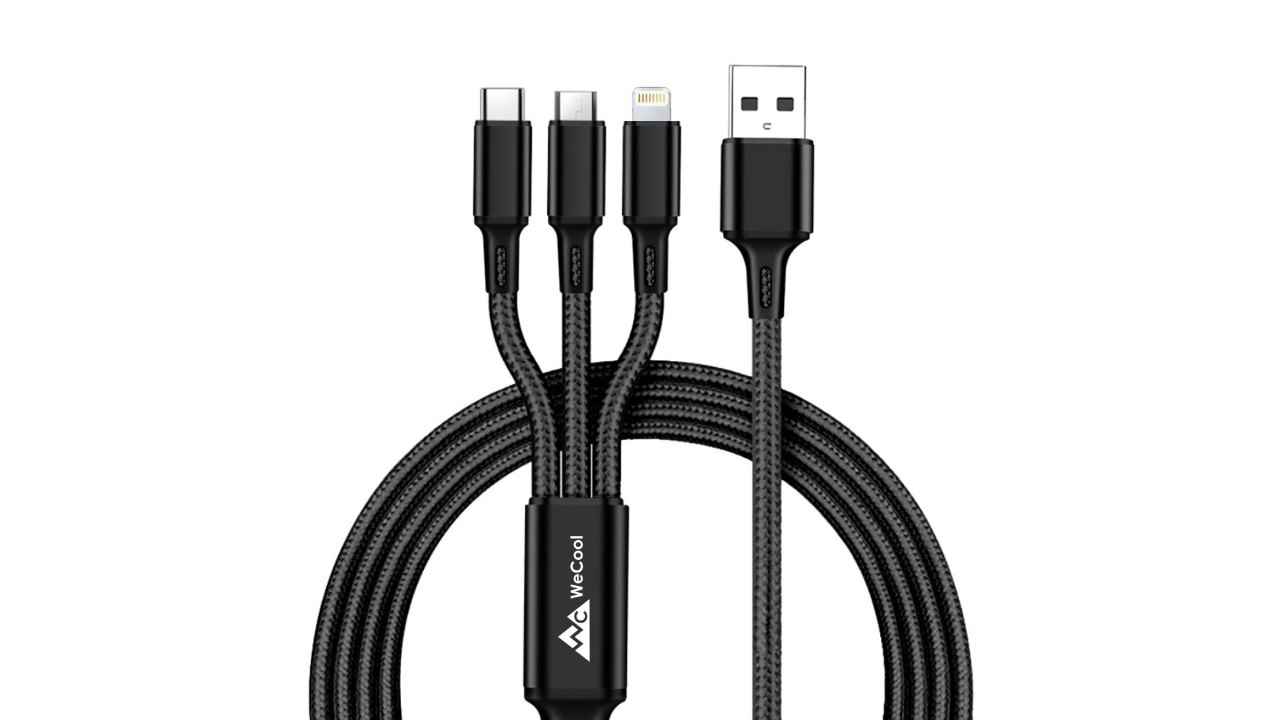 To be connected to the world, the devices we use daily such as smartphones, tablets, power banks, etc., need to be charged all the time. A multi-charger cable can be used to charge all your devices simultaneously using a single charging point without wasting any time. These exceptionally versatile cables can be used at home, in office, at business waiting zones and even while travelling. They are especially useful in households where guests frequent, or devices from multiple brands are being used. They can also be used to charge e-readers, cameras, earphones, and for data transferring. Here are some of the options available online with a description of their features and specifications.
MAONO UC203R PowerCord
The 3-in-1 USB cable can be used to charge three devices simultaneously. Out of the 3 pieces, 2 are of micro USB type, and 1 is a Type C USB connector. It can be used to charge smartphones, power banks and other similar types of devices at home, office or in cars. A 2.4A charge current can charge the three devices quickly. It is tangle-free as it has a braided nylon design and is more durable due to the use of pure copper fibre inside the cable.
pTron Solero Swing
This 3-in-1 charging cable can charge three devices, including an iPhone and can be used in a car, at home or in office. It is best for people who travel often. The USB cable is built to last with high-grade wires and can be used to charge smartphones, tablets, earphones, power banks and cameras. The pTron Solero Swing is a 2A multi-charger cable which is made of an extra-strong, durable wire core and has a strong aluminium external jacket.
JSTBUY LABEL JBY-3IN1-MULTI
The charger cable supports up to 3A of current that can be used to fast charge three devices with any charging port. It is compatible with phones, power banks, hand-held game consoles, e-readers and tablets. It has corrosion-resistant gold-plated connectors that can be connected and disconnected repeatedly without a signal loss. The iOS plug can also be used for data transfer. It is resistant to fraying and wear-related damage as it is made with woven nylon, which makes it durable.
WeCool DC-01-3in1
This universal and multi-purpose cable can be used to charge android phones, iPhones and Type C devices simultaneously. It is a 3A charger which is ultra-durable made of high-quality nylon material. The cable is sleek, tangle-free, rugged and charges quickly. It can be used at home or in the office and also while travelling. The cable provides universal compatibility with the three interchangeable cables and is extra strong due to the aluminium foil tinned copper core material.