Bosch India showcased portfolio of non-automotive solutions, India oriented offerings
Bosch India, a technology services company, showcased their connected and smart solutions for multiple industry sectors at an event yesterday at the Bosch India headquarters in Bengaluru, India. Bosch is a company largely known for their mobility solutions in smart and connected technology, and the speakers and announcements at the event highlighted their reach into other sectors like Industrial technology, Consumer Goods, and Energy and Building technology. These sectors combined have contributed around 15% of the group's turnover in India.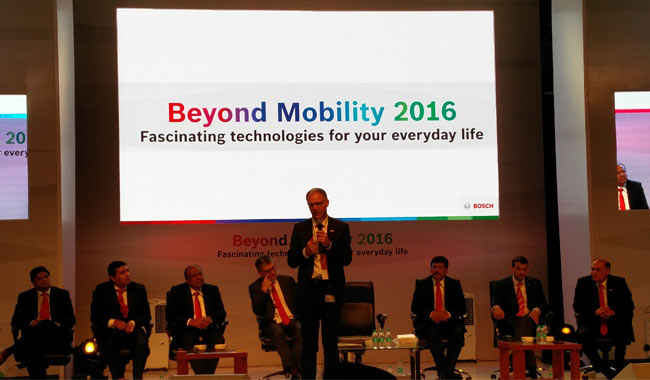 Dr Steffen Berns, Managing Director, Bosch Ltd and President, Bosch Group, India interacting with the audience

India is Bosch's largest production centre outside Germany. Keeping the growing market demand here as well as utilising their local market expertise, Bosch did make a few India-specific announcements as well. At the event, they also showcased their newly developed mid-priced product range developed with the Indian market in mind. Also for the local market, Bosch focussed on some solutions in newly identified growth trends and business areas developed locally.
Bosch Beyond Mobility Solutions is now a strong focus area for Bosch. Its objective is to focus on 'solutions driven by innovation into meaningful products for a better life'. Bosch wants to align with the multiple initiatives being driven by the Government of India, namely, Make in India and the Smart Cities Project. To achieve this, they plan to integrate cross-domain applications and target growth opportunities in key focus areas that are driven by the popular trend in requirements.
Some of the highlights from the event are:
Mining, Construction, Packaging and Transportation​
The respective experts and vertical heads from Bosch elaborated on the various ways in which Bosch is planning to be a step ahead, despite having started late, in core industrial technology areas beyond mobility. They also highlighted several of their achievements from across the Industrial technology spectrum. From successful IoT implementations in Mining to optimised end to end Packaging process, the common driver here is innovation. For example, by using IoT and domain expertise, Bosch has developed a solution that connects miners and mining equipment to lower downtime.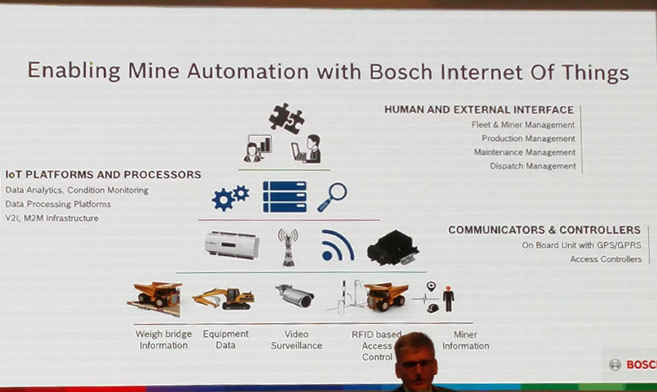 Smart Cities
As explained by Mr Dhiraj Wali, Head Smart City, Bosch India, 'A smart city is (all about) crossing silos, creating an informational and operational web interconnecting disparate systems to optimize performance and create new business models through an integrated technological platform."
Bosch has been in touch with the government to enable identifying problem areas in smart cities project since the day it has been announced. Until the actual tenders and contracts are announced for the smart cities, Bosch has chalked out a smart cities solutions plan that focuses on E-governance and citizen services, Waste management, Water Management, Energy Management and Urban Mobility.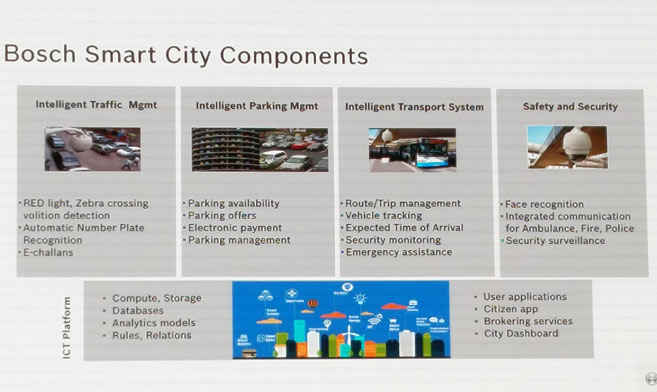 Based on the above target areas, Bosch has four main solution types to be implemented.
Intelligent Traffic Management - Smart cameras that detect traffic violations, suggests alternate routes etc
Intelligent Transport System - Devices on vehicles to identify the location of the vehicle, panic button to raise alarm.
Intelligent Parking Management - Sensors to detect parking spots available, remotely book parking spots etc.
Citizen Safety and Security - Surveillance to detect suspects, better coordination with emergency services and transport system

Home Appliances
Mr Gunjan Srivastava, Managing Director, BSH Household Appliances shared some examples of technology that is already at play in Bosch Home Appliances segment that is trying to solve regular appliance issues in a smart way. For example, VarioDrum Technology in Washing Machines is implemented so that no damage due to wash occurs to new and expensive clothes. This is achieved by using a unique droplet wave technology. He also introduced the Bosch Home Connect, a home automation ecosystem that will encompass appliances, software and networking to create a smart home that is truly smart in all senses. As of now, any technology under Home Connect is in the R&D phase and details were not shared about the same.