National Payments Corporation of India (NPCI), the umbrella organisation that governs the retail payment sector has launched a pilot project for the Bharat Bill Payment System (BBPS) across the country with 26 operating units. Under this system, customers will be able to pay all of their monthly repetitive bills, like electricity, water, gas, telephone, DTH etc from one single website or outlet.
Customers can also use any payment method they prefer like Net Banking, credit/debit cards or e-wallets, even in cash if they are paying at an offline outlet. Eventually, the scope of this payment system can even be expanded to municipal taxes, school fees and more.
To allow customers to use such a unified bill payment platform, RBI has created a tiered structure of operation for the system. The BBPS will have two components, the Bharat Bill Payment Central Unit (BBPCU) and the Bharat Bill Payment Operating Unit (BBPOU). BBPCU will be a central controlling body that will connect all the billers. The RBI authorized NPCI to act as BBPCU for the system. This makes operational, technical and business standards for this system a responsibility of the NPCI. Meanwhile, the Operating units will be responsible for facilitating bill payments, both online and offline.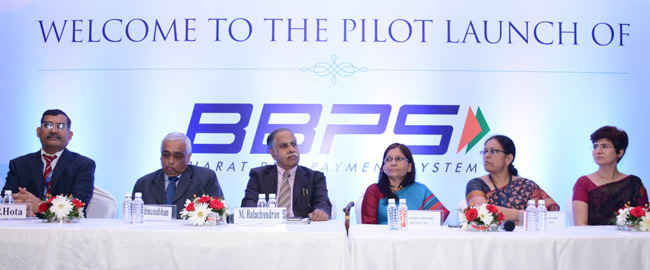 (L to R) Mr. A. P. Hota, MD & CEO, NPCI, Mr. G. Padmanabhan, Former Executive Director, RBI, Mr. Balachandran M, Chairman, NPCI and other delegates from RBI.
Mr. A P Hota, MD & CEO, NPCI said, "BBPS, in due course of time would link all major billers in the country with all their consumers which will simplify bill presentment and bill payments electronically. Currently, the volume of bills being paid by cash is so large that even if 25 percent of the bills get paid electronically, the impact would be visibly enormous."
For the Pilot, the participating BBPOUs are:

Bank BBPOUs: AP Mahesh Co-operative Urban Bank, Axis Bank, Gopinath Patil Parsik Janata Sahakari Bank, HDFC Bank, ICICI Bank, IDBI Bank, Indian Bank, IndusInd Bank, Kotak Mahindra Bank, Punjab & Maharashtra Co-operative Bank, Punjab National Bank, RBL Bank, State Bank of India, The Saraswat Co-Op Bank, TJSB Sahakari Bank and YES Bank.

Non-Bank BBPOUs: Avenues India Pvt. Ltd, Common Service Centre, Euronet Services India Pvt. Ltd, IndiaIdeas.com (Billdesk), ITZ Cash Card Ltd, One97 Communications Ltd (Paytm), Oxigen Services India Pvt. Ltd, PayU Payments Pvt. Ltd, Spice Digital Ltd and TechProcess Payment Services Ltd.
While many of these entities did already provide multi-utility bill payment services, now all of that will operate under a single unified platform. This does open doors for further payment facilities to be added to such platforms.