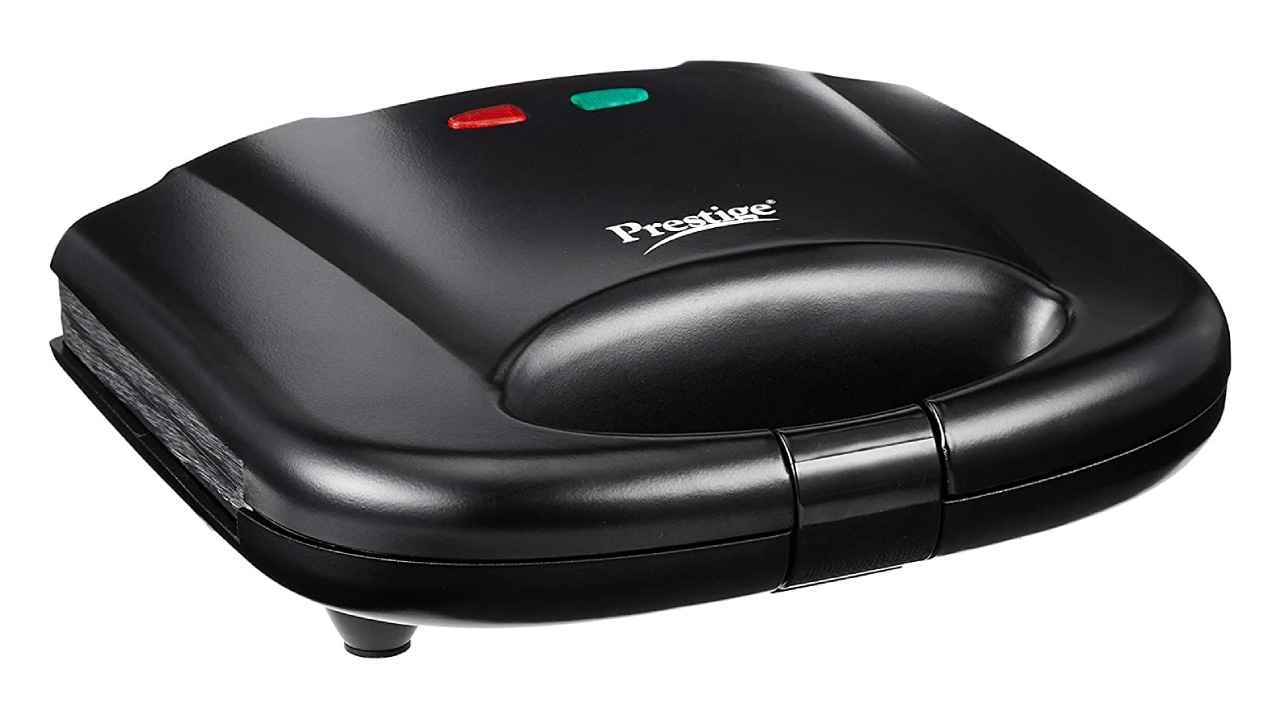 All of us love a good ol' sandwich in the morning or during the evening as it can be a quick fix for hunger. But we can't head to a cafe every time we crave a sandwich and that's where toasters come into the picture. We have curated a list of some of the best toasters by leading brands in India so you can buy one without wasting any time!
Prestige PGMFB
Over the past five decades, Prestige has emerged as one of the leading kitchen appliance companies. One such appliance is the grill sandwich toaster that helps you prepare a yummy breakfast or snack quickly! You can now enjoy your favourite sandwiches at home with the help of this toaster which has fixed grill plates that give your sandwich a cafe-like look! It features a non-stick coating on the grills which increases the durability and reduces the oil or butter consumption for healthier results. You can pack in fresh ingredients, without worrying about their quality and place the sandwich on its non-toxic plate for delicious results. Its ergonomic handle allows easy handling of the toaster without burning your hands and the red and green lights indicate whether the toaster is preheated or ready with the grilled food. Last but not least, this compact toaster is equipped with a thermostatic controlling feature that keeps the temperature under check and reduces the power consumed (as low as 850 Watts).
Morphy Richards AT-201
Morphy Richards is a British brand that has earned quite a fan base in India in recent times. This Morphy Richards Pop-up toaster is quickly catching the eye of Indian consumers due to its sleek form, sturdy build and useful features. The toaster can toast up to 2 slices of bread at once and has a Hi-lift feature that allows you to easily remove the bread once it's done. Its wide slots allow you to toast different sizes of bread while the crumb tray gathers all the crumbs so they can be removed easily later on. The toaster has a cool-to-touch body and draws 650 watts of power. You can switch between the 7 settings available on the dial or cancel the process entirely. This compact toaster has anti-skid feet to make sure it doesn't slip off the kitchen slab and hurt someone. So bring home this toaster if you want to enjoy cafe-like sandwiches at home without spending a fortune!
Philips Daily Collection HD2583/90
If you were of the opinion that Philips has only captured the grooming industry with its premium quality products, then you are in for a surprise as the brand is here with countless kitchen appliances including a toaster! It is part of the Philips Daily collection that aims to equip your kitchen with reliable appliances that can make everyday cooking easier and fun! This toaster has eight brown setting options so you can toast the bread to different degrees. It has an integrated bun rack that allows you to heat other snacks like buns, rolls and pastries. It even has an auto shut-off feature that prevents the bread from overburning or being over grilled. You can toast up to two slices at a time and don't need to clean up as the crumb tray collects all the bits so you can simply empty it after use. Philips has also added a cancel button, along with reheat and defrost options to cater to all your needs and requirements.
Bajaj ATX 4
You can now make delicious sandwiches during breakfast or snack time at home with the help of the Bajaj ATX4 pop-up toaster. It is a 2 slice pop-up toaster, which offers variable browning settings so you can toast your bread as per your liking. The extra-wide slots allow you to toast bread slices of different sizes without any issues. You can stop the process midway using the cancel button. It even has a detachable crumb tray that collects all the crumbs in one place. Bajaj has even provided a cord storage space in the toaster so you can organise and keep the cord properly and avoid a messy kitchen slab. The non-skid base, cool touch body and locking clip help in using the toaster safely without hurting yourself and enjoying a restaurant-like sandwich at home conveniently.