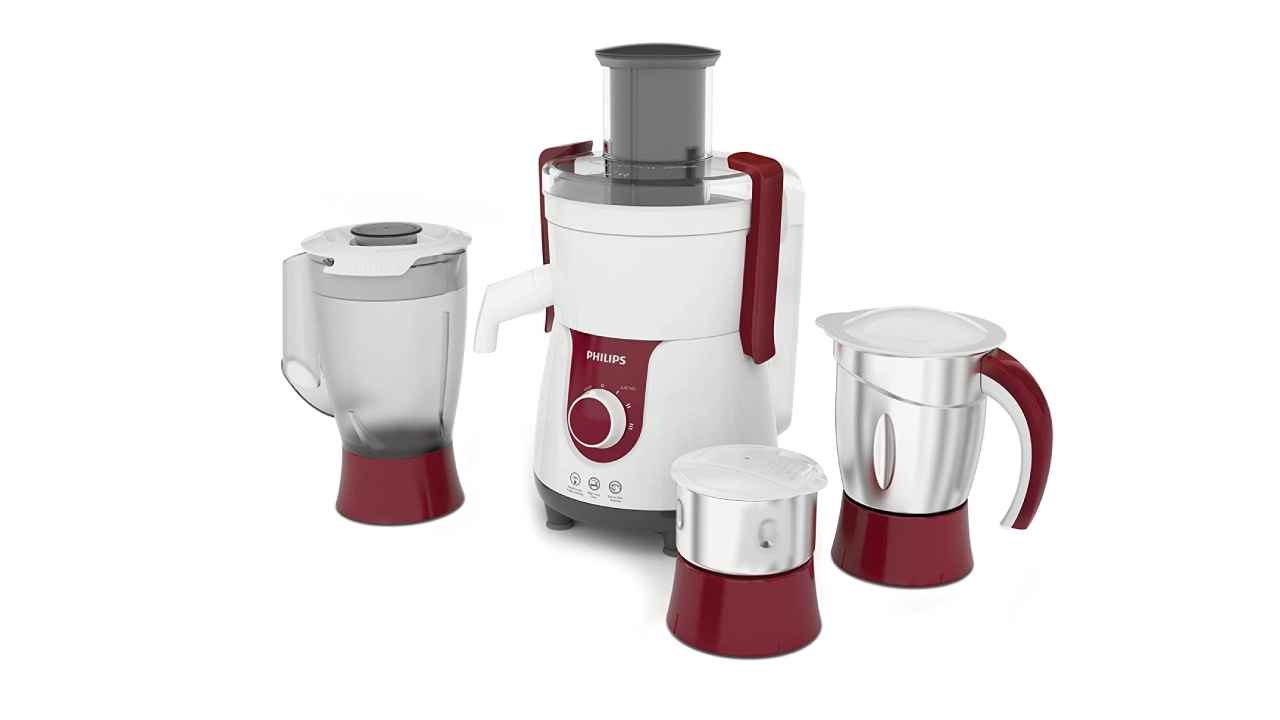 The Indian kitchen has a lot going on. To make matters easy for yourself, you need to invest in a mixer grinder. A mixer grinder helps you chop up ingredients and make the most out of what you have. In many cases, they also allow you to make fresh juices and refreshing smoothies. Overall, they are an asset for the kitchen and make cooking for the family a more enjoyable experience for the family. With the many uses and users they can cater to, they are ideal for the Indian kitchen, wherein there is a lot of grinding and mixing involved. So, check out the best juicer mixer grinders for an Indian kitchen on Amazon.
Philips HL7707/00
If you want functionality, efficiency and ease of use in your kitchen, the Philips HL7707/00 is the right mixer grinder for you. It has a total of 4 jars, each of which can have specialised use. These are the Chef Pro Jar (2.2-litre)- the ideal pick for making fresh-pressed juice, a Wet Jar (1.5-litre) optimal for making tasty smoothies and shakes, a Multipurpose Jar (1-litre) for spices and more, and a Chutney Jar (0.5-litre). On the side, you get a speed control dial, which allows you to set consistency and texture. The blades use PowerChop technology, a combination of blade shape, cutting angle, and inner bowl to provide a superior chopping result in both soft and hard ingredients.
Havells ASPRO
Looking for a simple juicer mixer grinder for the average hectic Indian kitchen? Check out this basic and user-friendly option from Havells. It comes with 3 stainless steel jars – a 400ml Chutney Jar, an 800ml Dry/Wet grinding jar, and a 1.5L Stainless Steel blending jar. All in all, the three provide quite a lot of versatility. Incidentally, the 304 Grade stainless steel blade is highly optimised for the best grinding results. The blade speed can also be adjusted as it has 3-speed control with pulse function for best grinding results. The spin speed is capped at 21000 RPM, and it has a built-in overload protector to auto shut off for motor safety.
Dlextric 3 Speed with Super Power Mixer Grinder
If you're on a budget but don't want to miss out on key mixer grinder features, then check out this Dlextric model. It has the basic features of a mixer grinder, such as letting you get fine pastes, purees, spice mixtures, chutneys and more. Apart from that, the larger jar that comes with it allows you to use the mixer to make shakes and cold coffees, a refresher in these daunting summer times. It has a 3-speed motor operation, which lets you set a tempo for when and how you want the end result. The smaller jar can be utilised for grinding smaller quantity of spices or ingredients or for grinding chutney. As for the operation itself, it features a hybrid motor set of blades, which allow for efficiency in the kitchen.
Vidiem MG 556 A Eva Premium
Here is a mixer grinder, with a juicer from Vidiem, and it promises to be a useful addition to your kitchen appliances. It has an eye-pleasing lavender colour, with 5 jars of the matching colour accent. The 1.5-litre super juicer and blender jar are perfect for your healthy smoothies, milkshakes and shakes. On the functionality side, the mixer packs Vortex Flow SS 304 blades that are dynamically balanced, eliminating vibration, resulting in smooth texture pastes, purees and juices. To increase the life of the mixer grinder, the blades are self-lubricating. On the side of the appliance, you get a dial using which you can control the blade spin speed.
Philips Viva HL7715
Here is a mixer grinder that claims to be a specially designed motor for uncompromised juicing and mixing, grinding performance in the everyday Indian kitchen. Some of the salient features of this grinder are a specially designed assembly that is user-friendly and easy to clean, long-lasting plastic (ABS) body, a specially designed jar with flow breakers for efficient mixing and grinding performance and finally, a unique sieve design for long life. It comes with a range of attachments that you can use to streamline your kitchen and how you work there. Apart from that, you also get user-friendly operation.
Hamilton Beach Professional Juicer Mixer Grinder
Chefs and homemakers looking to step up their game should check out this top of the line mixer grinder from Hamilton Beach. Whatever kind of a chef you may be, this grinder strives to solve everyday kitchen challenges as it offers you precise control, 13 programmable settings, efficient and durable blades, and more. The settings include modes for dry grinding (turmeric, spices and nuts), wet/hard (idli and dosa batter), wet/soft (purees), hot soup and cold blending (smoothies and juices). The variable blade speed control from super slow (3000 RPMs) to super-fast (18000 RPMs) makes things easy and accessible at the touch of a button. Overall, the grinder has a professional look and also has features that cut down on mess in the kitchen.