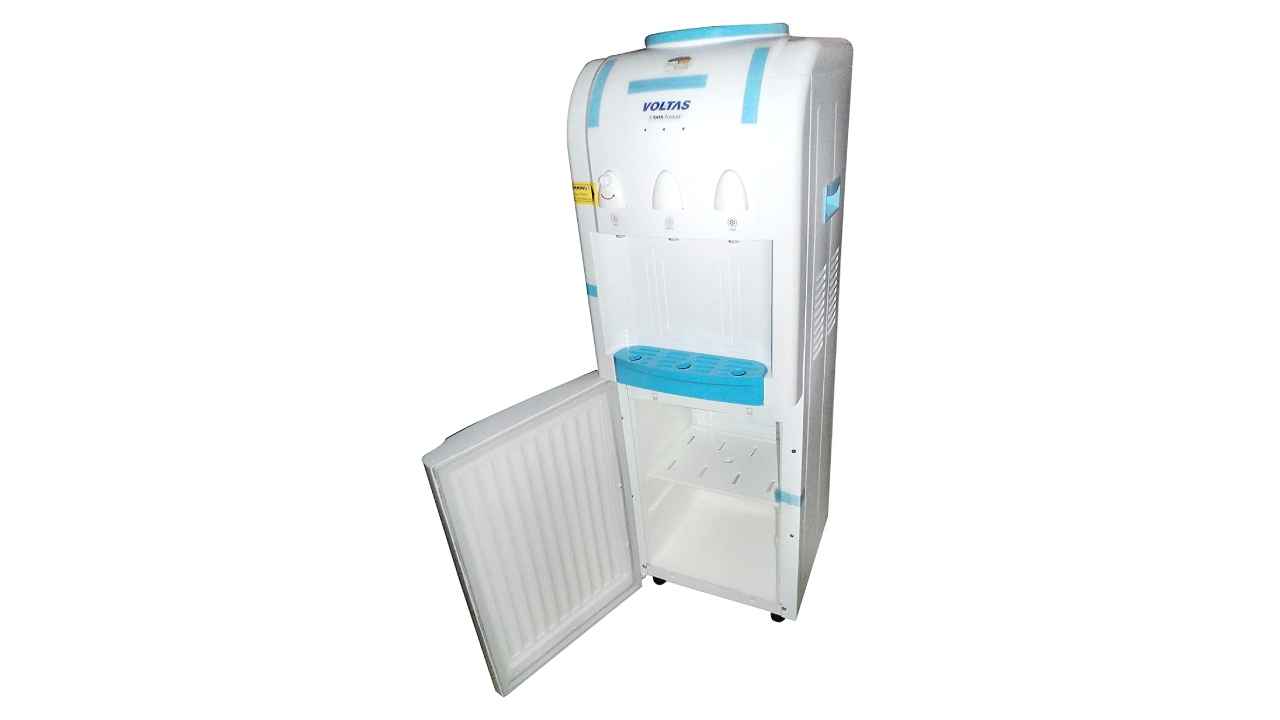 During the summers or even the winters, it is very important to keep yourself hydrated no matter where you are. If you're in the office space or at home, it would be ideal to invest in a water dispenser. These eliminate the need for you to use plastic bottles and are also quite handy as they can give you hot or cold water as per your liking. If you have a large family or a large staff at your offer, a water dispenser can help meet everyone's water needs. Water dispensers ensure that people don't drink from the same water bottles or cups, keeping things hygienic and clean. So, here are some of the best hot and cold water dispensers for homes and offices, which you can buy on Amazon.
Voltas Mini Magic Pure-R 500-Watt Water Dispenser (White)
Here's a water dispenser from Voltas, which is compact and easy to place around the office space. It can dispense hot, cold or normal water, depending on your preferences. If you require a lot of hot water, this one will do the trick as it can warm up to 5 litres of water in just a single hour. As for cold water, the dispenser can manage 2 litres of water in an hour and cool it down to 10 degrees, giving you that refreshing cold water feel. Underneath the main water dispenser taps is a storage unit that can be used to stow away disposable cups and water bottles intended for single usage. Incidentally, this storage unit also doubles as a mini-fridge so that you can cool beverages in there.
Blue Star Stainless Steel and ABS plastic Water Dispenser with Refrigerator (Maroon, 14 L)
Looking for something that can handle large water bottles and dispense large quantities of bottles without needing a refill? Sounds like something required in an office – and that's where the Blue Star water dispenser comes in. It can hold water bottles up to 14 litres and give you cold, normal or hot water. In an office where people have their own preferences, it is nice to have a water dispenser that can dispense water to everyone's liking. Beneath the water dispenser itself is a cooling compartment that can be used to store small tiffins or beverages that you may want to drink later in the day. Readers should note that this isn't a compact dispenser and takes up a large chunk of space, but that is a small price to pay for the convenience that comes with it.
Voltas Plastic Pearl Water Dispenser (Standard Size, Black)
Here's a standard size water dispenser ideal for homes and even for offices. The draw of this dispenser is that it has a very clean look. The dispenser has 3 taps – one for cold water, one for normal water, and one for hot water. Using the normal water tap, you can mix some hot or cold water to get the temperature that is just perfect for you. The dispenser can store up to 3.2 litres of cold water and up to a litre of hot water, which is good enough for most homes and even for small office spaces. Under the water dispenser taps is an area where you can refill cups and below that is a nifty mini cooler, which can be used to store beverages and drinks away from the fridge – so that your siblings don't lay hands on what's yours!
USHA Instafresh Floor Standing – Hot, Normal & Cold Water Dispenser (White)
This is quite a stylish looking water dispenser that will make guests at your office feel fully welcome. It comes with the usual features of top-end water dispensers, such as having cold, hot and normal water taps, but it takes things a step further. Oftentimes, the hot water tap can accidentally be pressed, leading to burns, but this one combats the problem. There is a safety lock on the hot water faucet itself so that no one gets hurt in the process of dispensing water for themselves. It comes in two stylish colours which you can match with your decor and give the whole room a more pleasing look. It can cool 3 litres of water in an hour and heat up 5 litres of the same.