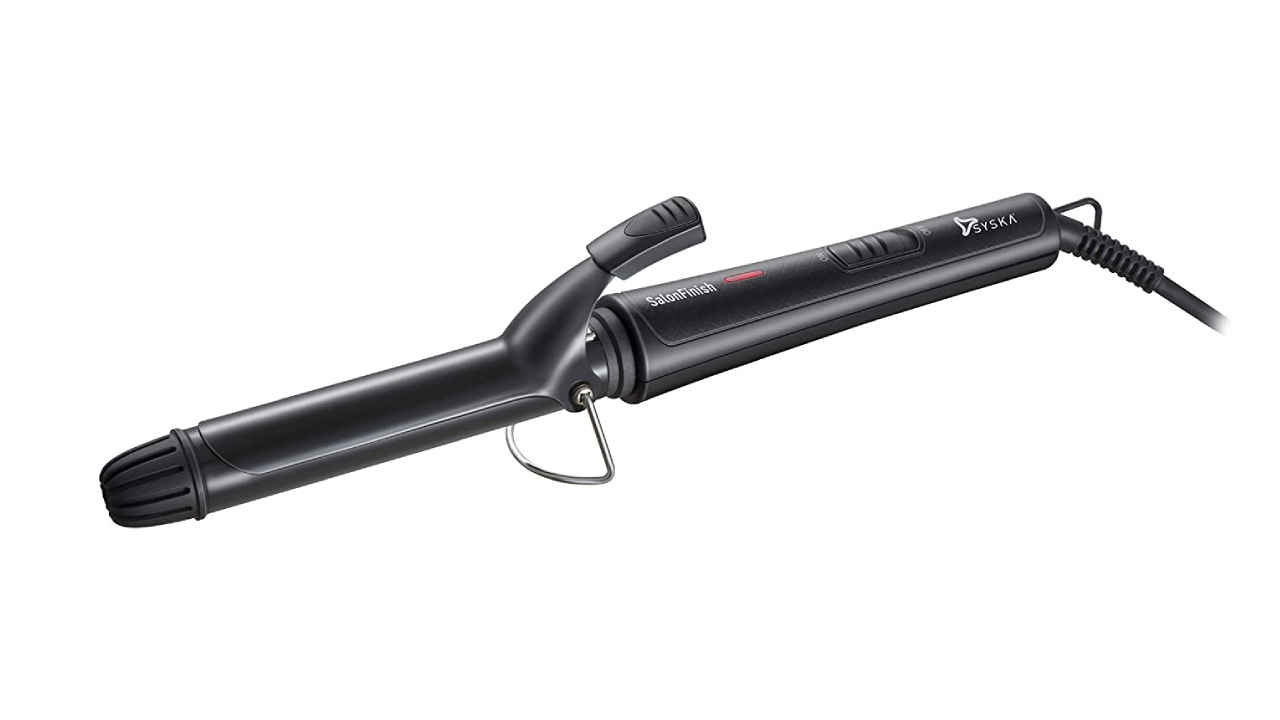 Keeping up with the latest fashion trends requires you to spend a whole lot of time in the hair salon. If you want curls or crimps in your hair, visiting a salon is often the way to go. However, there's a solution to your salon woes – getting a hair curler that you can use at home. Initially, curlers may pose a challenge, but you can hone your skills and get better results over time. Hair curlers are a must-have for anyone who cares even a bit about their hair. These devices help you shake up your look every now and then and give you wavy, bouncy hair. So, if you're in the market for a new hair care product, then check out some of these hair curlers for perfect wavy locks.
VEGA Ease Curl 19 mm Barrel Hair Curler With Ceramic Coated Plates, (VHCH-01)
This hair curler from VEGA aims to provide a quick, at-home solution for curling your hair. It has ample space for hair on its 125mm barrel and the 19mm diameter of the barrel ensures nice round curls. The ceramic coating on the curler ensures that your hair doesn't get damaged even over time. To make the most out of it, you need to simply curl your hair around the barrel and tightly hold down the clamp. When released, you'll get free-flowing, natural-seeming curly hair. Also included are a safety stand and a cool tip, which enhance the usability of your curler. It heats up to a maximum of 200 degrees for the ideal treatment of hair.
Havells HC4031 Chopstick Curler
If you want thin curls but more volume, opt for this curler. It has a very thin barrel, around which you're supposed to curl your hair and let it heat up for a while. While the heat, shape and texture set in, the barrel grows increasingly warm and adds a sheen to your hair. The result will leave you with stylish and trendy corkscrew curls that are bouncy and go well with many outfits. The barrel is coated with ceramic, which helps preserve the natural look and feel of your hair. The 360-degree swivel function comes in handy to ensure that the cord doesn't get in the way.
SYSKA HC700 Hair Curler
Want salon-like hair curls but from the comfort of your home? Then this is the hair curler that you should opt for. It has a comfortable handle that doesn't heat up during use, a large length barrel to curl more hair at once, and the barrel is wide too, which ensures that curls are wavy and flowy. The barrel is ceramic-coated and won't damage your hair no matter how many times you curl it. It has a maximum temperature of 200 degrees and has a cool tip, which you can grasp firmly with both hands and get optimal curls. To make it easier for you, it also sports rapid heating mode, which is ideal for times when you're running late and simply must curl your hair.
PHILIPS BHB862/00 Hair Curler
Curling hair at home can often be rather challenging. However, this hair curler from Philips aims to make things easy for you. It has a long and sturdy handle for extra grip and comfort. The barrel is long enough to curl ample locks of hair at once, and when you press down on the plate, it evenly distributes heat for bouncy curls. There's an extra cool tip at the other end of the appliance that lets you tug down on the curler to get long locks curled with ease. For extra convenience, there's an LED indicator light that lets you know when the curler is hot and ready for use.