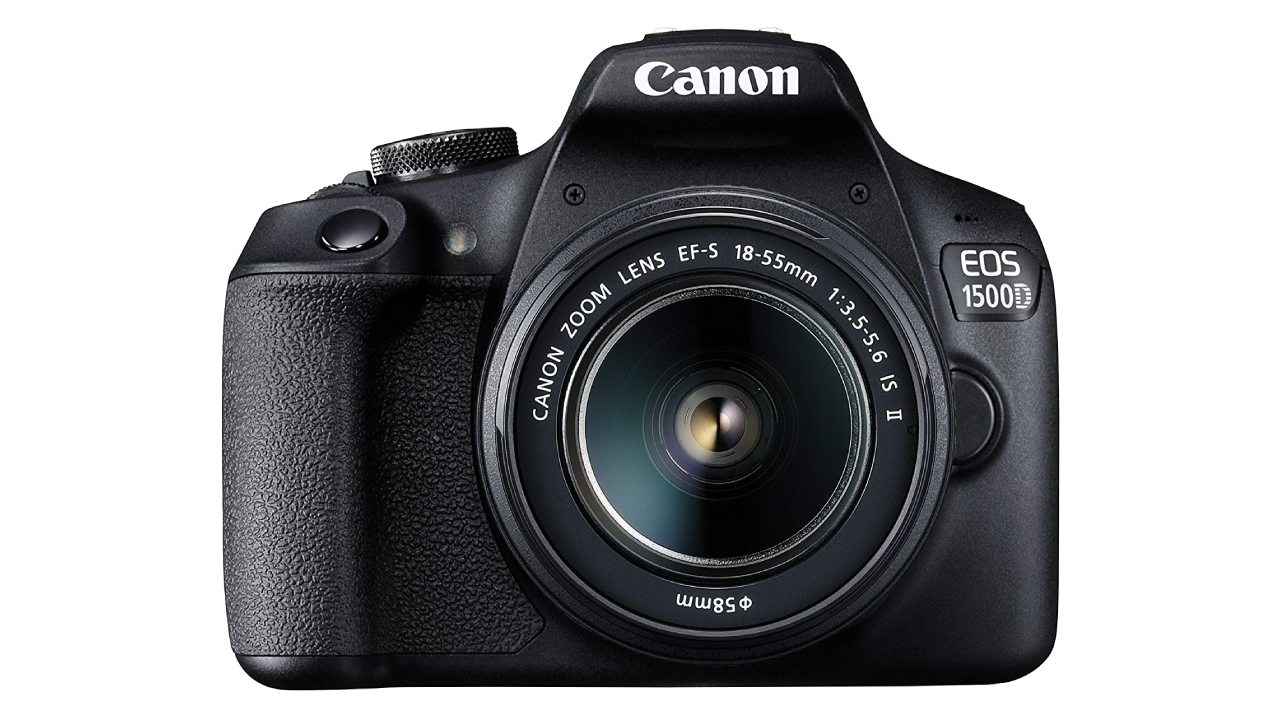 Once you've decided to get your first DSLR, the next step can be a bit intimidating – finding the right one to start with. Whether you're picking one for a more professional upgrade from novice cameras, or just choosing the first camera to learn the basics, there are plenty of entry-level DSLRs to choose from. In fact, that's mainly why this decision can be confusing for most people. It might be tempting to splurge on a high-end model but it is important to first familiarise yourself with handling a DSLR and the various features it offers. Ideally, a great DSLR for beginners should be simple to use, should support easily interchangeable lenses and ultimately, it should be pocket friendly (at least relatively). Here are some great options to consider for your first DSLR as a beginner. Available on Amazon, these models bring together a great set of features and specifications.
Canon EOS 1500D
With a 24.1MP APS-C CMOS sensor, the Canon EOS 1500D can capture great high-resolution pictures that are ideal for printing. Its wide ISO sensitivity range of 100 to 6400 reduces graininess in pictures for low light situations. The DIGIC 4+ image processor with 9 autofocus points enhances the autofocus and burst-mode performance of the 1500D. You can capture high-quality full HD video with this DSLR while exploring the manual controls and customisable framerates to achieve the results you desire. With Wi-Fi, NFC and Bluetooth connectivity, you have the option to operate your camera from a distance and transfer pictures wirelessly.
Nikon D3500
The D3500 from Nikon features the Guide mode that's helpful for beginners looking to improve their photography skills. Its body weighs just about 365 grams, making it a lightweight design to handle. The D3500 features a wide ISO range of 100 to 25600, enabling great photographs in a broad set of situations. Its Expeed 4 image processor is designed to enhance the autofocus abilities of the camera. The SnapBridge app from Nikon connects your smartphone to this DSLR, enabling you to remotely trigger the camera or transfer photos wirelessly. Located just beside the mode selection dial, the Live view toggle can be flipped when you're planning to shoot videos. This DSLR can shoot 1080p videos at 60fps for great results.
Canon EOS 80D
The Canon EOS 80D is an EF-S mount compatible with all EF and EF-S lenses, making it great for photographers who plan on expanding their kit with more lenses. This DSLR packs advanced features like a 45 point auto-focus system that ensures crisp details in all photos. The 100% coverage on its Intelligent Viewfinder eliminates guesswork from your shot composition. With the Dual Pixel CMOS AutoFocus, you get improved subject tracking when you're shooting videos. The 80D's TouchScreen display features a Vari-angle design for better flexibility. With a rating of 100,000 exposures, the shutter on this DSLR is designed to last long. With everything it offers, the EOS 80D might feel like overkill for beginners. Depending on availability, checking out options like EOS 200D can be worthwhile for amateur shutterbugs. However, if videos are a priority, the EOS 90D is a better alternative as a long term investment.
Nikon D5600
The battery on the Nikon D5600 is designed for 970 shots per charge, making it a great companion for travellers. Built with an integrated structure that is strengthened with carbon fibre composite material, the D5600 offers great durability. You can shoot fast action in burst mode at 5 frames per second to ensure that you do not miss any critical moment. With built-in HDR mode, you can capture photographs with a wider dynamic range. The touchscreen display on the D5600 can be used to alter image settings without looking away from the composition. This display can swivel up to 180 degrees for easy visibility from many angles.