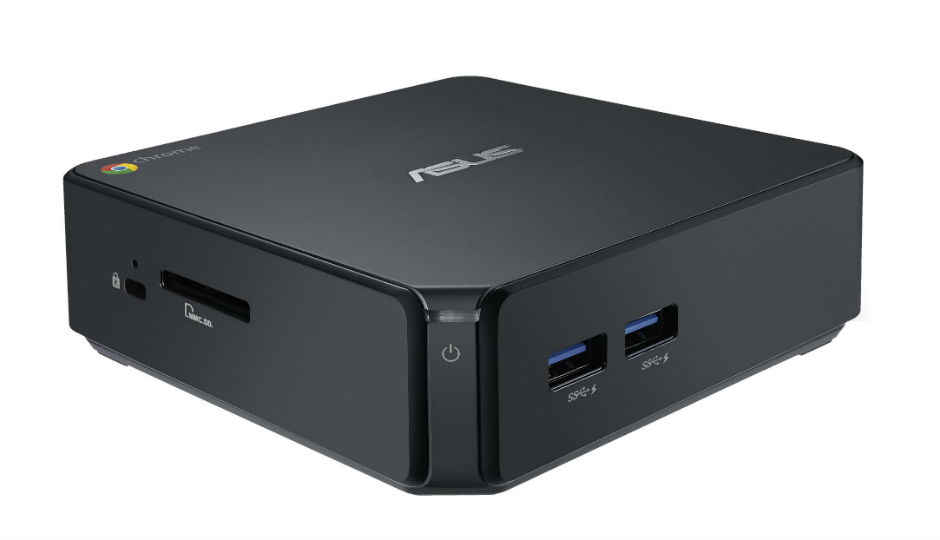 HIGHLIGHTS
The small form-factor mini-pc will feature Intel Haswell CPUs and can support 4K UHD resolution video playback
In a bid to attract consumers who are looking for space-saving desktop solutions, ASUS today launched its own iteration of the Google Chromebox – a compact home or office computer that runs on Chrome OS. On the hardware front ASUS has gone with Intel's Haswell processors on all three variants, starting from the Celeron 2955U SKU priced at Rs. 21,000 right upto the Core i7-4600U priced at an eyebrow-raising Rs. 58,000. Of the three SKUs the base model does not support 4K but the other two do.
To get an idea of how small the device is consider its dimensions – 12 cm x 12 cm. This makes it small enough to be tucked away effortlessly behind any VESA-mountable monitor or HDTV. With an HDMI and DisplayPort thrown in, the ASUS Chromebook allows users to connect to multiple displays at once.
In pictures: ASUS Chromebox
As is the case with most Chromebooks and Chromeboxes, the device doesn't come with a whole lot of on-board storage space – a 16 GB SSD in this case. This however is complemented by 100GB of Google Drive cloud storage for two years which can be accessed by logging into your Google account. It comes with 802.11 b/g/n dual-band wireless connectivity, four USB 3.0 ports and an SD card reader.
The ASUS Chromebox comes with all the features that come courtesy of Chrome OS such as multitasking, quick boot up, virus protection, separate user accounts, access to Chrome apps, and syncing bookmarks/tabs across devices.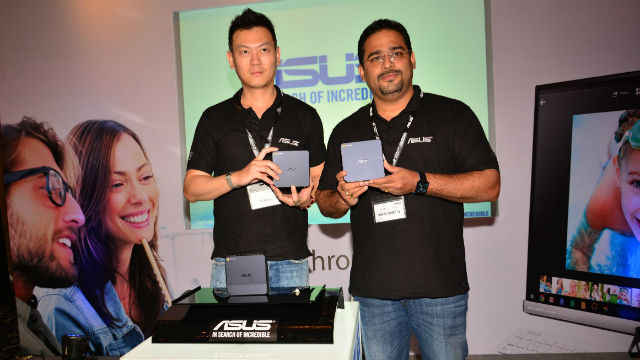 Mr. Levis Su – Managing Director, ASUS (India) & Regional Director – South Asia & Middle East, ASUS and Mr. Vinay Shetty – Country Head – Component Business, ASUS (India) pose with the ASUS Chromebox during the launch event
Speaking at the event Mr. Vinay Shetty – Country Head – Component Business, ASUS (India) emphasised the need for ASUS to be recognised as a company that is more than just a motherboard manufacturer. "We're excited to launch the Chromebox in India. There's been an increase in demand for small form factor mini PCs / HTPCs and the Chromebox would be a great alternative for such applications," he said.
ASUS Chromebox: India Pricing, availability, and specifications
SKUs will be available starting today at the 40 or so exclusive ASUS stores across the country. For full specifications and individual pricing please have a look at the table below:
| | | | |
| --- | --- | --- | --- |
| Model Name | CN60 Celeron model | CN60 Core i3 model | CN60 Core i7 model |
| CPU | Intel® Celeron 2955U | Intel® Core™ i3-4010U | Intel® Core™ i7-4600U |
| Chipset | Integrated | Integrated | Integrated |
| RAM | 2 Gb | 4 Gb | 4 Gb |
| Memory | 16GB SSD M.2 (NGFF) | 16GB SSD M.2 (NGFF) | 16GB SSD M.2 (NGFF) |
| Graphics | Integrated – Intel HD Graphics | Integrated – Intel HD Graphics | Integrated – Intel HD Graphics |
| Graphics Output | 1 x DisplayPort++; 1 x HDMI | 1 x DisplayPort++; 1 x HDMI | 1 x DisplayPort++; 1 x HDMI |
| LAN | 10/100/1000Mbps | 10/100/1000Mbps | 10/100/1000Mbps |
| Wireless LAN | Dual Band 802.11 b/g/n | Dual Band 802.11 b/g/n | Dual Band 802.11 b/g/n |
| Bluetooth v4.0 | Yes | Yes | Yes |
| USB 3.0 | USB 3.0*4 ports | USB 3.0*4 ports | USB 3.0*4 ports |
| Audio Jack | Mic-in / Headphone out | Mic-in / Headphone out | Mic-in / Headphone out |
| Support Ultra HD 4K | N/A | YES | YES |
| TPM Onboard | YES | YES | YES |
| SO-DIMM Slot | 2*SO-DIMM slots | 2*SO-DIMM slots | 2*SO-DIMM slots |
| Color | Midnight Blue | Midnight Blue | Midnight Blue |
| Accessories | Chrome Keyboard Mouse (USB) | Chrome Keyboard Mouse (USB) | Chrome Keyboard Mouse (USB) |
| Warranty | 3 years | 3 years | 3 years |
| End User Price | Rs. 21,000/- | Rs. 36,500/- | Rs. 58,000/- |