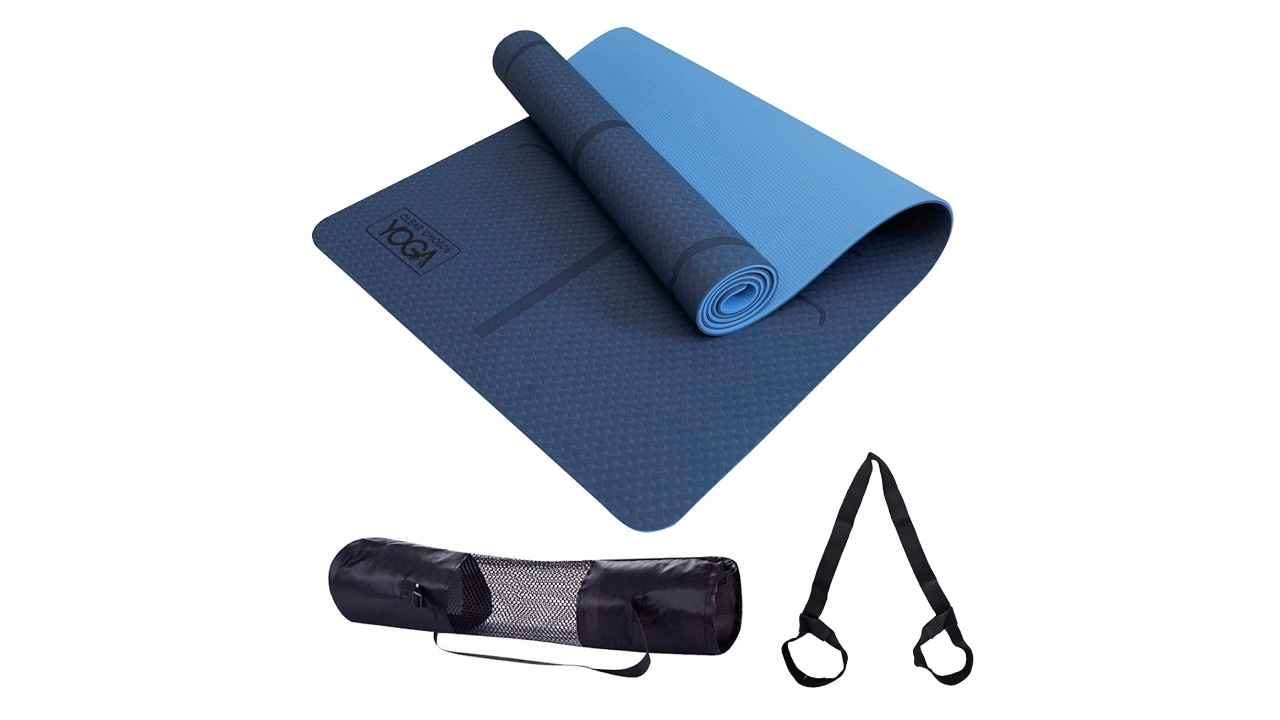 If you are a fitness freak and practice yoga or pilates regularly, you must already know the importance of maintaining balance and posture during these exercises. A slight slip here or a slight imbalance there could lead to lower effectiveness, or worse, injuries. To prevent these mishaps from ever happening, you must consider buying a yoga mat. These mats have been specifically designed for yoga and pilates practice and would help in making sure your sessions are comfortable and pleasant. In case you are planning to buy a yoga mat, make sure that the one you finalise is made out of anti-slip material and offers exceptional cushioning for comfort. Following are a few good yoga mats on Amazon that are ideal for both yoga and pilates.
Clear Choice Yoga Mat
The Clear Choice Yoga Mat allows you to perform your yoga and pilates routines seamlessly, thanks to its anti-skid surface. It helps you in maintaining your posture and balance, making sure there are no accidents or injuries. This yoga mat also features alignment lines that enable you to maintain the correct body posture in different positions. The Clear Choice Yoga Mat is made of Thermoplastic Elastomer (TPE), which means it is safe, non-toxic, slip-resistant, and hypo-allergenic. Offering a thickness of 6 mm, this yoga mat provides optimal grip, exceptional cushioning, and comfort. Apart from these, some of its other notable features are a lightweight design, a breathable material, and a large size.
Fitness Mantra® Yoga Mat
The Fitness Mantra® Yoga Mat is an eco-friendly mat made out of biodegradable EVA material. Being moisture-resistant, it doesn't absorb any sweat or dirt and can be easily cleaned using soap and water, making its maintenance and upkeep minimal. Plus, since it comes equipped with 6 mm of thickness, the Fitness Mantra® Yoga Mat enables you to do your routines with optimal comfort. The surface of this yoga mat is anti-skid, which means you would be able to perform complex postures and movements without any risk of slipping. In addition to these features, the yoga mat also offers a carry strap, allowing you to carry it from one place to another conveniently.
Qatalyze Extra Thick Yoga Mat
The Qatalyze Extra Thick Yoga Mat has a total thickness of 8 mm, making sure there is sufficient cushion for your joints, knees, spine, hips, and elbows. As the yoga mat is 66 cm wide, it ensures everyone can use it, giving enough space for different routines. It is a two-sided, non-slip mat that delivers superior grip and traction for a seamless exercise experience. The Qatalyze Extra Thick Yoga Mat is sweat and moisture-resistant that makes it easily washable with soap and water. It can hold up to the wear and tear of all of your yoga and pilates routines, thanks to its TPE material. It doesn't only help in making the mat durable and tear-resistant but also safe and non-toxic.
Dr Trust Yoga Mat
The Dr Trust Yoga Mat is a high-density PVC foam mat that has been designed using cellular foam technology. With a thickness of 0.6 cm, it is perfect for every exercise that involves the use of knees and other joints on hard floors. Being 183 cm long and 61 cm wide, this extra-long mat is ideal for everyone, including those with a tall frame. Its non-slip bottom provides utmost stability during yoga and pilates, giving you optimal comfort, thanks to its embossed dots and bubbled foam. Moreover, it does not crumble and flake around the corners as it is made of anti-tearing fibre.