As we reported earlier in October, Amazon's Prime membership is about to receive a price hike. The hike will start tomorrow, December 14. Amazon had previously confirmed that the price for the Amazon Prime Membership in India would be increasing by up to 50%, which translates to roughly Rs 500 for the annual package. The rate hike will apply to all the different types of memberships the company offers. Amazon will continue to offer access to Prime Video, Amazon Music, Prime Reading, and Prime Gaming under the same membership package. So, keeping that in mind, the annual package will now cost Rs 1,499.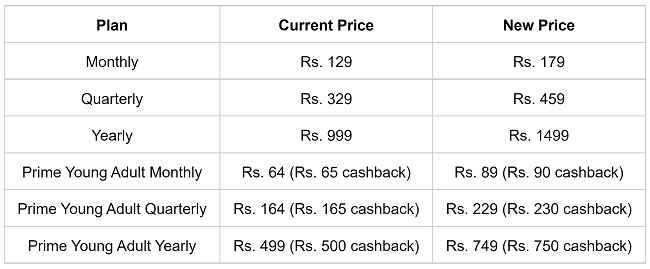 For now, the hike in price will not affect existing Prime members as they will still continue with their current membership. Again, just to reiterate, no other services will be added to the existing ones with the price hike. The original plan was introduced for Rs 499, with a later increase to Rs 999. This marks the second time Amazon has hiked the price of its Prime Membership. The price hike will start at 12 AM on December 14, i.e. tomorrow. Between now and then, you can still purchase the membership at the original price, so do keep that in mind.
Amazon Prime Membership price hike starts tomorrow
Amazon's affordable pricing in India is what has helped the platform maintain an edge over Netflix. With other OTT platforms such as Disney+ Hotstar, Voot, Zee5, and others offering annual plans that don't exceed Rs 999, Amazon may end up seeing a dip in their subscriber base. To combat this, the platform is probably working behind the scenes on increasing its content offerings. Hopefully, this means we'll see a surge in content, and Family Man Season 3 launches sooner than later!
Also Read: Amazon finally announces dedicated Prime Video app for macOS