Amazon Echo, Echo Dot and Echo Dot with the clock have launched in India as the new 4th generation Alexa-powered smart home products. The new Echo range of smart speakers has been refreshed with a new spherical design, upgraded speakers with improved audio quality and more. Amazon announced a host of new devices including the Echo Show 10 but India is only getting the new Echo devices for now.
The new Amazon Echo smart speakers are built with recycled materials and come with Low Power Mode for saving power consumption. The new 4th generation Echo combines the best of the previous generation Echo and Echo Plus into a spherical form factor with support for Dolby stereo sound and more. There are a new smaller Echo Dot and an Echo Dot with clock as well.
Parag Gupta, Head of Amazon Devices in India said, "With the new range of Echo devices, we are making it more natural and convenient for customers to interact with Alexa. The new range of Echo speakers are completely redesigned for an improved audio experience and seamlessly merge into the home decor. We are proud to share that these are our most sustainable products yet."
Amazon Echo, Echo Dot and Echo Dot with Clock pricing and availability
Amazon Echo is priced at Rs 9,999 and is offered in three colours- black, blue and white. It will go on sale sometime later this year on Amazon India.
The Echo Dot is priced at Rs 4,499 and the Echo Dot with Clock is priced at Rs 5,499. The Echo Dot is already up for pre-orders and will start shipping from October 26 onwards. The Echo Dot with Clock will be available to purchase at a later date.
Amazon Echo features
Amazon Echo sheds its tower design for a spherical form-factor and the ring light has been repositioned to the bottom in order to create a reflective effect when placed on a table or any surface. It is powered by the AZ1 Neural Edge processor that's designed to boost machine learning on the smart speakers allowing the Echo to process speech much faster.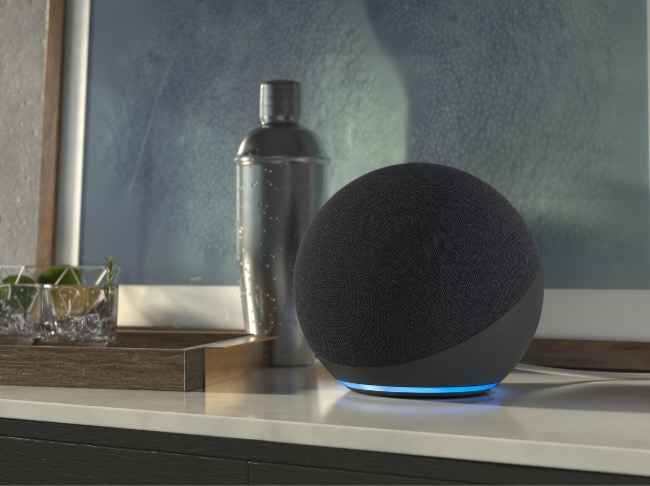 The 4th generation Echo is fitted with 3-inch woofers and dual tweeters that makes this speaker capable of delivering great sound quality with clear audio and deep bass profile. The new Echo also comes with Zigbee smart home hub and supports Bluetooth Low Energy mode.
Amazon Echo Dot and Echo Dot with Clock features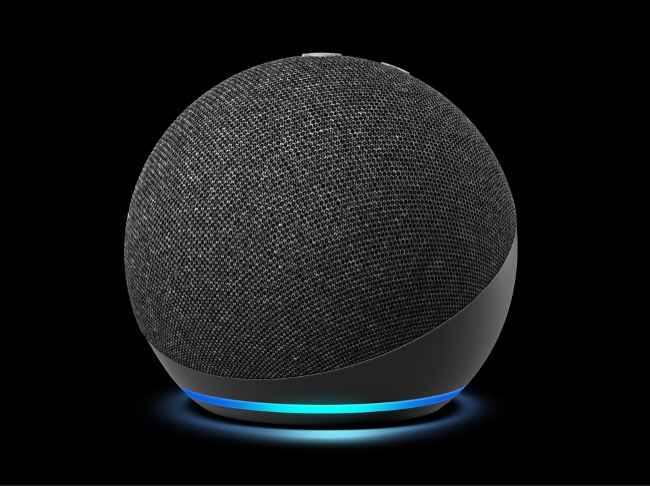 Amazon Echo Dot is a smaller, slightly toned-down version of the Echo smart speaker as it also adopts the new spherical design. It is fairly compact and the blue colour fabric finish does look stylish. The Echo Dot features a 1.6-inch speaker unit that produces clear audio with balanced bass for your bedroom.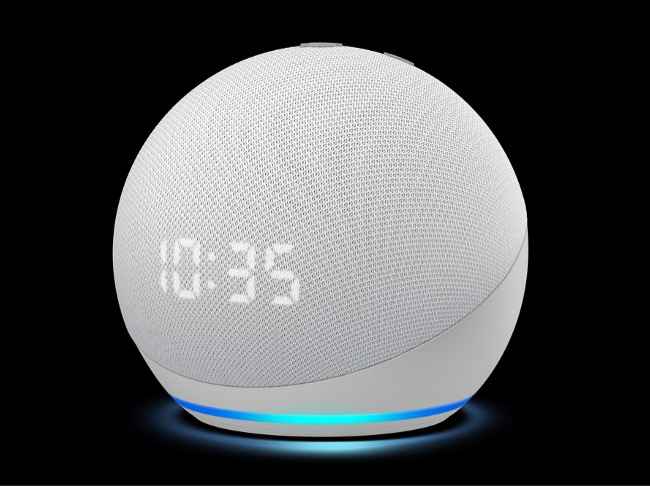 The Echo Dot with Clock adds an LED display under the spherical design that shows the time, temperature, alarm information and more.
Amazon has also announced that all its Echo devices are built with 100% recycled fabric, aluminium and plastic.