Aimia Inc, a global loyalty analytics company, today launched Nectar, an e-commerce loyalty program in India modelled on their highly successful loyalty program with the same name in UK. The program has been launched in the form of a online e-commerce page which aggregates products and prices across multiple online retailers, also highlighting the points you will earn by choosing a specific one. To complete the transaction, the user is redirected to the product page on the respective platform, and once the transaction is done, points are awarded to the user's account. With this operational model, it essentially acts as a rewarding shopping assistant.
The volume of the ecommerce market has been growing exponentially in the recent years by harnessing onto the Indian customer's preference for tailor-made deals and discounts. With the Nectar platform, Aimia aims to put their analytics expertise into use by rewarding the users for their purchases. Nectar.in, their website, now showcases products from leading e-commerce portals like Flipkart, Snapdeal, Amazon, Shopclues and Jabong.
"With more than $20 billion of ecommerce spend in India, growing exponentially, we believe Nectar will revolutionize online and mobile shopping here," said Vikas Choudhury, Managing Director, Aimia India. "Every time you shop at your favourite online retailer via the Nectar website you can earn points or other great offers. It's what we call Shopping pe Topping."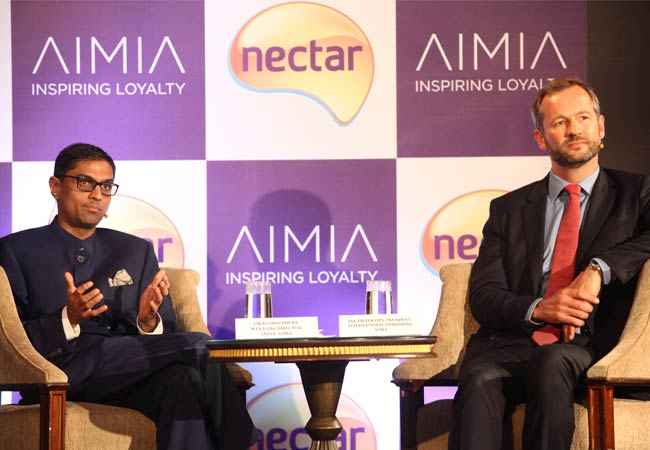 Vikas Choudhury, Managing Director, Aimia India (L) and Jan-Pieter Lips, President, International Coalitions, Aimia Inc (R) at the launch of Nectar India loyalty programme.
Aimia has already been operating in the Indian market in managing customer relationship programs, analytics and more for Indian companies like Taj Hotels and Axis Bank. With this platform, they aim to overtake and overcome the past achievements and drawbacks respectively of existing brand specific and brand agnostic loyalty programs.
The Nectar program was launched in the UK about 15 years ago and has been highly successful their with more than £2billion in rewards given so far. Currently it includes more than 500 retailers which includes retailers that have their own loyalty programs in other locations. In India, the platform has been developed in collaboration with Infosys, with initial trials being carried out among 100,000 Infosys employees with a beta version.
"We are putting loyalty at the heart of ecommerce in India and we are delighted to be launching Nectar here," said Jan-Pieter Lips, President, International Coalitions, Aimia. "Through our partnership with Infosys the Nectar site uses leading edge technology so that customers get relevant, personalized shopping information they need within seconds. We are excited to bring this useful and rewarding customer experience to consumers in India."
According to Aimia, an app for the same platform will be launching in the next few weeks, although it was mentioned that it will have the same functionalities as the mobile website.
"With the retail industry in India constantly reinventing itself to attract and retain customers, this launch of Nectar in India is timed right to tap the opportunity of a large and ever-growing consumer base," said Karmesh Vaswani, Senior Vice President - Manufacturing, Retail, CPG & Logistics, Infosys. "We look forward to enabling Nectar to tap into the boundless opportunity of customer loyalty by leveraging the power of technology."
The website www.nectar.in is now live across India and customers will also get special offers from brands like McDonalds, Baskin Robbins, Yatra, FreeCharge, Jabong, FirstCry and Croma amongst several others.