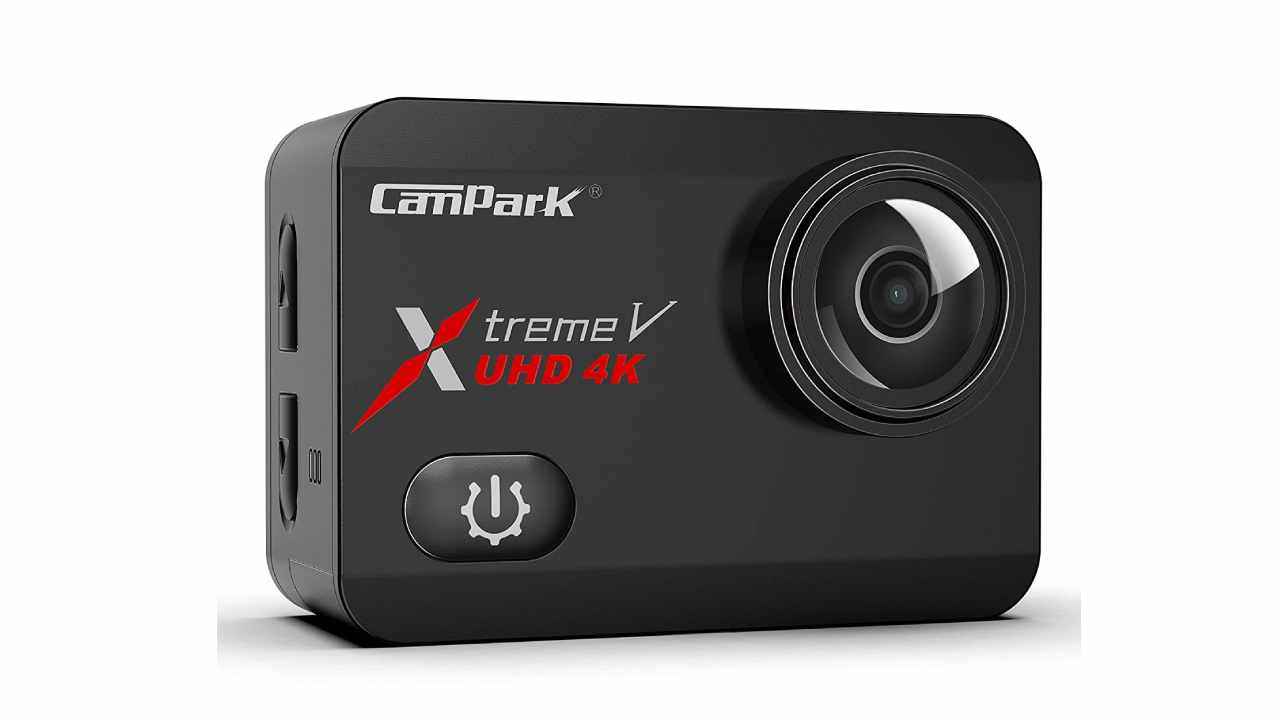 While on a trip or even indoors, you may want to capture various beautiful moments of your life and save it for a lifetime. To choose an action camera, bear in mind that a camera is only perfect if it can take high-quality videos or images and is durable enough to carry along anywhere. An action camera gives you an extra benefit allowing you to capture every detail of the moment with long recording and high-resolution shake-free videos. We have tested these cameras to their full- potential and listed out the best that scored higher numbers.
Campark X30 Native 4K Camera
The Campark X30 can shoot 4K videos at 60fps and 30fps resolution and offers excellent quality results. The 2.0 inbuilt touch screen display allows you to choose between multiple settings and modes. The camera comes with Electronic Image Stabilisation (EIS) technology, which can shoot stable videos when on a bumpy ride with fish-eye removal effects. The best feature of this product is its accessible file sharing technology with an easy user interface. You can easily connect your smartphone with your action camera through WiFi with more than 10 meters of connectivity. With dual 1350mAh batteries, you will now never have to worry about capturing nature's beauty due to low charge. You can also shoot time-lapse videos with its 170 degrees wide-angle camera which is waterproof up to 40 meters (131ft) in depth.
Procus Viper 4K HD Camera
One of the best-looking cameras out there, that not only shoots high-quality 4K videos but is also available in a budget-friendly option. It supports HDMI and WiFi that gets easily connected to your smartphone through the XDV app and allows you to store and share files easily without any issues. The camera features a wide-angle lens that captures images up to 140 degrees. The camera includes a 1050mAh battery that can last for hours, without having to worry about low charge while you travel. The Procus Viper 4K HD is built to last in any harsh conditions and is fully waterproof. It can shoot videos underwater effortlessly up to 30 meters. It comes with an in-built microphone and supports a microSD card for extra storage and supports both Android and iOS devices.
Amigo AC-40 4K Sports Action Camera
Record all your activities in high-quality resolution with the Amigo AC-40. It features a 16-megapixel camera that shoots 4K Ultra HD videos at 60fps, so you never miss a detail while travelling. The camera is highly durable and can be taken along on hiking, trekking mountaineering, snorkelling, etc. The wide-angle lens captures maximum field effects images and supports up to 64 GB microSD card with WiFi support. It features a 2-inch non-touchscreen LCD, which offers a clear and vibrant picture viewing experience. The camera is fully waterproof up to 30 meters underwater. For longer video recordings it packs a 900mAh battery that lasts up to 3 hours on a single charge.
Campark X20 Action Camera Native4K Ultra HD
Capture the beauty of both indoor and outdoor with Campark X20 that can capture 4K videos at 30fps for 60 minutes with its amazing 20-megapixel camera. The camera features dual displays (front and back) with 2 inches back LCD screen that includes all necessary features and adjustments. The camera uses EIS to process stable videos even during jerky or bumpy rides with a 170-degree wide-angle lens. The in-built DV application of the camera allows you to connect through WiFi easily and is available for both Android and iOS. The device is portable, highly durable, and provides waterproofing up to 40 metres. It offers a 1050mAh lithium-ion battery that can last for hours on a single charge and supports a 2.4 GHz wireless remote to navigate your camera directly from your wrist.