Update: Sony India has issued a statement taking cognizance of the issue and says that they have taken action against retailers involved in malpractice. "We have taken serious note of the feedback of our patrons that have been made on our social media handle and reportedly on other platforms. We sincerely expect that the third party retail partners operate in compliance of the legal frame work of our country and follow ethical business practices. We have 'zero tolerance policy' for any practices that are inconsistent to the afore-said. We have taken steps, as deemed appropriate and available with company including but not limited to discontinuing our association with such channel partners," Sony said in a statement.
Sony authorized retailers in India have reportedly been found engaging in PS5 scalping, shooting up the price of the console at a time when there's a global scarcity. The PlayStation 5 went on its first sale earlier this month but the demand trumped stocks across retailers in India. With no clear information on restocks yet, the company's own authorized retailers have been getting rid of the leftover stocks by selling the PS5 at more than the MRP in order to make some profit.
According to a detailed report by IGN India, some Sony-affiliated stores in the national capital have been selling the PS5 at Rs 65,000. This is a direct profit of Rs 15,000 that the retailer is making on the leftover stocks. Furthermore, the report states that the show owners have asked customers to refrain from telling the truth to Sony in the event it contacts them.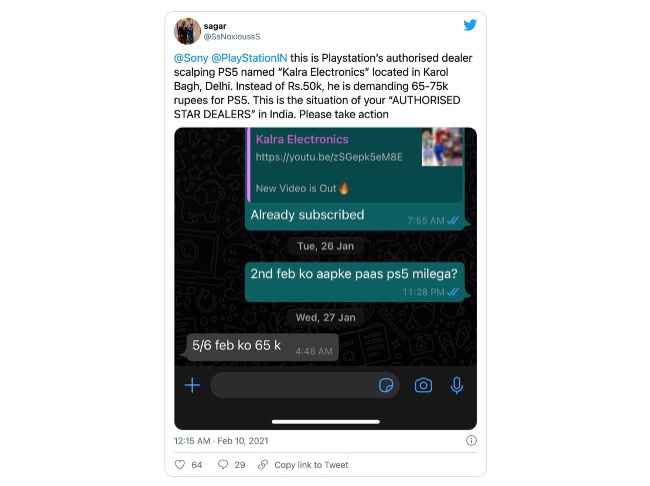 Sagar, a Twitter user posted a screenshot of his conversation with the authorized store for the PS5. The person is demanding Rs 65,000 from the person for the PS5 disc edition which launched at Rs 49,990 in India. The person called Sagar again and asked him to "lie to Sony executive" about his malpractice.
Sources have told IGN that Sony is well aware of the issue and has initiated an audit of "its entire retail network" pan India. This raises some grave concerns over Sony's vetting process of retailers in the country that resorted to such illegal means of making a profit on the PS5.
Meanwhile, the report mentions that based on the import data from the Indian Department of Commerce, less than 4,000 PS5 consoles made it to the country. Several potential PS5 owners were left disappointed in an attempt to grab the console as it was sold out in a flash. It remains to be seen when Sony replenishes the PS5 stocks in India but it is rumoured it could happen in March. In any case, we will be keeping an eye out for when it happens.
You can read our review of the PS5 here and know more about the PS5 restock situation here. In case you're interested in seeing how the PS5 feels like, watch the video below.