Highlights:
PUBG Mobile version 0.11.0 now available for download.
The new update adds new limited time zombie event to the game.
Vikendi map gets new Moonlight weather.

PUBG Mobile version 0.11.0 is now out of beta after the short server maintenance on February 18. It is now available for download from the Google Play Store and brings a slew of new features and additions to the popular online multiplayer Battle Royale game. The most notable addition with the new update is the Survive Till Dawn event mode, which introduces zombies in the gameplay. The game developers have been teasing this new game mode since the past few weeks and it is finally available for all PUBG Mobile players to experience. The main menu theme and music has changed and it is inspired by Resident Evil 2. There is also a new weather mode added to Vikendi called Moonlight.
The new zombie mode is a time-limited event that will enable players to take on zombies and bosses from Resident Evil 2. Some new weapons are also be available in this mode, like the flame thrower and a combat knife. Instead of 100, only 60 players enter the event and it spans over three days and two nights in one 30-minute round within the usual PUBG Mobile game structure. One will come across different types of zombies from the Resident Evil universe like Police, Licker, and G1 as well as other zombies created by the PUBG Mobile team.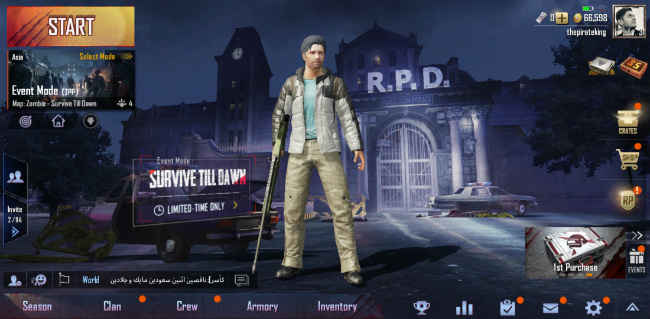 "As Survive till Dawn turns from day to dusk and into night time, the zombies become more aggressive and will pose a significant challenge for PUBG Mobile players. During the day players can defeat zombies from long range and conduct farming. Dusk preps the players for fighting as zombies become more dangerous and visibility drops. Night time sees the zombies become enraged and players will have limited PvP engagements due to very low visibility. The legendary Resident Evil 2 characters G (Stage 1) and Tyrant will also appear through random spawning during night time. Also, players can win Leon and Claire skin sets, and Ada and Marvin in-game customs in-game, which are all popular characters in Resident Evil 2," says PUBG Mobile in a media release.
In addition to the new zombie mode, the Moonlight weather is now also available in Vikendi, which is different from night mode in Erangel. While the night mode in Erangel is almost pitch black and one will need night vision goggles to navigate the terrain, there is some lighting in the Moonlight weather mode to easily spot enemies.
The update also brings Sanhok for the Arcade - quick match mode. Player Spaces have been added, which will be available where player information and connections are displayed. One can select a friend with Synergy 400 or above as Partner to stand by them in their space. Some miscellaneous improvements include fixed terrain display bugs for budget devices and retention of past results of up to one month.
With the Battle Royale genre is getting competitive, game developers are trying new things and adding more features to their games. While Fortnite is the major rival for PUBG Mobile, the PC version of PUBG is being challenged by a new game called Apex Legends. The game shows promise since it garnered over 25 million player registrations in a week since launch, with over 2 million concurrent players at one point of time. This new game is set in the Titanfall universe and enables players to choose a 'legend,' the character they play in the game. These legends have abilities and of course, there is the shrinking map and increasing firefight with other opponents.
Related Reads:
Apex Legends: A viable PUBG replacement?
Here's how Indian PUBG gamers are streaming their way to the bank
Crackdown 3 Review: Old school gameplay in the new age