Highlights:
PUBG Mobile receives Prime and Plus subscription options in India.
The new options will enable players to earn exclusive in-game benefits.
Plus and Prime Plus subscriptions are priced starting at Rs 79 per month.

PUBG Mobile is a well known online multiplayer battle royale title, which was recently updated to version 0.11.5. The update was to celebrate the first anniversary of the game and with it, the company has now added Prime and Prime Plus subscription options to the game, which were reportedly in testing from some time. The two new options will enable gamers to get access to some exclusive in-game benefits like some amount of free game currency every day, along with the option to purchase items in-game using BP or Battle Points. There's a lot of new things game devs have introduced with the new option and here's what you need to know about it.
Let's start off with the benefits a player can avail with the two subscription options, which is the same for Android and iOS users. Those who buy the Prime subscription will get to purchase in-game items like outfits and weapon skins using BP for seven or 30 days. Additionally, a player's account will be credited with 5UC daily when they log into the game, totalling to 150UC over a month. On the other hand, there are many more benefits for Prime Plus subscribers. They will also be able to purchase items using BP but the option could be enabled permanently, or its validity could be a week or a month.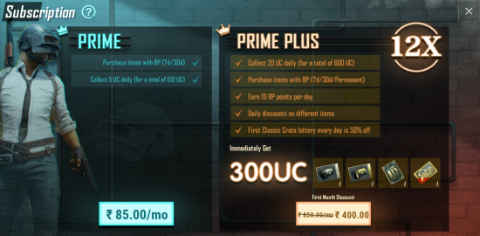 Additionally, Prime Plus subscribers will get 10RP points per day, along with daily discounts on different items. They will also instantly receive 3000UC, two crate coupons, a one-day room card, a name change card and 50 percent off while playing the first classic crate lottery. Players of the game on both Android and iOS can now buy any one of the two options to avail extra benefits in-game. The PUBG Mobile Prime subscription is priced at Rs 85 per month, while the Prime Plus option is available for Rs 400 for the first month and then at Rs 850 per month. On iOS, the monthly cost for Prime and Prime Plus subscriptions is Rs 79 and Rs 419 respectively but the Prime Plus option will cost Rs 799 from the second month.
Related Reads:
PUBG Mobile Beta update 0.12.0 is out now
PUBG arrests: Eight more players booked under IPC section 188 in Gujarat