PUBG Lite Beta will finally officially become available for download today, in India. The lightweight, free version of PUBG is aimed at PC gamers who want to experience the online battle royale title, without the need for a powerful system. The title was available in select regions and now can be downloaded in Maldives, Nepal, Pakistan and multiple other new regions. At the time of writing this article, one can download and install the game, go through the setup and pre-download game files to be ready for when the title is available to play.
Update: The server maintenance has been carried out and the title is now available to play in India. You can still go through the guide to read more on how to download and install the game.
PUBG Lite Beta developers have also announced that the title is undergoing server maintenance today till 2:30pm IST. We expect the game to be available in India once the update is carried out, which will also bring various bug fixes and content updates. Here's a brief guide on how to install PUBG Lite Beta and set it up to be ready for when the game goes live. The steps are not too difficult and we have provided relevant links for downloads wherever necessary.
Download and install the official game installer
In order to set up PUBG Lite Beta, one needs to download the official game launcher. The launcher is 64MB in size and can be downloaded here. Once downloaded, run the installer to install the game and follow the on-screen instructions. After this is done, the PUBG Lite Beta will be launched and it will ask you for a login. In case you already have an account registered with PUBG, go ahead and login with those credentials. Otherwise, you can create an account by clicking on I don't have an account option.
Signing in and pre-downloading game files
You can log in with your account with PUBG and the first screen that shows up as a download button on the bottom-left corner. Click on it and it the launcher will start pre-downloading the game files, which are just over 2GB in size. Once the files are downloaded, you will be able to launch the game. However, at the time of writing the article, the option to launch the title is not available and it has been replaced with the notice of server being under maintenance. We expect the title to be playable once the maintenance is carried out.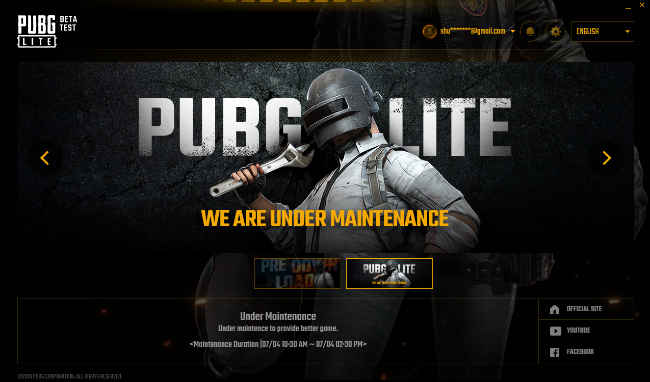 Minimum requirements of the game include 64-bit Windows 7 and above operating system and at least 4GB RAM. It requires a minimum of Core i3 processor that has 2.4GHz clock speeds, 4GB of storage space and a DirectX11 Intel HD Graphics 4000.