HIGHLIGHTS

Sony's PS4 Independence Sale is live now, and will go on till August 19.

DualShock Controllers are available at Rs 4,050.

There is no discount on the consoles.
Sony is hosting yet another sale on selected PlayStation 4 titles and DualShock 4 controllers just ahead of the Indian Independence Day. The latest sale, dubbed as the PS4 Independence Sale, is for both offline and online retailers in India. The company is offering popular titles at a discounted price, like God of War, The Last of Us, Shadow of Colossus, and PUBG. Additionally, DualShock 4 controllers will also be up for grabs at a 20-percent discount.
The sale kicked off today and will go on till August 19. Most of the game titles discounted in the PS4 Independence Sale are the same as those that were discounted during the Days of Play 2019 sale. However, there is no discount on consoles. The only hardware that can be purchased at a reduced price is the DualShock controller. While its MRP is Rs 5,050, it is priced at Rs 4,050 during ther sale - at a discount of Rs 1,000, that is.
Coming to the games, Shadow of Colossus is currently available at Rs 1,499, down from its regular asking price of Rs 2,499. Additionally, Days Gone Standard Edition is selling at Rs 2,499 instead of Rs 3,999. As for God of War Remastered, it is priced at Rs 999, down from Rs 1,499. There is a discount on the PS4 version of PUBG as well. It is selling for Rs 1,499, whereas its MRP is Rs 1,999. Other titles that are on sale include Minecraft, Uncharted Collection, Uncharted 4: A Thief's End, and more. You can check all the offers below.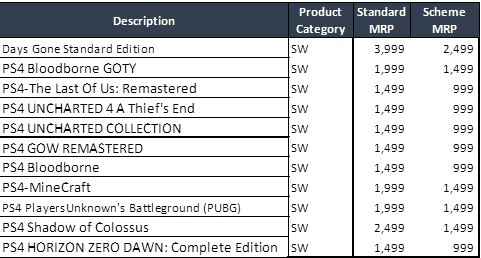 Also, the PlayStation Store Summer Sale is going on right now.
At the time of writing this story, the sale prices were not showing up on popular e-commerce sites like Amazon and Flipkart. Hence, we reached out to Sony, and it confirmed the details of the sale.