Garena Free Fire's Pet Rumble mode is among the newest additions to the game. Now though, it looks like fans of the mode have a bit of bad news. The developers have announced that matchmaking for Pet Rumble will temporarily close from July 10 onwards. However, Garena notes that players can still play Pet Rumble with their friends by using Pet Rumble room cards. To help players out, the developers have given players a way to remedy it.
Garena Free Fire: Free Pet Rumble cards
Garena has announced that players can pick up a few Pet Rumble room cards for free by completing certain challenges. All they have to do is get kills in the BR Rank mode between July 7 and July 11. Getting five kills will net the player one card. If they manage to get 15 kills, they will get an additional two cards. Reaching the 25 kill mark will get the player an additional two cards.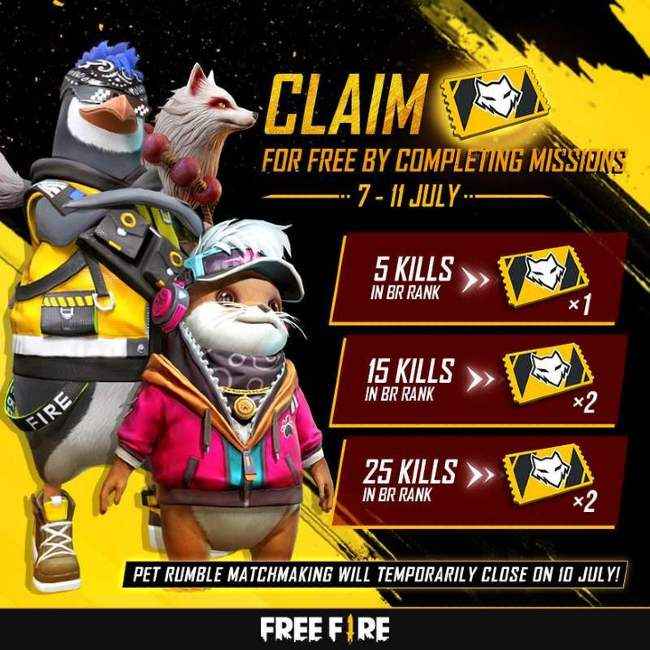 To recall, Pet Rumble mode was introduced a few weeks ago and is Free Fire's take on Among Us, the popular game about deception and subterfuge. In Pet Rumble, players play as one of the many pets in the game. Players are then divided into Scientists and Pranksters. As Scientists, players have to complete tasks in order to win the match. As pranksters, players have to sabotage the experiments conducted by the scientists to win. Scientists can also win by finding the identity of the Pranksters, while Pranksters have to conceal their identity and try to blame other players.