Nvidia has been sending some major shockwaves throughout the gaming community and CES hasn't even started yet. Nvidia CEO Jen-Hsun Huang has been on stage pre-CES, making some major announcements like the introduction of a cloud based gaming system, a new optimization tool for the PC gamer and the clincher, a new handheld portable gaming system that can also be a proper console.
Nvidia has announced Project Shield, a prototype Android-based gaming system running on Nvidia's new Tegra 4 chip. The handheld gaming console can also output full HD (or 4K) video to a screen without any lag (as seen in the image below). Ports included on Shield include an HDMI port, micro-USB, and a microSD port for storage expansion.
What's also great about this little guy is that it comes with a 5-inch 720p HD screen which folds out to reveal the controller. The console is supposed to be able to play all Android games given it is Android based, but will also stream their PC games and Steam titles thanks to a built-in app that will give them remote access to their Nvidia Kepler-based machines, via 'GeForce Experience' software, over Wi-Fi.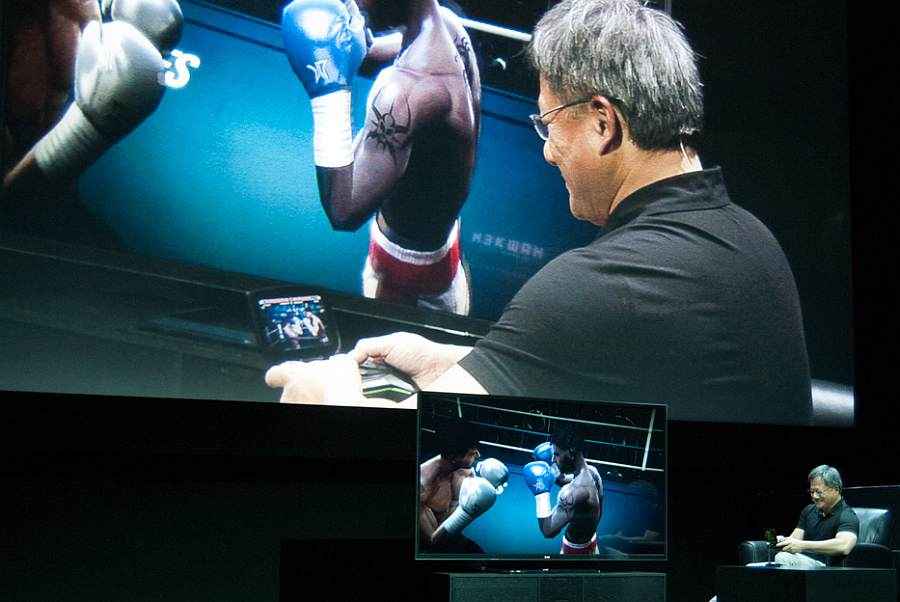 Nvidia also rebranded GeForce Grid to Nvidia Grid, essentially a server rack packed with a multitude of GPUs that will be capable of pushing 3D and HD gaming content to the cloud. Nvidia Grid enables users to synch their games and devices with the cloud (like with Project Shield), so that any game that's started on a tablet or a PC can be continued on the other device, which is great. Nvidia Grid is currently in testing phase and will be available to partners soon.
The last announcement by Nvidia is aimed at PC gamers, who might actually be pretty excited. Nvidia launched the Nvidia GeForce Experience (which we've briefly touched upon above), a nifty utility for auto-optimizing graphics settings. Based on the PC configuration and setup, Nvidia GeForce Experience tunes the game settings automatically, eliminating the need to tune them manually.
All in all, it's been a pretty big day not just for Nvidia, but also for a lot of gamers and enterprises. Between the new handheld console and the cloud gaming, Nvidia is definitely starting to push boundaries. For more details about the Tegra 4 processor, check out our in-depth article.