HIGHLIGHTS

PUBG Mobile has announced a Predict and Win challenge for PUBG Mobile players

Players can win an Oppo F11 Pro, Flipkart vouchers and more from the new event.

One needs to predict who will win the ongoing Cricket World Cup matches and score runs.
Excitement rises as the semi-final World Cup match between India and New Zealand draws near. While the Indian cricket team is all set to take on New Zealand today, developers of the online battle royale title PUBG Mobile also have something for the fans. Throughout the 2019 Cricket World Cup, PUBG Mobile has been running a predict and win contest where users can buy some World Cup Event Token and participate in the event to predict wins and bag some free rewards. Today, PUBG Mobile players can once again enter the contest to predict and get a chance at winning some new goodies. Here's how you can enter the contest to try and win an Oppo F11 Pro, Flipkart Vouchers and more.
First off, to enter the contest, one needs to purchase some World Cup Event Tokens. This can be done primarily from the Offers Zone and also from the event itself. However, we noted that the event will only grant a maximum of three tokens so, the best bet here would be to buy some tokens from the Offer Zone. Do note that one needs to spend UC to get them. Once you get some tokens, head over to the PUBG Mobile World Cup option, which is listed as a limited-time event under the Events tab. Predict the team that will win here to earn runs. The more runs one earns, the better they rank and this increases the chances of winning goodies.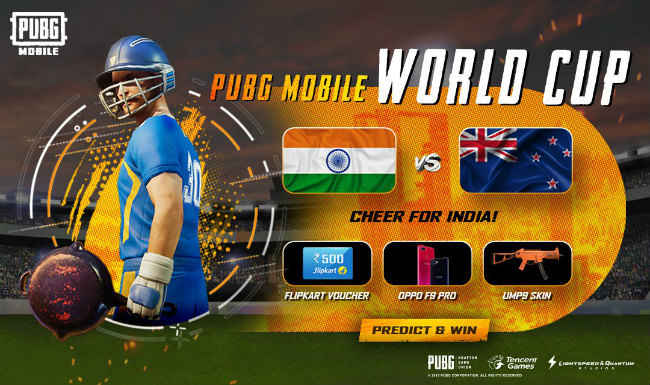 In other PUBG Mobile news, Season 8 of the game is expected to roll out soon since it is available in beta version 0.13.4 of the title. The new season sports an ocean pirate theme and brings a slew of new weapon skins, emotes and features to the game. The Royale Pass of the upcoming season is also touted to add new rewards for Elite Upgrade and Elite Upgrade Plus users. There could also be two new emotes called Triumphant Victory and Spawn Island Line Dance. PUBG Mobile has also teased new skins that would be made available with Season 8. You can learn more about how to download the new beta version here.