Garena Free Fire's new OB26 'Project Cobra' update is now available for all. It brings a host of new features and additions. Most notable of these include the new revive systems as well as other gameplay elements. The update also adds a brand-new weapon to the game, the MAG-7 shotgun. Here's a quick look at what the newest weapon in Free Fire has to offer.
MAG-7 statistics in Garena Free Fire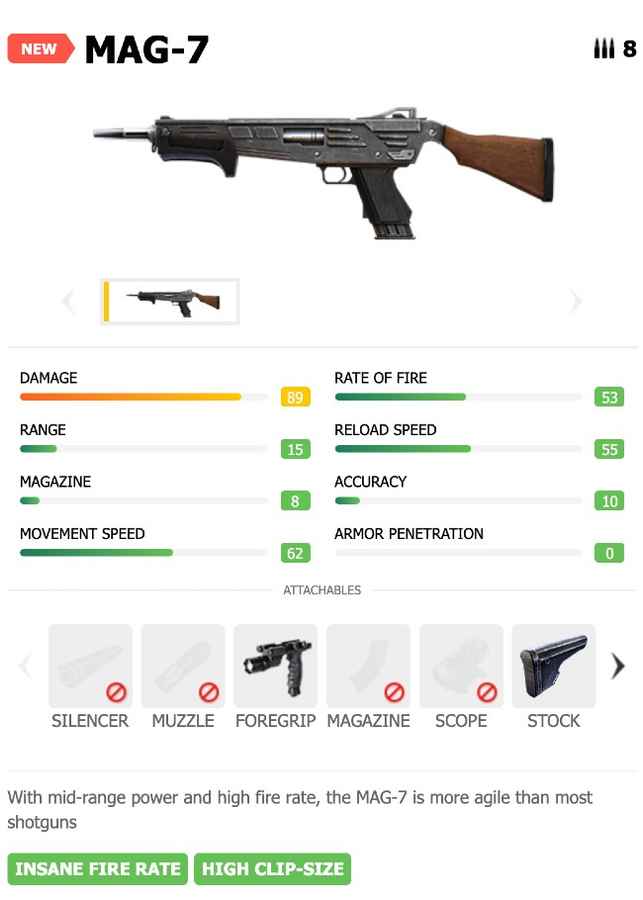 As any shotgun, the Mag-7 trades range for very high damage. This means that while the MAG-7 may not be too good out in the open, it can decimate opponents in close quarter situations. Most shotguns in Free Fire, like the M1014, offer a slow rate of fire. So players need to be skilled enough to make their shot count. However, the MAG-7 shakes things up by offering a much higher rate of fire than any other shotgun. In fact, its rate of fire is very close (but not as good) as some assault rifles. This is offset by the weapon's magazine capacity of only eight rounds. The weapon will also accept fore grips and stock attachments.
Mag-7 vs the rest

As mentioned early, the Mag-7 offers the highest rate of fire as compared to other shotguns in the game. However, the maximum damage is less than all the others. But the weapon is not under-powered. After all, it is still a shotgun and can do a lot of damage at close range. The weapon has a much higher reload speed as compared to the M1014 and the SPAS12 as it features a magazine system. While reload speed is equal to the M1887, the MAG-7 has a magazine capacity of eight as compared to two.
The MAG-7 shotgun's high rate of fire and immense damage at close range make it an interesting option for players who already like shotguns. It also makes a decent choice for players who prefer to attack enemies by using continuous fire rather than precision fire. The MAG-7 is available in Free Fire's Classic as well as Clash Squad modes. To know more about Free Fire's OB26 'Project Cobra' update, click here.